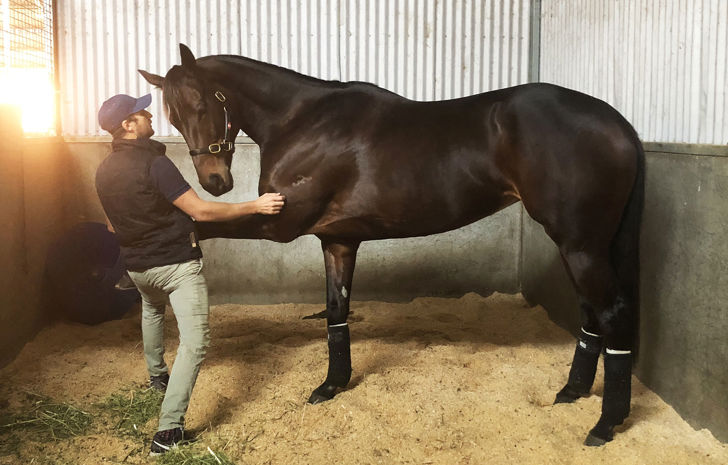 When Tom Simpson began his career as an Equine Physiotherapist, it was a relatively unknown profession. Now his work is recognised and respected across the racing industry.
When Tom Simpson walks past a stable and sees a physiotherapy sheet taking pride of place among the routine paperwork, he always smiles.
"The concept of that used to be unbelievable – nobody would think about having a physio sheet out the front," says Simpson.
"Ten years ago, physio was a novel concept, nobody wanted a bar of us. I was probably one of the first people in Australia to say I was an equine physiotherapist and I was almost put in the same basket as 'witch doctor'. But in the past five years, the rise in acceptance and popularity of physiotherapy has been incredible."
So much so that Simpson works with some of the finest breeders, trainers and horses in the racing industry. And yes, Winx is a satisfied customer.
"I've worked with her since her first race and the strength and confidence she's gained has been incredible to witness," Simpson said on the eve of her final, thrilling performance.
"Winx has always been a no-fuss horse and I think the personalities you see within treatment are predictors for performance. Winx [would] let you do whatever you want but as soon as you'd finished, she almost looked at you as if to say 'see you later, you've done your job'. She loves you or hates you and if she doesn't like you, you'll know about it!"
Simpson is based in Sydney and his work is mostly divided between New South Wales and Victoria. He had an understanding of horses from childhood, growing up on a farm in the small country town of Barraba, north of Tamworth.
"I spent weekends rounding up the cattle and branding, tagging and worming. I was always comfortable around horses – although I had no real goal to be doing what I am doing now," he says.
Back then Simpson's heart was set on playing rugby. He played in the NSW state team before moving to France to continue his career. But at the age of 25, when he returned to Australia to play for Randwick in Sydney, a serious back injury prematurely ended his rugby ambitions. A fractured vertebra was misdiagnosed, and Simpson endured three back operations, three hip operations and a series of cortisone injections.
No longer able to play rugby for a living, he chose physiotherapy and initially planned to work with humans before learning of a two-year animal physiotherapy course in Queensland. Upon graduating with a masters degree, Simpson specialised in equine clients and was mentored by renowned equine veterinarian, Dr Michael Robinson.
"Michael taught me the importance of gait assessment and knowing your role. I've always understood that a lame horse is a veterinary problem until it's a physio problem," says Simpson.
"I am a huge believer in prevention being better than cure, so a lot of my work is based on daily stretching, heat packs, ice packs, core stability exercises and dressage work under saddle. The other side is managing common injuries like back pain, hamstring muscle spasm and restrictions through the shoulders and neck."
"If a horse doesn't want to do something, it will tell you. They are powerful animals, so when they do what you want, it is a humbling experience." - Tom Simpson
 Diagnostic skills and knowing when physiotherapy is relevant and when to push a horse are key. Simpson works closely with trainers, providing guidance on what they can do in the lead-up to a race.
Treatments often follow a routine. Simpson will assess the range of motion of the neck using tricks like pinching the horse on the shoulder or enticing it with grass to monitor how it moves and the quality of movement. Gait assessment – watching a horse walk and trot – is another pivotal assessment tool as is palpitation, where Simpson feels the horse from head to toe and from front to back.
"I look for pain and tightness and correlate what I feel with the horse's reaction – are its ears back? Does it show signs of enjoyment? Or is a horse looking at me as if to say, 'one more touch and I'll boot you?' I have to read the horse," he says.
Simpson stretches out the front and hind legs to open up the back and improve blood circulation and uses what he describes as 'horse Pilates'.
"I elevate one leg and get some grass and make the horse's head come through between its legs while the front leg is elevated, so they challenge the abdominal area. That's a very beneficial routine for the horse because it keeps them supple, strong and maintains a full range of motion. They are very amenable to it," he says.
"If a horse doesn't want to do something, it will tell you. They are powerful animals, so when they play with you, lick you and do what you want, it is a humbling experience."
Physiotherapy treatment often focuses on the horse's 'engine room' – the lower back and pelvis where the power and drive come from. "They jump out of the barriers with it, extend through that area when galloping and, predictably, that area can get tight. I use a lot of acupuncture, remedial soft-tissue release trigger-point therapy and manual therapy to ensure range of motion through that area is normal. If that area stiffens, then you get secondary muscle tightness and fatigue and then you get lameness or poor performance," he explains.
Results have helped Simpson build a reputation and a growing list of four-legged customers and his business, Equine Performance Physiotherapy, now also employs two full-time physiotherapists. But he still clearly remembers the early horses he treated that won their races began to make people in the industry sit up and take notice of his profession.
"I worked with a horse called Utzon trained by Les Bridge. He played a big part in my life. Michael Robinson and I rehabilitated him back from a sacroiliac problem (a joint at the meeting point of the pelvis and the spine) and he went on to win the Villiers Stakes in 2006. That was early in my career and was validation for a lot of the philosophies I had," says Simpson.
"When you treat a horse and the rider says it feels like a different horse and that horse is eating better, its demeanour is better and it's got better strength and conditioning, that's a good sign. When you see that translate into performance on race day, that's the next box ticked."
Through the years Simpson has worked with other familiar favourites, including Hartnell. He began working with the European horse when it arrived in Australia under the guidance of John O'Shea.
"He's a stunner and a quirky character. Everything must be his way, or he gets his knickers in a knot. He's what I call a sensitive new age guy and he's a pretty boy, too. He gets in the parade ring and arches his neck as if to say, 'look at me'," laughs Simpson.
But Hartnell is an incredible athlete and he achieved great things in a remarkable racing career, which is phenomenal. He raced 20 kilos heavier in Australia than when he first arrived but he became a much more rounded-out horse. He has had ailments to manage but he proves that good horses can perform, no matter what the circumstances.
It also helps if they are in the good hands of a professional like Simpson, passionate about the wellbeing of these elite equine athletes.
First published in Melbourne Cup Carnival Magazine 2019.
(Images courtesy of Tom Simpson)