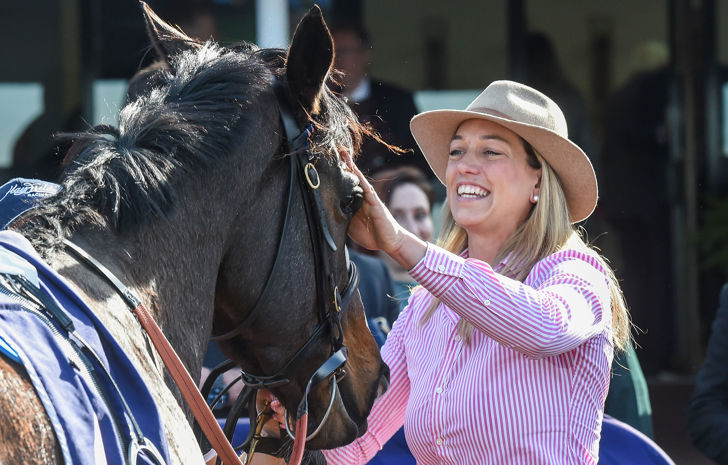 Passion project
13 August 2021
•
Written by
Sarah Marinos
Charlotte Littlefield is climbing her way to success as a trainer who does things a little differently.
Charlotte Littlefield was born to ride. Before she could stand on her own two feet, Charlotte's mother sat her on a horse at the family's riding school in Hampshire, England, and Charlotte discovered her life's passion.
"Mum had a couple of event horses that she bred and trained, and she took me through pony club, young rider eventing and was instrumental in achieving my teaching exams. She always gave me the horses that were bought cheaply from the local markets – so I learned the hard way. But it taught me to be a better rider and to work through problem horses which has really helped get me to where I am now," says Charlotte.
Charlotte became an accomplished event rider, representing Great Britain at the European Championships in Poland in 2003. But when her family then sold the horse she competed on, Charlotte was devastated and moved to Australia.
"My Mum and stepdad got an offer for that horse that they believed was too good to refuse and Credo was sold without me knowing. After that, I ended up in Australia. That was a difficult time, but it made me who I am."
Some people may be under the impression that I've been supported throughout my move to Australia and setting up the business, but I've done everything here on my own and lately with the support of my husband Julian Hay. - Charlotte Littlefield
Soon after migrating, Charlotte began riding and competing off the track thoroughbreds and dabbled with some trackwork at Caulfield which sparked her interest in flat racing. She also started a small racehorse pre-training business using the conditioning techniques she learned in England.
In 2015, Charlotte took out her trainer's licence and began Hayfields Racing, with the support of her husband and Racing Manager, Julian Hay. Initially training from Jason Warren's property on the Mornington Peninsula, she relocated to become independent to a rented 100-acre property in Nar Nar Goon, Victoria.  She currently has 25 horses in work with the ability to train 30 comfortably.
She is fiercely protective of the horses she trains, preferring to train from the paddock and avoiding invasive medications and man made contraptions. She also believes it takes time, patience and compassion to get the best out of each horse.
"We create a regime to suit each horse. If a horse shows signs of becoming stale, then we go to the hills or cross country to get out of the rut of being a racehorse. I also use a variety of softer bits to avoid use of tongue ties if possible and good chiropractors for the horses. I ride them all throughout their preparations which allows me a greater understanding of how they could possibly improve physically to race better," says Charlotte.
"Our horses have access to hay 24/7 to alleviate boredom and maintain a natural gut health, and I don't worm monthly, rather use regular worm counts because it upsets their insides. I want to keep things as natural as possible and rely on correct training and common sense." 
Charlotte is also passionate about finding caring homes for her horses when they move on from her stables. She has rehomed numerous horses so far, carefully selecting each new owner and ensuring communication is kept going throughout their post-racing career with future endeavours ensuring horses don't end up in the wrong hands.
"We grow attached to every horse that comes through our stables and I feel it's my responsibility to make sure each horse is well looked after for the rest of its life. It's rewarding to see them do other things after they finish racing," she says.
"Some of them go on to event or they go to pony clubs, police force or polo homes. We currently have two that we personally rehomed as lead ponies. The first horse I trained, Belle Cherie, went to a lovely home and now events up in Sydney. Another horse recently went to a polo home because she wasn't tenacious enough for the racetrack.  Where's my Wallet and Faye's Opal who both recently retired from racing are enjoying some showjumping, with a strong chance I will be competing myself in the upcoming Jump Off series ... if the nerves hold up!
"I will only send horses to new owners who understand that horses are not machines, who are compassionate and who will give those horses very happy lives. Ultimately, we bring them into this world and they owe us nothing, but we owe them a forever caring home."