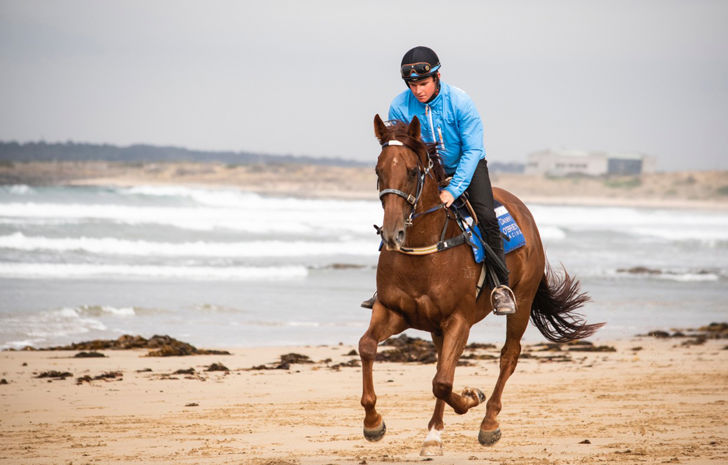 Sea horses
13 August 2021
•
Written by
Mick Sharkie
On beaches around Australia each morning thoroughbreds can be found wading, cantering and galloping, blowing away the cobwebs of a busy preparation or building towards a peak performance.
As the late hall-of-fame trainer George Hanlon once famously said, "horses are only human", and when it comes to the pleasures of salt-water therapy, it seems Hanlon's comparison couldn't ring more true.
"You can see a horse is happy working at the beach; it's an escape for them, a day out. They're not unlike us in that way," said trainer Danny O'Brien.
O'Brien has witnessed the benefits of beach training over the last decade at his Connewarre property just outside of Barwon Heads on Victoria's surf coast. The expansive shores of Thirteenth Beach are within cooee of his stable door and O'Brien has used the environment as a haven for his racing team.
A long-time Flemington tenant, O'Brien bought the 160-acre property in 2005 to give his horses the chance to mix their work between the hustle and bustle of Flemington and a quieter rural environment; access to a beach had always been a central aspect of his plan.
"It took a little while to develop the place and we started working horses there four years after we bought it, but after ten years (of operation) I can definitely say it has been worth the time and effort," said O'Brien.
Danny O'Brien had a vision to create the best private horse training facility in Australia and here is the result.
You can see a horse is happy working at the beach; it's an escape for them, a day out. They're not unlike us in that way. - Danny O'Brien.
"Obviously there are plenty of benefits to having a secondary training property either in the country or at the beach, but the beach offers such a unique environment for the horses to escape to as well as work."
Incorporating beach training into a thoroughbred campaign is not a new trend in Victoria. A statue on the Mordialloc foreshore in Melbourne's south-eastern bayside region marks the presence of racehorses along that stretch of coast for more than 100 years.
Mordialloc beach was at its peak in terms of horse traffic when the now defunct Epsom training centre was in operation up until 1997, but more recently it was the early morning cool-down spot for Australia's unbeaten champion sprinter Black Caviar, with Peter Moody sending the great mare to Mordialloc from Caulfield most mornings after a track gallop, unbeknown to many early morning walkers or swimmers.
Altona beach at the top end of Port Phillip Bay is also a favourite post-work wading site for many Flemington-trained gallopers.
For O'Brien, the space afforded by Thirteenth Beach meant that his horses could complete just about any work that he set for them. From rehabilitation to gallops at even time, the beach was the perfect accompaniment to the sand and turf tracks at Connewarre.
"We've probably got two or three training exercises we use at the beach and we can do just about anything up to even-time work with them," he explained.
"That's really important because it's very hard for a horse to be injured or go unsound working on the beach. The more they can do on it, the less likely they are to have a physical problem, so the space at Thirteenth Beach is a big benefit.
We've only recently started to work on some deep-sand training programs for our horses," said O'Brien. "It's a great heart and lung workout and it's low impact. They don't go quickly, and you know their joints are supported. It really brings them on.".
A wade or rush through the water concludes most beach training sessions with the cool salt water drawing out any aches and heat and rejuvenating the legs, much in the same way that professional sports teams use salt water as part of their post-match rehabilitation program. The physical benefits are obvious, but less apparent at first glance is the mental impact of beach training and to that end, O'Brien has seen horses' behaviour and attitude change after just one trip to the beach.
The mental impact is the big one. - Danny O'Brien.
"It's like a day off for them (the horses), just like when we have a day at the beach. We try to mix up the work as much as possible but when you're training horses at a city track environment, but they can still get that mental fatigue. You can see a horse is happy at the beach. Wading in the water, having a casual gallop or canter on the sand – it's a great environment for them."
And a great environment for staff and owners as well.
"You feel happy watching them work there, and I know our staff there really enjoy working them on the beach – it's good for everyone."
"I think in its simplest sense, most people can relate to why it works."
First published in Inside Headquarters Issue 1 2019
(Photos by Jaimee van Leerdam)