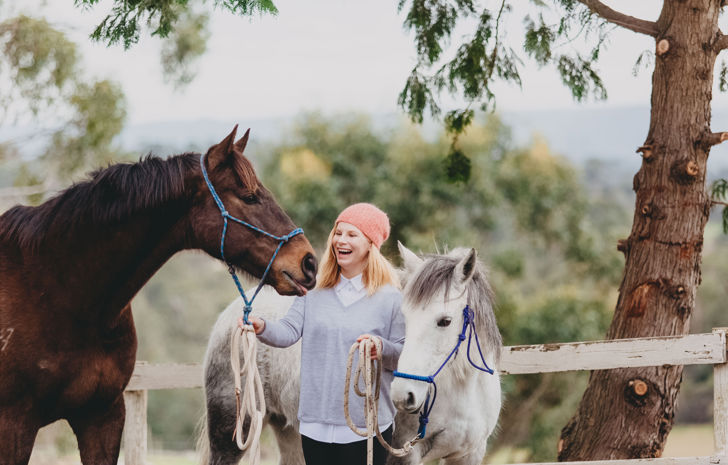 Equine instinct
11 August 2021
•
Written by
Sarah Marinos
Equine therapist Jessica Liston is a former schoolteacher who first learned about Waler horses at a school ANZAC Day service.
Her principal read a moving poem about the Walers that highlighted their dedication and service during WWI. Jessica remembers everyone in the hall being moved to tears.
"I've loved horses all my life and I've grown up in a family that have bred horses for generations, but that was the first time I'd heard of Walers and I wanted to know more about them," said Liston. 
The Waler breed dates back to early Colonial times. The name was first used by Brits living in India to describe horses that came to India from New South Wales from the mid-1840s onwards. They worked the land, transported goods and pulled coaches and were renowned for their sturdiness.
But it was during wartime that the Walers really demonstrated their reliability.
At the outbreak of WWI, 121,324 Walers were shipped overseas to allied armies in Africa, Europe, India and Palestine. On October 31st, 1917, the Walers became part of history when the 4th and 12th regiments of the Australian Light Horse charged over six kilometres of open ground against the Turkish defences to save the British from a disastrous defeat. The courageous charge at Beersheba is perhaps the last great successful cavalry charge in history – and the Walers played a pivotal role.
Sadly, only one horse came home after the war. I can't imagine how bittersweet it would have been for those thousands of soldiers to return home but to learn their horses were not returning with them. - Jessica Liston
Moved by the Walers' service and history, and with a lifelong passion for horses, Liston has spent the past few years determined to help the breed endure and gain the recognition it deserves.
She grew up in the southern Mallee. Her father was a cereal farmer while her mother raised four children and trained thoroughbreds. When Liston was 12 the family bought a horse stud outside Adelaide with 400 horses.
Liston was torn between following in her mum's footsteps and breeding horses, or teaching. Today she combines both in her business, Inner Rhythm, and runs leadership and team-building programs using her horses to help people learn more about their behaviour, emotions and communication skills.
Digby, a Waler and a relatively new arrival at Jessica's property has become an important part of the team. Corporate managers to school kids work with each other and the horses to gain a deeper understanding of who they are and how they can work better and more empathetically in a team.
"Horses are very intuitive and sensitive, and they pick up on their environment. They have different personalities, too – an over-confident horse will need someone with quite dominating body language, while a nervous horse needs a gentler approach," explained Liston.
Liston has been working with Digby since he arrived at her property after completing a 2000km journey from the Northern Territory. With the help of friends, family and colleagues in the thoroughbred industry, Liston organised a GoFundMe page to raise money to pay for 20 wild Walers to find new homes.
"These are the original war horse bloodline," she said.
"The herd we found haven't been interbred so they are the bloodline dating from WWI. I knew we had this rare pool of genes that could be lost if we didn't do anything about it."
The project was fully supported by local councils and traditional landowners who were keen to see the Walers placed in new homes where their bloodline could be continued. Three foals have arrived since last July.
"Mum and I travelled to a place about four hours out of Alice Springs and we worked with Aboriginal stockmen who helped us catch the horses. We spent about a week getting them into cattle yards and keeping the ones that were the right ages and could make the trip to Victoria," said Jessica. 
I'd never seen a wild herd of horses before and it was an incredible moment. We were in such a remote and beautiful place where the earth was red and the sky was blue and I could see the horses galloping to the water bores to drink. - Jessica Liston 
Liston has found homes for all 20 Walers, with most now scattered across Victoria and one in Queensland. Many have gone to families already committed to raising and training thoroughbreds and the Walers' versatility means they will work as a lead pony, in the equine therapy field, or they will muster, do camp drafting, or show and compete.
"People feel so much respect and love for what Walers represent. Their history and honour is inspiring."
Images courtesy of Jessica Liston (Chloe Smith Photography)