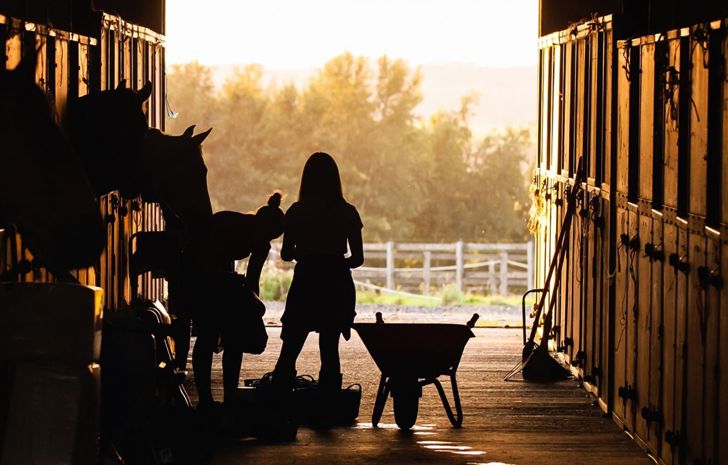 Meet the midwives
12 August 2021
•
Written by
Sarah Marinos
Bringing new equine life into the world is a unique job performed by dedicated and passionate people.
Vikki Cannon cannot think of anywhere else she'd prefer to work than in a well-tended grass yard, under the stars, and surrounded by the animals she fell in love with as a six-year old.
Vikki is Senior Horseperson at Gooree Park Stud in Mudgee NSW and her key role between late July and November each year is to care for the property's expectant mares.
"My father was an air force officer and a diplomat, and my parents had nothing to do with horses. But an uncle in Parkes had a wheat and sheep farm and he had horses," remembered Vikki.
"I rode my first horse at six and fell off and broke a leg. But my father arranged riding lessons and once you're bitten by the horse bug, it's with you for life."
Since she began working with horses, Vikki estimates she has helped deliver more than 3,200 foals. In 2017 she won the prestigious Dedication to Breeding Award presented by the Godolphin Stud & Stable Staff Awards.
And each foaling season she feels that familiar sense of excitement as she heads to work each night.
"The atmosphere at night is beautiful – the stars are out, it's peaceful, and it's often just me and the horses. I know all of them intimately and, in some cases, I've foaled four generations of a family," said Vikki.
"During the afternoon, I walk through the mares in our pre-foaling area and watch the ones I suspect are close to foaling. I know their due dates, but I look for other signs – the closer a mare is to foaling she gets a black plug on the end of her nipples, known as 'waxing up'. The muscles around her tail soften and many mares become aloof and restless. After years of this work, you develop a sixth sense."
Vikki places the experienced mares next to the maidens – the first-time mothers.
"I put them in the yard next to the mares who've foaled before so they can see what happens. We humans have pre-natal classes, but horses don't have that," she said.
"The first they know about foaling is having a big pain in their tummy. So we let the maidens look over the fence so they can see what happens with the other mares and they can see this wet bundle arrive and then stand up and feed."
Vikki lets nature take its course as much as possible once a mare's water breaks. It takes about half an hour once foaling gets under way and after a foal is born it usually stands within an hour and is nursed by its mother within two hours.
Every time I bring a new life into the world, I look at that foal and think 'maybe you're the one – you might win the Melbourne Cup or the Golden Slipper. - Vikki Cannon
Jenny Watson feels the same sense of anticipation every time she helps a mare bring new life into the world. Jenny grew up in Launceston and was horse mad from a tender age.
"When I was four, my paternal grandmother told my parents to give me riding lessons – they thought that would get horses out of my system!" laughed Jenny, who is also a past winner of the Dedication to Breeding Award.
"More than 50 years later I'm still mad about horses. My whole family had a medical background, so I don't know where the love of horses came from."
Jenny completed an associate diploma in equine stud management at agricultural college in WA and after graduating she did her first night watch at Armidale Stud where she worked for more than 36 years. She now foals down her own mares.
"I remember my first night watch and as soon as I saw my first foal being born that was it, I loved it. Every foal I deliver is like the first foal. The amazement and joy of it all hasn't diminished," she said.
When on watch, Jenny checks the foaling mares every 10 to 15 minutes to see how labour is progressing. After waters break, she checks the presentation of the unborn foal to make sure it is in the correct position – two front feet facing downwards and the nose in between.
"We get a few presentations where the foal has to be turned, or you may have to reach in a grab a foot that has got caught," said Jenny.
"The mares are amazing – they're stoic. Even the maidens are amazing. They walk around the box for a while and aren't sure whether to lie down and then there comes a point where they lie down, and nature takes over. I will be at their back, patting them and giving words of encouragement."
Most foals are born at night – Jenny estimates between 85 to 90 per cent of mares give birth then, sometimes up to three mares foaling each night.
As soon as the foal is born, it has a tetanus injection and the mare's colostrum is tested to check it is the right strength for the hungry foal. After four or five days, the new foals go into the paddock.
But while the job has many happy moments, there can also be heartbreak.
"It's a challenge when you lose a horse – particularly a mare who's been with you for a long time," said Vikki.
"We had a beautiful old matron called High Heels who was the mother of one of our champions, Our Desert War, and the mother of a Group one winner, Laser Hawk. She was carrying her 13th foal when her heart started to fail. She collapsed and while she had an emergency caesarean, neither she nor the foal survived. That was a tragedy and everyone on the farm loved her. But there's no point going to pieces – you have to keep doing your job."
Neither woman has any intentions of walking away from the mares who need them. As foaling seasons draws closer, Vikki begins to adjust her body clock to long nights.
"I usually go on holiday for a few weeks before the season starts and then I start to adjust my sleep pattern. I also usually stay up through the night and watch The Ashes, The British Open and Wimbledon," she laughed.
"The season is socially isolating – I can't go out much – but I wouldn't change a thing."
Jenny feels that same commitment and anticipation, wondering whether any foals she helps bring into the world will go on to become racing royalty.
"Any foal you deliver has the chance to be a champion – will it be an Octagonal or a Winx?" she said.
"At the end of every season I say this will be my last year. But as July arrives, I always check when the first foal is due. I'll be on a walking frame and still delivering foals!"
Rachel Ritchie grew up on Ra Ora Stud in New Zealand where she often attended foalings with her mother, Bev Spriggens. Watching her mother bring new equine life into the world had a lasting impact on Rachel.
She has since delivered more than 1000 foals herself, working at some of Australia and New Zealand's most respected establishments including Bellerive, Vinery, Edinglassie, Westbury, Cambridge Stud and Waikato Stud.
"I never had a second of doubt about what I wanted to do as a career. Going to foalings with Mum was always exciting. You'd watch a mare for weeks and then hour by hour and then you'd watch even more closely as the birth grew near. I'd always wonder if it would be a colt or a filly. It was always special."
At the age of 19, Rachel travelled to Lexington, Kentucky to train and work at Hagyard Davidson McGee, an equine hospital. When she returned, she became a consultant and foaling has been a regular part of her working year.
One of the standout moments of her work so far was being part of the team at Cambridge Stud that foaled down The Opera House, the rare white Zabeel foal who is three-quarter sister to Might And Power. "It was a daytime foaling and took place underneath the willow trees. We didn't know she was going to be white and, at first, we thought she had long white socks. But once the front legs and her head cleared, we knew we had one very pale baby on the way!" recalled Rachel.
"Foaling comes quite naturally to me – but you need to be alert all night. Horses adore making liars of people and some mares are extremely sneaky. Attention to detail is a must. Even when you have a bad foaling you must use all your skills to get to the end of it in the best possible way. There is heartbreak sometimes and you have to walk away at the end knowing you've done everything you possibly could.
"Any foaling is special – there's something magical about it. You can never get tired of seeing a new life come into the world. You see those horses racing three or four years later and know you were their first point of contact with the human world."