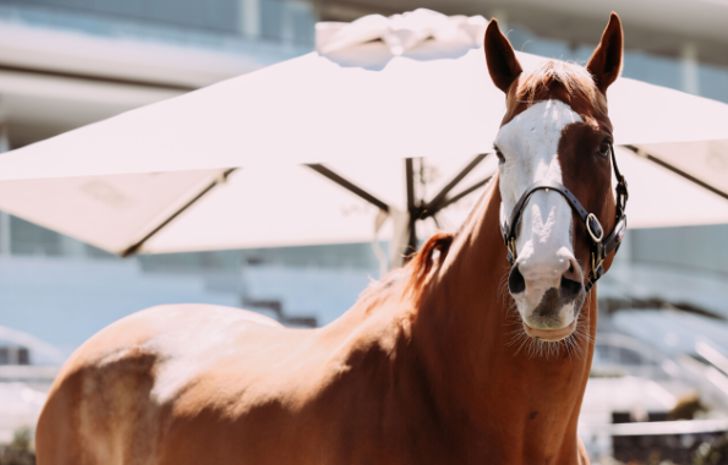 Stable mates
12 August 2021
•
Written by
Andrew Eddy
Greg Eurell thought his vast experience with horses of different breeds and shapes and demeanours through his adventures with the Australian Olympic equestrian team had prepared him for anything that thoroughbred racing could throw at him.
But then there was this horse. So strange in appearance yet so placid in nature, the horse offered Eurell an entirely different perspective. In any given moment, he could be applying sunscreen to the horse's nose and other sun-sensitive areas while in another, he could be leading the horse back to scale through a frenzied Queensland crowd all intent on celebrating the horse.
Eurell's role at that time in the early 2000s in the thoroughbred industry was to educate young horses and provide pre-training for others as well as preparing a team of his own.
One winter morning he was busily going about his duties at his stables at Cranbourne when a truck pulled up with a homebred horse the breeders wanted Eurell to prepare for a racing career. He had no warning as to what was to walk off the truck and when the horse finally did emerge, Eurell was speechless.
"We'd experienced a lot of different breeds and types and style of horses over the years and then this horse walked in with all this white over him and covered in mud," said Greg Eurell. 
It was the middle of winter when he came in and he'd been enjoying the winter mud pools on the property where he was from and the horse was just a complete mess. He sort of leaped off the truck and I thought 'wow, what is this?' - Greg Eurell
As Eurell, who had been a member of the 1984 Los Angeles Olympics team, was relatively new to the game and seeking new clients, he could hardly refuse the offer to train the distinctive horse. But others did have a choice. And they chose badly. The horse's owners and breeders called him Apache Cat and within a few starts, it was obvious the striking horse was above average with a win in the Listed Gibson Carmichael Stakes as a late season two-year-old, a good pointer to a successful three-year-old season.
So much so, he was being sought to race in Hong Kong and when the deal was arranged and the horse passed the veterinary clearance, it was a matter of putting the horse on the plane and waving him goodbye.
But before that day came the new owner, who had been overseas at the time of the offer to buy, finally got to see a video of the horse. And he didn't like what he saw. Eurell remembers it well, as it would become the turning point of his career. Apache Cat would go on that season and win a Group 1 classic – the Australian Guineas at Flemington (then known as the Cadbury Guineas).
"Hong Kong made an offer for him, which was accepted. He was vetted – he cleared the vet and everything was fine. But the gentleman that was going to buy him had been overseas and when he came back, he agreed on the horse but he'd never seen him.
"He had one look at him in a video and he said 'I don't want him. He's got too much white in him.' And I can't thank that bloke enough. The bloke didn't want him because if the horse was no good, he'd been too identifiable and he'd end up being embarrassed. But if you've got a Ferrari – it doesn't matter whether it's black, red or white – it's still a Ferrari."
It is over a decade since Apache Cat's retired from racing and Eurell still thinks of his former star.
"He was an incredible horse. The fantastic part about him is that he was just one of those very durable, tough racehorses that had a very cool demeanor about him. He was relaxed, you could do whatever you wanted to do with him. He was a terrific horse to work on the track and he could travel. It just made the whole job and experience that much easier because he allowed you to be able to do what was needed to tackle these races. He didn't overwork, he didn't under-work. Everything you asked the horse to do, he did. That's what he was like all the way through."
Credit: World Horse Racing, October 2018
Of course, Apache Cat did have his kryptonite. It was the sun. Because of his white markings, Eurell found the horse was a target for sunburn, so would shelter the horse from the rays and when he was out in the sun, he took to applying a sunscreen.
"In the summer we used to put cream on his nose so he wouldn't get too sunburnt. He came up with a couple of red patches on his nose as his skin colour meant he was very sensitive to the sun. It was one of the few things we had to worry about with him."
Once Apache Cat started racking up the victories along the east coast, support for the horse grew. "He had a big fan club," Eurell explained. "We got lots of letters and emails with people wishing him well all the time. There's a bar at the casino in Brisbane and I think it's just wall-to-wall photos of him."
I think the most memorable time we had with Apache was when he won his second Doomben 10,000, he was such a favourite with the crowd. - Greg Eurell
All good things must come to an end though, and so it did for Apache Cat after the Hong Kong Sprint in December 2009 and was brought back to Australia.
These days, Apache Cat is still turning heads as a 14-year-old. The winner of 19 races and more than $4.5 million in prizemoney is one of the great attractions at Living Legends – an open-to-the-public retirement home just north of Melbourne for some of racing's finest thoroughbreds.
"I've been out there to see him at Living Legends and he certainly has got a good life," Eurell said. "He gets around to plenty of places. He's covered the east coast of Australia again in his retirement but it's been terrific for him because I think it keeps a bit of interest there, and the old boy certainly loves it."
Eurell has had many other good horses since Apache Cat, including the Cox Plate winner Pinker Pinker. He says he is always looking out for the next champion but said he never expects to get another horse like Apache Cat.
"Lightning doesn't usually strike twice so if I get anything close to him, I'd be the luckiest bloke in the world," he said. "He was a great horse. The way he looks and the name that they gave him and the character that he was all came together to make one fantastic horse that just everyone loved."