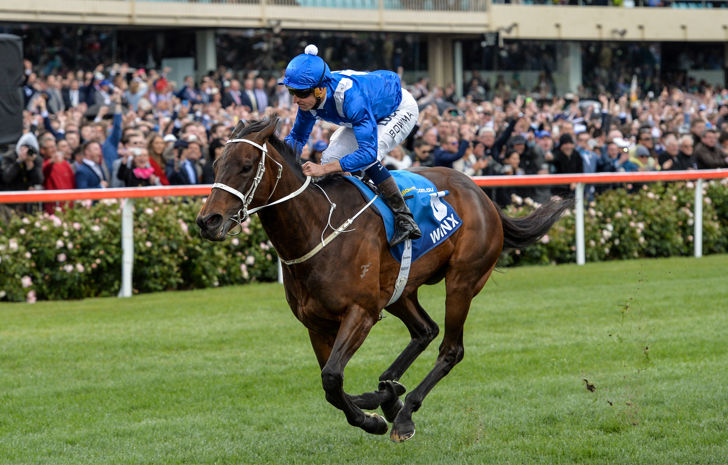 Winx one year on
12 August 2021
•
Written by
Mick Lynch
For Debbie Kepitis, Richard Treweeke and Peter Tighe this has been a year like ... well, it's not been like "no other" exactly.
But it's certainly not been like any 12 month period they have experienced in the recent past.
The trio is, of course, the owners of the wonder mare Winx, and the year since she made her last triumphal appearance on a racecourse – when she bowed out with a victory in the Queen Elizabeth II Stakes, the highlight of The Championships – has been a period of adjustment.
They enjoyed a ride that no other group of owners (with the exception of the syndicate behind the other 'wonder mare' of the early 21st century, Black Caviar) has experienced.
Winx might not have gone through her career unbeaten like her illustrious predecessor – she won 37 of her 43 career starts, the last 33 in succession while Black Caviar retired on an unbeaten streak of 25 straight.
But the Chris Waller-trained superstar arguably created an even bigger impression than the Peter Moody-prepared mare. When Winx was racing, Twitter, Instagram and Facebook were far more developed than in Black Caviar's time, even though that had only been a few years before, and the reach of social media helped to spread her fame even wider.
It's fair to say that no horse has come even close to capturing the public imagination since she retired: good though the current crop of three-year-olds seem to be, headed by the likes of Alligator Blood, the fact that aged geldings like nine-year-old Black Heart Bart and Perth raider Gatting were able to win some of the cream of Melbourne's weight-for-age races during the last spring carnival speak volumes about the Winx-sized hole that has been left at the top of the weight-for-age ranks.
Not that Winx herself cares about that. She recently got an all clear on her 120-day scan to show that she was progressing exactly how she should now that she is in foal to super stallion I Am Invincible, and her owners are looking forward to seeing what sort of youngster she will drop when she delivers her first foal later this year.
Kepitis was well known in racing circles BW (Before Winx) as the daughter of Jack and Bob Ingham, two of the biggest players in the Australian industry when they were in their horse racing heyday.
But her fame in the DW (During Winx) period grew exponentially. She was the woman with the purple hair who wore the same purple outfit to the races every time her superstar ran. Winx might not have needed superstition to get her over the line, but the owner who delighted in her success was never going to take any chances.
Now the dust has settled Kepitis – who, like Tighe, still has other horses in training – can reflect on a wonderful four years when her galloper was unbeatable and how her racing involvement has changed since the retirement.
It was so surreal for five years with everyone always interested in her that we have enjoyed not being in the limelight for a while. - Debbie Kepitis
Kepitis often goes to see Winx in the Hunter Valley where she is "in confinement" in a paddock with other mares, and is delighted to watch her just be a horse and a mother-to-be.
"We all worried a bit about how she would react being in a group paddock and in foal and not being in work, but she has made the adjustment well.
"When she first went into the paddock there was an old gelding there, he was 18 years old, called Kiawa, and she learned a lot from him. He dominated her at first but that's where she adapted after all those years in a racing stable."
Winx's first foal will inevitably be one of the most sought-after yearlings in the country. It is hard to see the trio putting the offspring up for sale although Kepitis says that no decisions will be made ahead of time.
"We haven't really discussed it since before Christmas. We have had a couple of lovely get-togethers and talked about what she did for us.
"We decided that we will make every decision as it comes up rather than make a plan in advance and be locked into it."
Up in Brisbane, Peter Tighe is still heavily involved with racing. He has interests in some 60 horses and with Chris Waller, who trains "about 98 percent of them."
"Winx was extraordinary and we really enjoyed it, but life moves on, even if it has slowed down a bit," he said.
"We have shares in 60 other horses and we are trying to get the types that can run in the Melbourne Cup (he has been involved with Finche, who has run well in the past two Cups), the Caulfield Cup and races like the Doncaster, where Imaging (a horse bought out of Dermot Weld's stable in Ireland) is set."
He acknowledges that it's highly unlikely that he will ever be involved with a galloper as good as Winx again, but that won't stop him trying.
"We are always on the lookout for the next Winx," he said.
"We were at the Magic Millions and Karaka ... you just keep tossing your hat in the ring and hoping."
He gets down to see Winx 'when he can'.
"Patty (his wife) loves to have a chat to her and give her a pat. We are never far out of the loop. We have a What's App group and we are monitoring the pregnancy. We have had a report saying she's in perfect shape and taking to it well. She's in a "Mum's club" paddock and enjoying life."
Winx's regular rider, Hugh Bowman, is Sydney-based so Tighe catches up with him at the races when the opportunity presents and on the phone.
"My wife and his wife Christine stay in touch. They are just some of a long list of people and friends we made through Winx. It was a wonderful ride and she was the horse of a lifetime."
(Photos by Lisa Grimm Photography and courtesy of Galloping Group Pty Ltd)