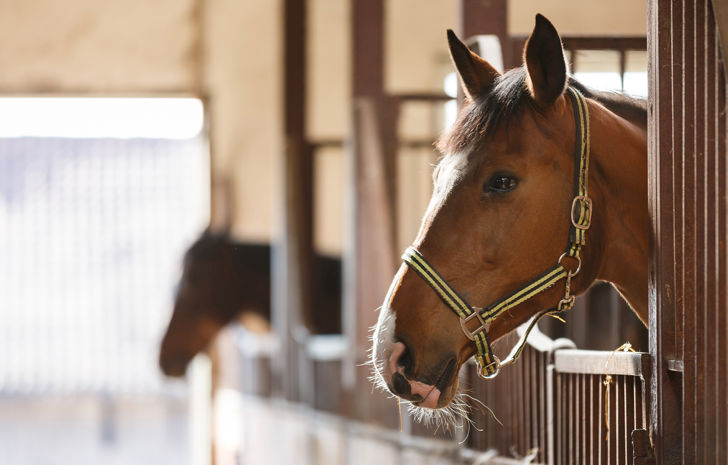 Home sweet regime
16 August 2021
•
Written by
Sarah Marinos
Rehoming programs are a vital part of the operations of many Flemington trainers. The stable of Mathew Ellerton and Simon Zahra, aided by Pippa Warman, goes above and beyond to match its retired racehorses with the perfect new home.
Since beginning their business in 2009, trainers Mathew Ellerton and Simon Zahra have enjoyed a series of Group 1 successes. But the trainers are also focused on what happens to the horses they work with once their racing career ends. 
At their stables, they have established a rigorous rehoming program that has seen many horses make a successful transition into a new life away from the racetrack. 
Former protégés that have benefited from the Ellerton Zahra program include Rock 'n' Gold who earned more than $600,000 in prizemoney for his owners. He retired and was rehomed with his longtime strapper and track rider. Another Ellerton Zahra trained horse, Topkapi, was rehomed with an event rider and vet, while Cool God left the stables to become a natural trail riding horse.
Pippa Warman is responsible for rehoming horses for Ellerton Zahra. Originally from Western Australia, Pippa has been at the successful stable for seven years and has a background in eventing and trackwork.
"I rehomed my first horse in WA – a horse called Tullius that was given to me by trainers Dion and Lou Luciani. They bought him for the Derby but he was flat out keeping up with the ambulance!" she said.
"He has a boney tennis ball-size growth on either side of his fetlocks but I rehomed him with a friend, Kate Ingham, an event rider. He's now called Asti Aspiration and he's competed at the Adelaide International Three Day Event as well as in Melbourne (which are two of the most recognised eventing competitions in Australia). Kate has turned him into a superstar."
I rehomed my first horse in WA – a horse called Tullius that was given to me by trainers Dion and Lou Luciani. They bought him for the Derby but he was flat out keeping up with the ambulance! - Pippa Warman
Warman and the Ellerton Zahra team have a firm focus on finding the right combination when it comes to rehoming their retired racehorses.
"It's not just about rehoming, it's about rehoming properly," said Warman.
"Simon will tell me that a certain horse is retiring after he's had discussions with the horse's owners. They all agree that it's time for the horse to be retired and rehomed and I then take some photos and videos to share with potential clients. 
"It's knowing what to look for in a horse and a potential client. I work out what will suit the horse and look for the person that will match that. Some of that is down to instinct and I also know our horses back to front. A lot of horses we have come from the yearling sales so I have known them a very long time. So I invite a few people on my waiting list to come and see the horse at the stables, and if I don't have any potential buyer on my list that I think is the right match for that horse, then I will advertise."
Ellerton Zahra's philosophy is to take as long as necessary to find the best new home for their racehorses. 
"I am never under pressure to give a horse to the first person that's available. Having that pressure lifted means you can show a horse to enough people and take your time in making a match. The more time you have to work out the right fit, the better," said Warman.
"I always tell people that if it doesn't work out then they can bring the horse back to me – for every horse that I rehome, there can be another ten people in the line willing to take it. That's only happened a few times but occasionally things don't work out as a new owner anticipates, or perhaps their circumstances change and they can no longer keep the horse. There are no hard feelings and it's never difficult to find another home."
The futures of the horses that leave Ellerton Zahra are diverse. They have gone on to high-level eventing and to become polo horses, pony club all-rounders or simply a horse to be enjoyed for leisurely rides around the paddock. 
"The most unusual request I've had was from a lady wanting a horse for hunting and archery – she wanted a strong horse. Initially I thought someone was playing a joke, but she was very serious and I found her a horse and it has worked out well," said Warman. "As well as strength, the new owner's main priority in the horse was a good temperament. The one I found for her was actually supposed to be in the movie Ride Like a Girl. He didn't end up in the film, but I knew he was level-headed and adaptable as he had already been trained to have cameras and other things attached to him." Named My Lucky Star when racing, he didn't have much success on the track but seems to have found his calling in his new career. "When performing archery the rider has to canter without holding on, so it was imperative the horse be good-natured. The new owner is so happy with him, I'm on the lookout for another for her."
Many owners at Ellerton Zahra are keen to find out how their former horses are faring.
"For many of the owners, their horses are like their children and I send them photos and updates when their horses retire so they know what they are doing and that they are well," said Warman.
"I have a young girl, Georgia, who has just turned 14, and she's taken three horses off the track from me. She is a fantastic horsewoman and has had some amazing wins and victories. It's exciting when you rehome a horse and it defies the odds.
"I also like the moment when I'm preparing to rehome a horse and I have them in the yard, dress them up, put on the false tail and pull their mane and he or she steps out like that for the first time. It's like a graduation from being a racehorse to looking forward to the next stage in life."
Credit: World Horse Racing, January 2020.