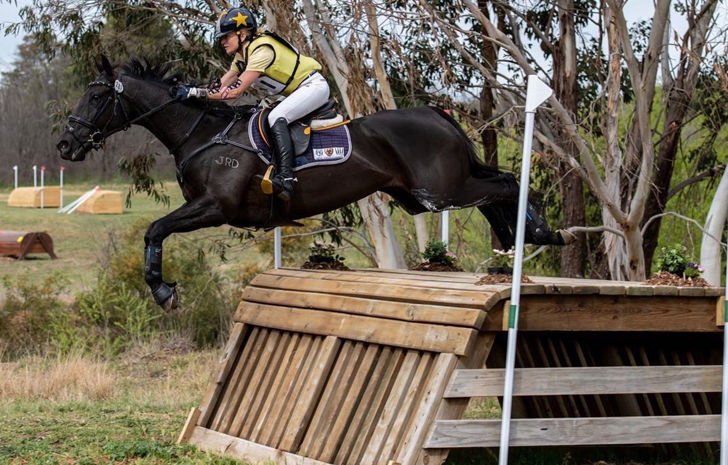 Koko Popping Candy's second career
16 August 2021
•
Written by
Sarah Marinos
When many thoroughbred racehorses retire, they are still in their prime. Seen as too old for the track, they are often the right age and in ideal physical condition to transition from the racetrack to the equestrian world.
"If a horse is still racing at six, they are seen as long in the tooth but that is young for an equestrian horse," said Amanda Ross, one of Australia's leading equestrian riders.
"With the right training, there are so many things you can do with off-the-track thoroughbreds – they are valuable creatures."
During her lengthy career, Ross has enjoyed competition success with a series of off-the-track thoroughbreds. With her current horse, Koko Popping Candy (who Ross affectionately calls Zara, and who raced as Gothic Medusa), Ross is a serious contender for selection for the delayed Tokyo Olympic Games, and the duo has also competed at the World Equestrian Games and the Blenheim Palace International Horse Trials in England.
In 2000, Ross rode off-the-track thoroughbred, Otto Schumaker, at the Sydney Olympics (he trialled but never raced, and his racing name was Asoremic). Last year, riding warmblood Dicavalli Diesel, Amanda came first in the Oceania Championships in New Zealand.
"I grew up bringing thoroughbreds off the track," said Ross.
"I particularly like them because they have an inherent go button and that's what you need in eventing. Their work ethic is ongoing and they are energetic horses. Their natural endurance is a factor, too, because the fitter they are, naturally, there will be less wear and tear on a horse to gain that fitness. Off-the-trackers come with a bunch of life experience: they can do so much already."
Ross bought Koko Popping Candy in December 2016. The thoroughbred was previously owned and re-educated by Robert Palm and wife, Cassie, at their property in Bunyip, Victoria. Robert himself is a respected eventer and showjumper who has competed up to 4* level.
Since moving from his home in NSW to Victoria in 2010, Robert and Cassie have focused on breaking, pre-training and re-educating horses and operating Regulator Thoroughbreds and Performance Horses. They bought Koko Popping Candy from trainer Nikki Burke.
"I liked her type. These horses have got to have everything in the right place and make a nice shape without being forced into it. They have power behind them, they swing when they move and they are athletic and have a good action," explained Palm.
"When I saw Koko Popping Candy for the first time, there was a thick piece of hosepipe lying across the area where we trotted her up, and she didn't put one foot on top of that. She went over that piece of hosepipe three times – she saw it and was very watchful – and I thought 'I'll take her'.
"Cassie and I didn't win many classes and shows with her but, looking at the big picture, we always thought she'd be something special if we got the fundamentals and fitness right."
Palm said working with off the track thoroughbreds and getting them to a point where they can compete is a rewarding process, but it's a process with no set time frame.
I don't use the word 're-training' – I see it as educating off the track horses in new areas. - Robert Palm
"I don't use the word 're-training' – I see it as educating off the track horses in new areas," he said.
"Koko Popping Candy spent six months relaxing in a paddock before we began working with her. It was 12 months before she did her first competition. I usually get a horse on the arena, gradually introduce jumping and some cross country and dressage. As they get used to that we also get them used to going on the truck and going to competitions. Watching that transition is the best part of the job."
When Ross bought Koko Popping Candy the horse was at 3* level and is now at 4* level. She has worked hard to contribute to her development and performance.
"My strength is probably training horses on the flat and Rob and Cassie had done a good job with her, but I felt there was still more there. Cassie also said she was the best horse to ride cross country and that gave me confidence. I like Koko Popping Candy's scope and energy," said Ross.
"There are some challenges with off-the-trackers – they have been taught to run and you have to take away that mentality. You need them to wait for you and to relax and show their technique. If a horse is tight then its technique over a fence can be compromised.
"With Koko Popping Candy I found that it took time to get her to jump in a more relaxed way but when she realised what she could do, she put all her energy into doing it."
Robert Palm has watched Koko Popping Candy's equestrian progress and success at home and overseas with pride.
"If there was a horse I'd want to take to war, she would be it," he said.
"She will never lay down – she just keeps digging deep."
(Photos by Karon Photography and courtesy of Amanda Ross)