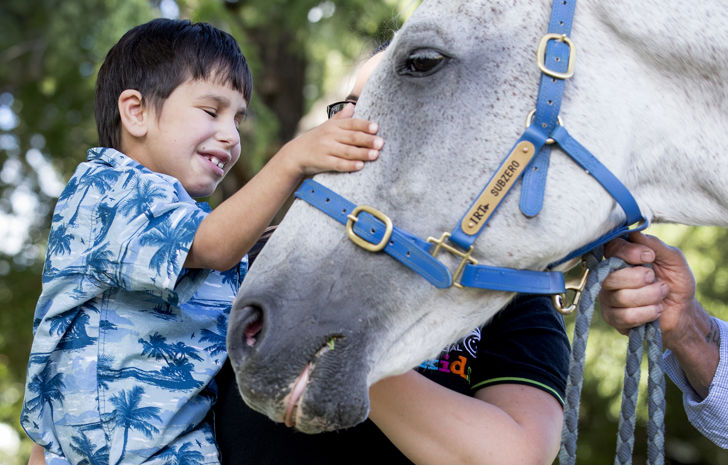 Life off the track
16 August 2021
•
Written by
Keith Hillier
The average lifespan of a thoroughbred is 25 years, yet most racehorses are retired before they reach the halfway mark. That means there's plenty of time for another adventure.
The re-homing options for retired racehorses are plentiful. For some, a breeding career is the answer. For others, equestrian competition, pleasure riding, becoming a mounted police horse or joining the Riding for the Disabled Association of Australia are in store.
Subzero, winner of the 1992 Melbourne Cup as a four-year-old, took a different direction. In retirement he became Australia's best-known racing celebrity.
'Subbie', trained by Lee Freedman and ridden by Greg Hall, was one of the few grey winners of the Melbourne Cup in post-War years. He became a clerk of the course's horse after retiring from racing in July 2008.
Long-serving clerk of the course Graham Salisbury became 'Subbie's' companion and best friend. 'Subbie' would charm everyone with appearances on television, visiting schools, hospitals, charity functions and as a regular on the VRC's Melbourne Cup Tour.
He would answer straight-faced Salisbury's questions with a determined nod of his head for "yes" or negative-like sideways swishes for a definite "no".
70,000 people participate in thoroughbred racing in Victoria; 8,808 racehorses compete annually; 74 per cent of thoroughbreds officially enter training and 90 per cent of horses leaving the racing industry are re-homed.
 Racing Victoria's Off The Track program was launched in 2012 and since then over 11,000 retired racehorses have participated in more than 700 sponsored equestrian events. There are 51 Racing Victoria Acknowledged Retrainers along with other industry participants who prepare ex-racehorses for another chapter in their competitive lives.
Classy big-race winners Salamander and Ming Dynasty became police horses and were trained to stay calm amid volatile crowds, fireworks and flares, and to withstand the rush of crowds. Maldivian's role in retirement was as a paddock companion to calm young horses.
In the competitive arena, ex-racehorses have a successful track record in the Garryowen, Australia's most significant equestrienne turnout event, with ex-track stars winning the past eight editions. 
These were: 2019 – Mikimoto, 2018 – Stage presence (raced as Persistency), 2017 – SLM Mercedes (Crosswind); 2016 – Entourage (Rolling Paradise); 2015 and 2014 – Chosen One (who raced under the same name); 2013 – WS Coast (Courageous Heart, who won seven races) and 2012 – Xlerate (who was a $650,000 son of Zabeel and with the same name had won four races for trainer John Moore).
From August 2018, any horse that was bred to race and has been Stud Book registered is eligible to compete in Off The Track events. Previously, Off The Track events have been restricted to thoroughbreds which have competed in a race or an official barrier trial. The change of classification expands the reach of Off The Track and opens events up to a range of new competitors.
(Dylan and Subzero at Very Special Kids Hospice. (Fiona Hamilton /Racing Photos)