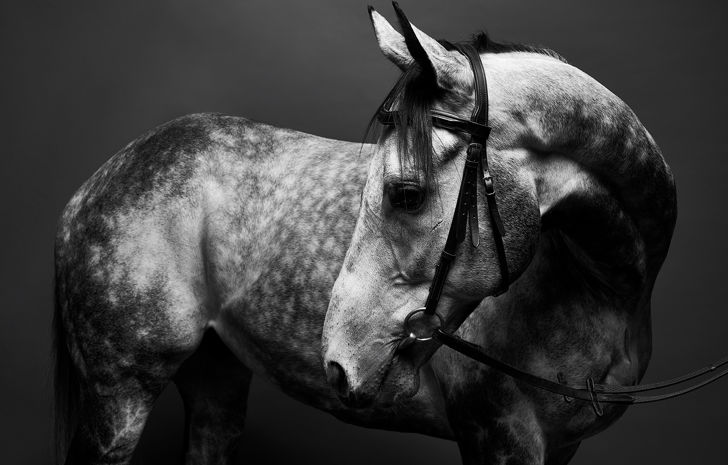 Show and tell
16 August 2021
•
Written by
Patrick Bartley
One of Australian racing's most loved sprinters, the iconic grey Chautauqua seemed to retire far too soon from the track for many.
Loved by racing fans for his unique racing style, breathtaking wins and that glorious dappled coat, happily he is now on his way to finding his feet in a new profession in the show arena.
Inspired by the promise of a spectacular revival of fortunes for one of Australia's finest sprinters, a big crowd of racegoers converged under the Friday night lights of Moonee Valley in September 2018 to bear witness to a do-or-die effort by 'the Grey Flash', Chautauqua. 
If he was successful in the official trial he could be cleared to race in Victoria – however, if he again failed to jump it would not only end his spring campaign but cast deep shadows over his racing future.
But there would be no fairytale that night for Chautauqua, who stood immovable as a collective gasp echoed across the nation.
It would take another year, a leap of faith and a change of heart before Chautauqua had a chance of a different kind.
For months the champion gelding, who had dazzled world racing with six breathtaking Group 1 wins, had confounded the training partnership of John, Wayne and Michael Hawkes by flatly refusing to jump from the barriers.
At the time, racing enthusiasts (from whisperers to psychologists) were campaigning for the reintroduction of strand starts so that Chautauqua could once again produce his breathtaking 'last-to-first' victories against the very best.
Back in Melbourne, former jockey and accomplished show rider Casey Bruce was driving Chautauqua's principal owner Rupert Legh "mad" with requests to look after the 10-year-old in retirement from racing. But Bruce's instincts told her the sprinter had much more to offer.
"I rang Rupert Legh time and again with questions ranging from 'how is the old boy?' to 'have you decided where he is going?'."
Her persistence paid off and in August 2019 Chautauqua – or Sharky as he is affectionately nicknamed – arrived at a property at Lara outside of Geelong: a place Bruce had designated as the horse's new home and place of rebirth.
The day he arrived there was untold excitement. He was a big, strong, world-class racehorse about to start a new chapter in his already decorated life. And I was going to play a fairly significant part. - Casey Bruce
Although thrilled with the challenge and opportunity, privately Bruce was concerned that the horse's detached and distant temperament was stifling him.
"He was reclusive. He kept to himself. Humans didn't really concern him and this bothered me because I knew I was overlooking something," she said. "The Hawkes stables in Sydney and Melbourne have done a fabulous job but I suppose in his last year in racing any new human beings that came into his life were going to ask him to do something he didn't want to do."
Bruce said it was on Christmas Day in 2019 when the penny dropped. During lunchtime festivities with family and friends she shared her theory on how to entice the Grey Flash into an entirely new arena.
"I explained to everyone how I felt, and then I thought I'd try something by getting a pony on one side of the fence and Chautauqua on the other," she said.
"They kicked and squealed and then suddenly the old boy started nibbling at the pony's back. His ears went forward and he was enjoying it. I took the pony away and stayed rubbing his back and scratching his hindquarters as he purred like a cat. The next morning I came out and all he wanted to do was nuzzle me, and just be my friend."
Through this unexpected bond, Bruce had breathed new life into the horse, who seemed to realise that the talented rider only wanted the best for him. She added: "Once upon a time he wouldn't have shown any interest, and now all he wants to do is bond with the horses here in the paddocks and the people around him."
Fast forward to 2020 and Chautauqua's career as a show horse has moved into its second stage, with Bruce continuing to put the finishing touches on the courageous grey before his arena debut is confirmed.
Bruce maintains the change of heart from Chautauqua continues to be a telling feature in his metamorphosis from sprinter to show horse, as well as a source of inspiration and strength to everyone he touches.
"I think he's enjoying life, and show work will be a new and exciting challenge," she said. "And if it isn't, and it might not be, what he's giving back is worth far more than any ribbon."
Credit World Horse Racing, July 2019