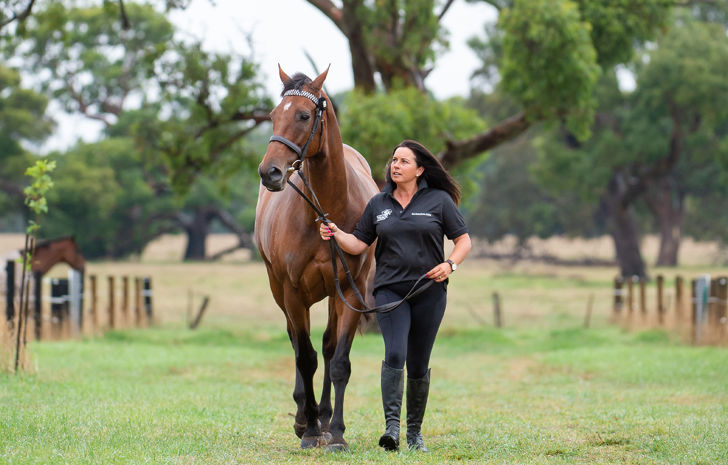 Where horses find a new home
16 August 2021
•
Written by
Celia Purdey
Working tirelessly to ensure retired racehorses lead long and healthy lives after leaving the track, retrainer Fiona McIntyre is a passionate advocate, dedicated to rehoming former racehorses.
The horse racing industry in Victoria employs thousands of people in a huge variety of positions. The diverse career options are plentiful, but anyone in racing has one common passion: the horse.
One extremely important role in the industry is that of the retrainer. Questions are often raised about where a thoroughbred goes after it has stopped racing, and this is where a retrainer steps in. Most trainers and owners have pathways in place for their retired racehorses, one of which is using a Racing Victoria Acknowledged Retrainer to re-educate the horses to prepare them for equestrian purposes. Fiona McIntyre is one such retrainer.
The 2020 recipient of the Wakeful Club Lady of Racing award has a passion for horses that is evident in every interaction with her about them. Born into the industry, McIntyre grew up on a stud farm where her father was the stud master. He was also a former jockey and trainer, and her mother a show rider. As early as her toddler years, McIntyre was enrolled into pony club, beginning a lifetime working with horses.
Retired racehorses were always present, as her mother also took them in for retraining. Now, McIntyre has about a dozen horses in her care which she looks after with her partner, juggling the retraining and showing with her full-time job.
Her approach to retraining is that all horses require the basic fundamentals to transition into a new career. She tailors a program to each individual horse based on their past experience, temperament and circumstances. One consistent part of the routine that each new charge follows however, is being given a period of spelling. Spelling them straight away gives the horse a rest and enables them to reset, so that McIntyre can then start from the basics and work her way up with a new routine.
She also changes their feed, as most racehorses receive a diet high in energy and protein, something that is not as required when they move into the equestrian discipline. They are changed to a diet higher in fat, and their fitness changes, as she works to develop the horse's top line, and different muscles than those used in racing. McIntyre believes that the benefits of spelling are huge, and she likes to give them at least three to six months. If they need any kind of rehabilitation from an injury they are given longer. 
Thoroughbreds are so versatile and intelligent that they make retraining them "easy and enjoyable" according to McIntyre. "Horses learn by repetition, and tend to pick up new sets of skills really well," she said. "Some are easier to retrain than others, of course, but mostly they are so smart that whether I am training one for equestrian or pleasure riding, they respond well." 
Positive results are not all down to the horse, of course, with retrainers such as McIntyre deserving of the credit, too. The role takes someone with lots of patience, who loves the horses and treats them all as individuals, playing to their strengths and weaknesses.  
A horse's age is also not an issue for McIntyre, who thinks that it is a myth that a horse that races until it is ten years old should be retired and sent to a paddock. "Older horses are more than able to be retrained, and have so many good years left in them," said McIntyre enthusiastically. "I believe that they are just hitting their prime when they are older and have plenty to offer in a second career."
Horses learn by repetition, and tend to pick up new sets of skills really well - Fiona McInterye.
McIntyre has a couple of older horses that have proven this in spades: she is the proud custodian of track legends, Precedence and Sirmione. Although she has many great horses and former champions in her care, her work with these two sets her apart. When Sirmione was retired from Bart Cummings' stable, his assistant trainer Reg Fleming (who had a soft spot for the horse) wanted to ensure he went to someone who would be a good fit. By way of mutual friends, the Pattersons, McIntyre ended up with Sirmione in her care. As if having the 2007 LKS Mackinnon Stakes winner wasn't enough, Fleming also decided that his favourite horse of all time should be sent to McIntyre upon retirement. That is how Precedence came to be part of McIntyre's equine family, and one that has given her boundless joy.
"Precedence arrived here the day after his last race [in 2015], so he was in fantastic order. Reg had seen hundreds of top horses in his career, but Precedence was right up there. I was honoured to take him on." The champion, who had finished in the top 10 of the Melbourne Cup three times, is now a show horse, like Sirmione. Neither had a name change, as many ex-racehorses do when they go onto an equestrian career, as they were deemed catchy enough for the show ring, and obviously recognisable.
McIntyre loved retraining both, but one in particular has her heart. "I love all of my horses but I am drawn to Precedence, especially. There is just something about him. Whenever I see him, I give him a big cuddle! He and I have a connection, too. If he's performing and having a moment, he just needs to hear my voice and he knows everything is ok." 
Image courtesy of Fiona McIntyre (Jay Town Photography)