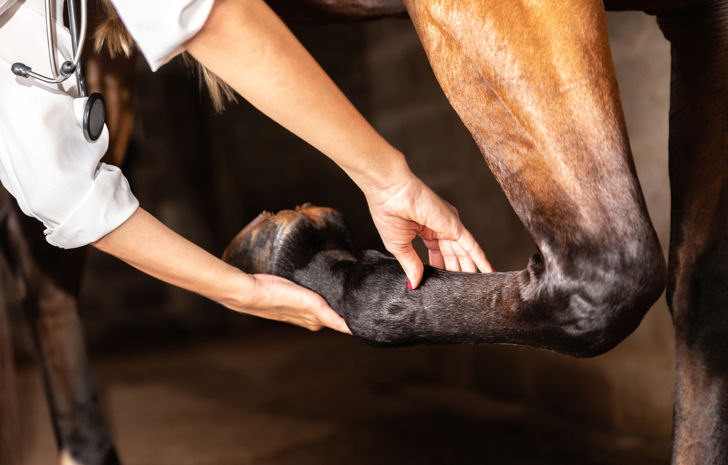 Taking strides for safest racing
16 August 2021
•
Written by
Mick Sharkie
The communication of important findings from the Equine Limb Injury Prevention Program to thoroughbred trainers across Victoria is leading to revised training and rest schedules for racehorses.
The $5.25 million program, jointly funded by the University of Melbourne, Racing Victoria (RV) and the State Government of Victoria, has taken significant strides forward since initial biomechanical data began to be gathered and collated in October 2018.
Leading the research program is Dr Chris Whitton, Head of the Equine Centre at the University of Melbourne's U-Vet clinic at Werribee Animal Hospital. A professor of Equine Medicine and Surgery and Specialist in Equine Surgery, Dr Whitton coordinates the equine scintigraphy service as well as working as a specialist equine surgeon. He also has a particular interest in researching the prevention and diagnosis of injury in performance horses.   
The focus of the Equine Limb Injury Prevention Program is to understand how limb injuries occur and what management and training issues contribute to risk of injury.  
The biomechanical data originally gathered has been used to measure load on joints, tendons and limbs with additional research indicating that repeated high-load periods lead to low-level cumulative damage. In some cases, this can be a precursor to bone fracture. 
"What we are focused on is how you can train and manage horses to reduce risk of injury. By analysing load in training and racing, we can modify factors that can lead to injury," Dr Whitton said.
It is important for trainers to understand that bone needs to adapt gradually to be able to adjust to high-speed galloping, and practices that can get a horse fit while limiting high-speed galloping can be vital to injury prevention. - Dr Whitton
The process of damage accumulation, damage removal and repair can occur all at once for a thoroughbred in work, so Dr Whitton and his team have developed complex computational models to forecast injury rates under various forms of exercise and to model bone adaptation.
"Often we try to explain away poor performance with excuses, when our research is suggesting that low-level injuries are having a much more significant role in performance," Dr Whitton explained.
"We're finding that for trainers to maximise performance their focus is best placed on injury prevention and the identification of low-level injury."
Periods of rest are important for the repair of damaged bone and the greatest turnover of bone is achieved during rest out of exercise when horses are spelling. 
"Those rest periods are crucial, as is identifying optimum opportunities for rest and the right length of rest. It is a question of balance and management so that we can work towards minimising injury risk and maximise a horse's performance over its career," Dr Whitton said.
Access to stride and speed data gathered in Tasmania by electronic GPS tracking system StrideMASTER has been another important step forward for the program, with researchers able to make the link between reduced performance and an increase in injury risk by analysing in competition data.
"The data we have received from Tasracing and StrideMASTER has been extremely useful. We're seeing that for all injuries, muscular and skeletal, that horses reduce their peak speed and reduce their stride length for up to five races before an injury takes place," Dr Whitton said.
"That's really important data because it allows us to identify outward signs in horse performance that warrant further investigation to assess and treat low-level injuries before they become bigger issues."
Dr Whitton's team is also putting computer modelling to use when it comes to track surfaces, with a focus on injury prevention on synthetic and sand-based tracks.
Computer programs allow researchers to simulate a horse galloping under different conditions and then to measure the impact of that gallop load on their joints, tendons and bones.
"It allows us to better understand that variable of track condition and how different conditions affect the limbs of the horse," said Dr Whitton.
"We're still pretty early in the development of that understanding, but the potential is really exciting. The focus at this point is on synthetic and sand tracks because they are largely constant across the board, where turf tracks are extremely variable and their profile can differ greatly from venue to venue."
The benefit of turf racing however, is that statistically it is the safest racing surface. Analysis pointing to a correlation between firm ground and limb injuries led to Racing Victoria updating its Track Preparation Guidelines.  This is another example of how the industry is continuing to invest in research to make racing as safe as possible for all participants – human and equine.