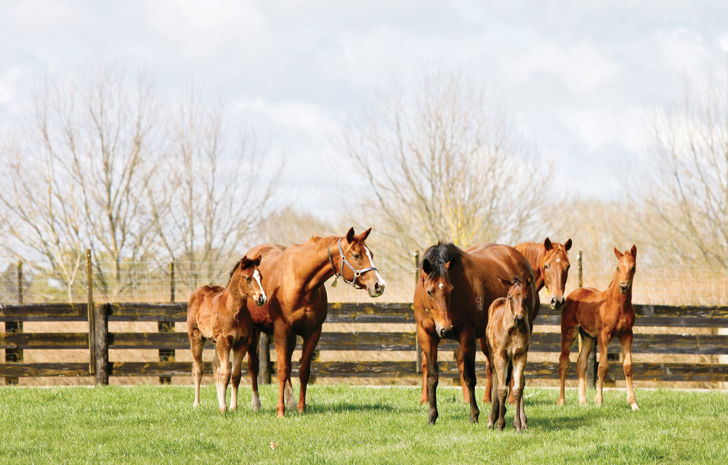 Building a national approach
16 August 2021
•
Written by
Michael Lynch
The coronavirus has wreaked havoc with all facets of Australian life, and while the racing industry has managed to keep going for now, the issues around equine welfare and the wellbeing of the biggest stars of the show, the horses, will continue as they always have.
Anyone who follows racing knows that the vast majority of horses in the sport and the overwhelming majority of people involved look after their charges in exemplary style: as is often pointed out, top racehorses sometimes enjoy more lavish care and attention than many people.
But there are a handful of exceptions, and it is those exceptions, sadly, which often grab public attention, as they did with the ABC's controversial 7.30 Report last year which documented mistreatment of a handful of former racehorses at a Queensland abattoir.
Since that went to air, lifting the lid on some of the inhumane practices a handful of individuals employ, the industry response has been gratifying. Major racing jurisdictions have pledged millions of dollars in funding to equine welfare to ensure such practices are eliminated, while much more attention is being focused on the entire question of what happens to horses once their racing life is over.
Racing Victoria (RV) responded immediately when it announced a $25 million plan dedicated to the welfare of Victorian thoroughbreds with a focus on their post-racing wellbeing. The Victoria Racing Club (VRC) also announced a $1 million Equine Wellbeing Fund.
That was during the last spring carnival, and earlier this year a cross-section of the leaders of the thoroughbred sector: Thoroughbred Breeders Australia, the Australian Trainers' Association and the Australian Jockeys' Association, formed an Independent Working Group (IWG) chaired by former Victorian premier, Racing Minister and veterinary surgeon, Dr Denis Napthine. 
The IWG immediately drew support from Canberra and from industry participants in all states and territories of the country.
Its remit is to review the current welfare landscape in the Australian thoroughbred industry, look at world's best practice, consult with participants in the industry, and take what lessons it can from other animal industries.
Dr Napthine, whose veterinary and political experience make him well placed to navigate the various sectional interests who will need to be consulted, is a man who believes passionately in the task with which he has been appointed.
I think Racing Victoria, to its credit, has been exemplary in the initiatives it has taken to protect the industry and to send a real message to the general public about what it is trying to do to protect everyone, human and animal, in the sport. - Dr Napthine
"I am chairing this group and we are looking at (what happens) with retired racehorses exiting the racing industry, the breeding industry and foals who don't get sold at the yearling sales.
"There are 25-30 per cent of foals born that don't make it to the sales for some reason ... they might have a gait defect, or may not be as well grown as might be wanted.
"Some of them might find their way back into the industry later. They might be left out in a paddock and grow, and when they are three or four years old someone might think to give them a go and see if they are useful by putting them in training."
But it is those that horses that don't which Dr Napthine and the other panellists (which include RSPCA Australia chief science and strategy officer Dr Bidda Jones, Australian Veterinary Association director Dr Ken Jacobs and Jack Lake, a senior agriculture advisor in the Hawke, Keating and Rudd Governments) will be focusing on.
"We are trying to collate data nationally on the number of foals born, the number who don't make the grade and the number (of racehorses and broodmares) who are retired each year. At the moment these figures are not collated on a national basis.
"We know that Racing Victoria, Racing NSW and the VRC have really lifted their efforts in terms of rehoming retired racehorses and that's been terrific. Eventually all these horses reach the end of their life. The issue is how do we monitor that and make sure their end of life is appropriately and humanely dealt with?"
Dr Napthine acknowledges that it is changing community attitudes that have driven the initiative.
"If you went back 20 to 30 years, people thought differently. They paid for a horse, paid the bills when it was in training and then sold it on and didn't bother much after that.
"In 2020 standards are different – it's not seen as appropriate. The community now says that the racing industry has a social responsibility to make sure that a horse is looked after all its life and the racing industry accepts that now, that it has a role to play in the whole of life experience."
Dr Napthine's group is looking at a wide-ranging number of issues.
"We want to collect data on the welfare regulations and the economic benefits of the industry so that it can be properly measured. We are also contacting a number of key stakeholders to ask them their submissions on health and welfare.
"As a group, we intend to travel throughout all the states and meet with government and industry leaders as well as animal welfare groups. Most of them really like the fact that this group has been set up to work on this issue."
Tom Reilly, the Chief Executive of Aushorse, is thoroughly behind the program.
We have to acknowledge that if we can improve outcomes in these areas, it is our responsibility to do so. - Tom Reilly
"Too often our industry is fragmented along state lines. This initiative will facilitate a national discussion with the aim of finding national solutions. Everybody that I have asked for support has been happy to give it and get behind this."
Federal agriculture minister David Littleproud has promised to make Government resources available to the working group.
"I want to see this initiative succeed and offer the assistance of the Department of Agriculture, Water and the Environment, including veterinary and regulatory advice to the panel established under the initiative," Mr Littleproud said in a statement in support of the IWG launch.
"This is a billion-dollar industry, and jurisdictions owe it to all those involved in the industry to deliver the best animal welfare outcomes for thoroughbreds."
(Photo by Lesley Warwick)