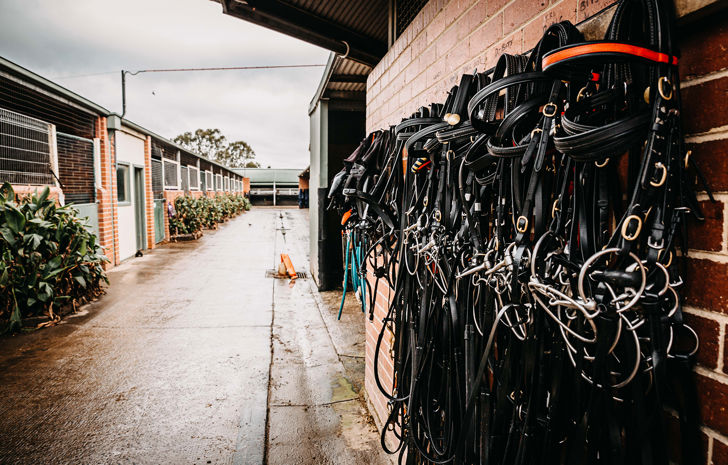 Resilience of racing
16 August 2021
•
Written by
VRC Staff
These are unprecedented times. The world is experiencing a crisis the likes of which it has never seen before. At the time of writing, two billion people around the globe are in lockdown, with the very fabric of society altered.
Work, education, sport, and social gatherings have all been affected as we scramble to slow the infection rate of COVID-19 to a speed that can be accommodated by our health system. A COVID-19 co-ordination commission has been established by the Australian federal government to help the country tackle the economic and health crisis.
The racing industry has been quick to respond. Even before the Prime Minister introduced the first raft of restrictions on sporting events and social gatherings, Racing Victoria (RV) and the metropolitan racing clubs made the tough decision to hold the Group 2 Alister Clark Stakes meeting at Moonee Valley and The All-Star Mile Race day at Caulfield as the first closed meetings, excluding crowds, owners and any non-essential personnel. This was to be the start of the new normal, with those race meetings still permitted to proceed and now being conducted behind closed doors. 
There is a strong equine welfare concern included in the considerations of continuing racing in this country. Unlike many other businesses, there isn't a readily available option to shut down racing stables due to the need of tending to our equine athletes. Across Victoria and the country, training stables are filled with athletes primed to compete at the highest level for the autumn racing carnival. Regardless of whether they are racing, these horses require high levels of care with twice daily feeds, mucking out and exercise at a minimum.
It is impossible to simply halt this process, and while it is true that they spend some of their time resting in spelling paddocks during the off-season, it is also impractical to expect that there is capacity for all horses currently in training to be sent to spelling farms – there simply would not be room. As such, RV together with the clubs who facilitate the state's training centres have implemented strict protocols on restricting access in order to uphold the Government's recommendations of social distancing. 
Racing itself has continued up to this stage with our industry's leaders working with the Government to allow racing to continue under increasingly strict protocols. This ground to a halt on Wednesday 25 March when Melbourne-based jockey Mark Zahra was informed that a fellow passenger on his flight from Sydney to Melbourne on 12 March had tested positive to COVID-19. In a stark illustration of how fragile the continuation of racing is, and how interconnected the industry is, this possible exposure halted racing in Victoria, NSW, Queensland, WA and Tasmania for two days as Zahra had interacted with participants from each of these states. All industry participants reacted with great relief when Zahra's test results were negative and allowed racing to resume on Friday 27 March. 
Racing and training is currently permitted to continue in Victoria under strict biosecurity protocols developed in accordance with all the current directives, guidelines and advice established by the Victorian Government on the advice of the Chief Health Officer. To date, the measures that RV has implemented include:
Access to programmed race meetings only granted to the following: 
Licensed jockeys engaged to compete at the meeting
Licensed trainers with runners engaged at the meeting
Registered stable staff of trainers with runners engaged at the meeting with trainers asked to minimise the number of staff in attendance
Race day officials and staff
Racing.com (official broadcaster who will be operating under strict protocols across all Victorian meetings)
Racing Photos (official photographers offering an editorial pool service for media on all Victorian meetings)
Racing & Sports (RV-contracted single person transcription service for media on Friday night and Saturday metropolitan meetings)
All permitted attendees at a Victorian race meeting will be subject to temperature checks by medical staff at the entrance to the racecourse. Those displaying a temperature of 37.6 or above will not be permitted to enter and/or compete.
Division of jockeys into two groups and restrictions on travel, with any licensed or registered person (including trainers and their staff), essential staff or essential personnel (being those currently approved for access to race meetings and training centres) that arrive in Victoria after 6pm (AEST) on Thursday, 26 March not permitted entry to any racecourses, training centres or Licensed Premises. Anyone that does is required to self-isolate for 14 days and must not return to race meetings, training centres or any other Licensed Premises at the completion of the isolation period if they are feeling unwell or displaying any symptoms of COVID-19.

RV in association with the Victorian Jockeys Association (VJA) has determined to raise the minimum weight for all country and metropolitan professional race meetings to 56kg from Tuesday, 24 March 2020 until otherwise advised. The details, which have been finalised in consultation with the Australian Trainers Association (ATA), are as follows:
For day race meetings, RV has determined that in order to maintain the spread of weights all weights in Handicap races will be raised by 2kg from the minimum weight with the minimum top weight not less than 62kg (in 2yo only races not less than 61kg). The scale of Set Weight races will also be raised 2kg where necessary to ensure the minimum weight is not less than 56kg.
For night race meetings, RV has determined to increase all weights by 1kg, with a minimum topweight in handicap races of not less than 62kg (in 2yo only races not less than 61kg). The scale of Set Weight races will also be raised where necessary to ensure the minimum weight is not less than 56kg. Night race meetings means any race meeting which finishes at 9pm or later.

Trackwork restricted to licensed trainers, registered stablehands, licensed jockeys, RV officials, club staff and essential personnel (vets, farriers, medical staff) will be permitted to attend trackwork and/or training centres within Victoria, including trials and jump-outs. This will continue until at least 13 April.
abandonment of the picnic racing season
Cancellation of official trials, with only local jumpouts allowed to take place
Maximum field limits and programming of races introduced as of Friday 3 April to further reduce the number of attendees on raceday and better assist in managing social distancing requirements:
Metropolitan Racecourses – maximum field limit of 14 starters per race
Country Racecourses – maximum field limit of 12 starters per race
Black Type & Feature Races – the maximum metropolitan and country field limits may be increased at the discretion of RV for major races.
The maximum number of races conducted at a meeting will be capped at nine with RV not adding or splitting races beyond this cap.
Where Government regulations allow, interstate horses will be permitted to travel to Victoria to compete but must be placed into the care of a Victorian trainer, while any licensed or registered personnel, or essential personnel (being those currently approved for access to race meetings and training centres) are not permitted to travel with such horses, other than employees of the Approved Float Company.
The most recent development in Australia has seen Tasmania cancel all racing in a State Government decision that has been unpopular with industry participants. Around the world, we have seen racing cancelled in the UK, France, Dubai, New Zealand and Ireland, with Singapore the latest jurisdiction to hit pause. Hong Kong and Japan have been successful in continuing racing as closed meetings to date, no doubt aided by the strict isolation practices and closed horse and participant populations that are customarily practiced in those countries.

The approach by participants has been mixed, with some trainers such as New Zealand's Murray Baker choosing to turn all of his horses out for spells (other than those currently competing in Australia under the care of Murray's son, including G1 Australian Derby winner Quick Thinker), while in the UK training is continuing under strict protocols. It is a key time for the northern hemisphere with Britain's flat racing season due to kick off soon ahead of the Group 1 Guineas meeting at Newmarket on the first weekend in May. This is customarily the same weekend for the Grade 1 Kentucky Derby in the US, however COVID-19 has meant that this iconic American race has been postponed to the first Saturday in September, the first time the race's date has changed since the end of WWII in 1945. There will no doubt be further changes and restrictions to come as racing, and the world, adapts to life under the COVID-19 cloud.
(Photo by Karon Photography)