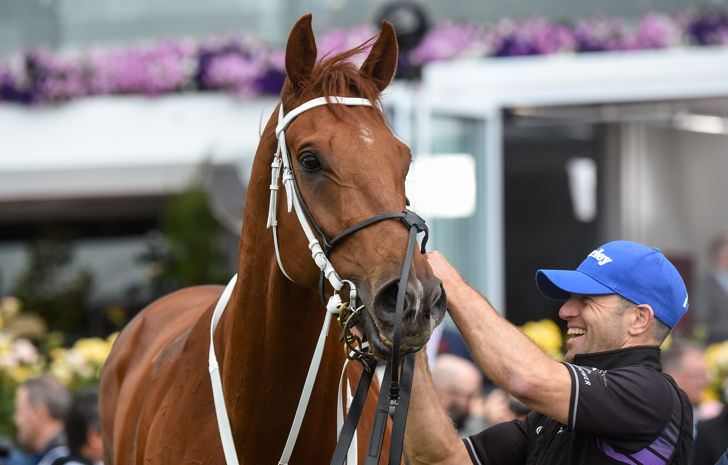 Changing it up
16 August 2021
•
Written by
Michael Lynch
Chris Waller has long been utilising dressage as a cross-training method for his stable stars, which has proven beneficial in helping to build muscle and keeping the horses fit and happy.
He's quite possibly the fastest sprinter on the planet – although fans of the English-trained speedster, Battaash might contest the point – but Nature Strip, like so many top horses, doesn't come without his complications.
It often seemed that he had only two gears: stationary or flat out, so quickly did he explode out of the starting gates and so rapidly did he get into his stride, leaving opponents struggling to keep upright from the start.
It tended to result in either boom, with Nature Strip running his rivals ragged, or bust, with the star sprinter running out of petrol in the final stages of a high-pressure contest to finish out of the places.
Well, that was his pattern when in the hands of his first few trainers. He has had a peripatetic career, at various times being in the Victorian stables of four different trainers before finally landing in Sydney with master trainer Chris Waller a few years ago.
And it is there, at Rosehill yard, that the penny seems to have dropped and Nature Strip has learned to relax and make more use of that enormous talent he was born with.
The method Waller has employed might surprise many, however, as he has been sending Nature Strip (as he did Winx before that) off for a quick course of dressage.
All that control and disciplined movement is the antithesis of flat out racing, but it seems to have done the trick. Nature Strip is now far more tractable, his riders can put him into positions in races that they want to occupy rather than letting the horse take charge, and as a result, his performance levels have gone even higher.
Waller, in his usual self-deprecating style, is reluctant to take too much credit for finding dressage to be a key to Nature Strip.
"Horses continue to improve with confidence and with time," he said.
"Our job is to make horses run fast. Over time, he has become half a percent better every week of his training life, and all of a sudden a couple of years down the track we have got a horse that's 100 percent better than he was two years ago."
While dressage is the most eye catching technique Waller employs, he admits that he has to use the full armoury at his disposal to keep Nature Strip ticking over, ready to do himself justice on the track.
"We use as much as we can. We never gallop him in company, never try to make him run fast, and we are always trying to make him slow down.
Dressage gets the horses to switch off, have a change of scenery and it, in turn, makes them a little bit more supple and a bit looser.
"When you are training around an oval track it's a bit limited with the options. You have trackwork, swimming pools, treadmills, aqua walkers ... but outside that, you can't do much else.
"Dressage gets the horses to switch off, have a change of scenery and it, in turn, makes them a little bit more supple and a bit looser.
"We find it also helps their core muscles. They are having to hold their heads down and collect themselves, and surprisingly that's good for their back.
"They are using different muscles, and you are slowing the horse down. It is quite a piece of work for them, where they are having to use different muscles and concentrate on what they are doing.
"We don't do a lot of it. But it's one of the things that you can use to change the environment for them. After a few days, they gradually get used to it and they love it."
Flemington trainer Mike Moroney, like Waller a former New Zealander, is another trainer who doesn't mind thinking outside the square.
He regularly sends horses to the Mornington farm of Mariah Kaminski, the partner of jockey Jake Noonan, where they also experience some dressage training.
"It just helps them find their feet a wee bit. It's something different, a new discipline for them. They come back so much more relaxed," said Moroney.
"It's something different for them, not just going round and round a track. It freshens them up mentally and gets them to hold themselves a bit differently, too.
"They use different techniques to learn to carry themselves better and use their bodies.
"I find that a lot of them come back and use all their body ... it teaches them to drive off their back end and build up muscle there. Some horses get a bit lazy on the track and go through the motions. If you get them to use their whole body it definitely builds muscle."