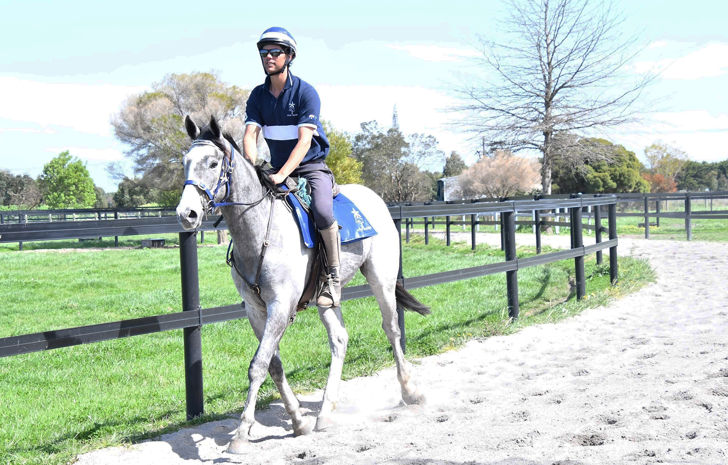 Where stars are born
16 August 2021
•
Written by
Michael Sharkie
The process of starting young horses under saddle and setting them up for a lifetime of positive riding experiences during their racing career and beyond takes a special skill
Rob Palm describes himself simply as a very relaxed person, calm and care-free. A conversation with Palm rolls along slow and steady like a hack pony cantering through a field, smooth and fluent, but with purpose.
"I'd rather take things slow and steady," he explained.
"My wife yells at me sometimes, she says I walk too slowly. I'm not really one to rush things."
With that sort of demeanour, it is little wonder that Palm has found joy working with horses. Along with his wife Cassie, he runs Regulator Thoroughbreds and Performance Horses, an equine primary school of sorts for young thoroughbreds and equestrian athletes.
Palm fell in love with horses as a child growing up in Sydney and along with his sister Clara spent countless hours on horseback, riding ponies, stock horses and Arab show jumpers at pony club; he was a natural horseman and soon found himself charging through the ranks in the equestrian world.
"I was reasonably successful I suppose," he explained
"I competed in three-day eventing and endurance, four-star events. In 2018 I was a reserve for Australia at the World Championships, I was riding a thoroughbred called Southern Pride that Queensland trainer Gillian Heinrich bred. He was too slow for the races, but he was a fantastic eventer."
Southern Pride whet Palm's appetite to ride more thoroughbreds and he found himself working as a track work rider at Rosehill, riding work for a living for trainers like Gerald Ryan before falling in love; goodbye Sydney and hello south-west Gippsland.
"I moved from Sydney to Bunyip when I met Cassie. You do funny things for love," he said.
From their property in Bunyip the Palms prepare young horses for future careers as athletes. It's a job that he loves, a purposeful process that suits his laid back personality.

"What we're doing is trying to teach them to be athletes, whether they are racehorses or equestrian horses. It's like pre-school, they've had initial education as foals and as young horses but they're pretty naïve when it comes to the world of racing," he explained.

The term "breaking in" is a common one in thoroughbred racing, but hints at a process of submission rather than education; nothing is broken, rather confidence built under Palm's watch.

"Thoroughbreds are bred to run, but you still have to teach them how. They know how to run but they don't know how to run under saddle, they don't know what barriers are, how to travel in and around other horses, how to carry a jockey and respond to direction – it's those little things that I teach them.

"Overall, it's generally a six-week process that starts with basic groundwork getting them used to girth and steering. I drive them on reins out of the saddle and slowly introduce different gear and then a rider. I'm not very vocal, but I give a lot of pats and reassurance."
What we're doing is trying to teach them to be athletes, whether they are racehorses or equestrian horses. It's like pre-school.
One of Palm's most recent students was "Mac", a Puissance De Lune colt owned by VRC member and equestrian rider Georgia Connolly who is a childhood friend of Palm's wife Cassie.
"He started with me in June and he's giving me a nice feel. He's been pretty good, took the average five or six weeks. I said to Georgia I'm not sure that he'll be really fast, but if he's not he'll be quite a nice performance horse," Palm said.
Mac, along with most of Palm's students, was under saddle for the first time after about five days. Older ponies work closely alongside the young thoroughbreds to reassure them and help build confidence; they know their way around the tracks at Regulator and help to show the young racehorses the way forward.
"If a horse is a bit fractious or a bit hesitant it's amazing how helpful the pony can be. I find that more often than not less is more. If I take an extra day or two to get a horse used to something they are unsure about, I usually end up about five days ahead," he said.
Once a horse is used to being ridden under saddle, the education process moves through phases of gentle work on tracks with partners, then through barriers – slow and gradual work that builds confidence so a horse can use their speed under race conditions.
"If all is going well, they're ready for a little practice jump out from the barriers by about the fifth week, then they can go off to their trainer. As long as they are relaxed and happy, then I'm happy. It's all about the horse being relaxed," he said.
Mac may not have stood out immediately as a future star, but others have. Group 1 winner Princess Jenni was always a stand-out and it seems that quality does shine through, even from a very young age.
"Some of them just want to work against you and you wonder how they're ever going to win a race," Palm said.
"But I definitely think the good ones show you early. You can feel the difference in them, you can feel the quality. They're just true athletes and when you find one, well, it's pretty exciting."