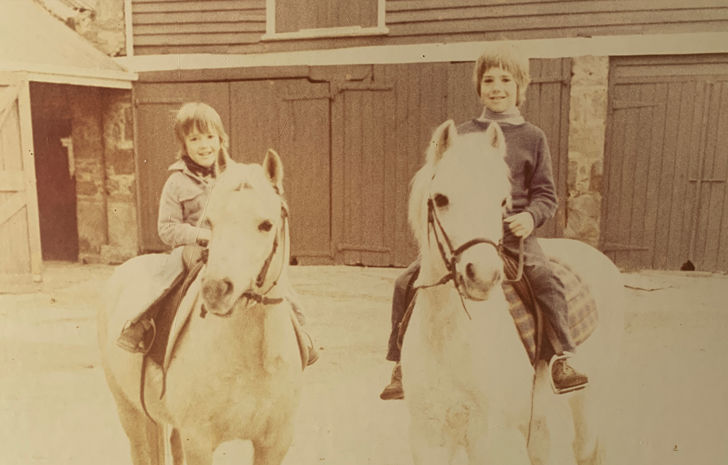 Stars in the saddle
16 August 2021
•
Written by
Michael Sharkie
These familiar faces from our TV screens and the sportsfield lead busy lives, but find peace and relaxation with their horses.
HAMISH McLACHLAN
There's a grainy, slightly washed out photo in Sylvia McLachlan's Birregurra home of two smiley young lads yet to hit double figures in age sitting atop a pair of ponies, one grey and one near Palomino.
It's a happy moment in time captured on the McLachlan family farm in Mount Pleasant in South Australia – happier still is that the moment has become a recurring one for the brothers in the picture, Hamish and Gillon McLachlan.
"The best thing about that photo is that both Gillon and I have similar shots of our kids on horses. History and horses seem to repeat in our family," McLachlan said.
Born into a farming family, the McLachlan children learned to ride as soon as they could hold themselves upright; they had to, a working day consisted of hours in the saddle droving and mustering sheep and cattle. If the kids couldn't ride, someone had to stay home to look after them.
Mum spent her life on horses and she was a great rider – she rode for Australia in dressage. Once they get in your blood, they're in your blood. - Hamish McLachlan
Soon the McLachlan boys were riding to school, a seven- or eight-kilometre trip each morning, before the horses were tied up in the neighbouring Elders livestock sales yard and saddles were slung over athletics hurdles in the sports shed.
Before he became the face of the Seven Network's sports coverage, McLachlan took a year after university to travel abroad. But instead of bedsits in Clapham Junction in London, he headed for Lexington, Kentucky and Newmarket, proper thoroughbred country where he could be around the animal he loved.
"They've always been a part of life and it was inevitable that Sophie (his wife) and I would eventually get some land so that our kids could have the same experience."
Now, if Milla, Indi, and Lex aren't in the saddle riding around the family's Mornington Peninsula farm alongside their parents, they're loaded into the Gator driving around to check on their horses before bedtime.
"Milla asked me recently what my favourite animal is, and straight away I said the horse. She said, 'me too,' and when I asked why, she said, 'because when I'm sad they make me feel happy, and when I'm happy they make me happier'," McLachlan said.
"Soph and I say the one thing we want to teach our kids is respect and kindness, and a lot of that is learned through a relationship with a horse.
"If a horse doesn't want to be ridden, they will never be ridden. You have to earn their trust and build a relationship over time, but once you've earned it, that animal will give you absolutely everything.
"That relationship has been so good for my kids, because they've learned that they can have an amazing impact on something so big and capable of such immense power, just by being calm and kind. It's an extraordinary bond."

CAMPBELL BROWN
With all his trademark larrikin charm, Campbell Brown describes his 12-year-old Don Eduardo entire Don Applausio as the slowest horse he has ever owned.
The former AFL hard man and premiership player tasted Group 1 success in 2015 as an owner of The Galaxy winner, Sweet Idea who was sold to the H M Queen Elizabeth as a broodmare, but the best that Don Applausio could muster was a Sandown hurdle trial win; and, as his owner ruefully points out, "they don't pay prizemoney for those."
"We bought him to win a Derby, but he had no ability at all. He bowed a tendon and we retired him. He's been on the farm ever since and Jess rides him for dressage," Brown explained.
The farm Brown refers to is his home at Hurstbridge where he, wife Jess, and son Boston live along with five horses of various shapes and sizes.
Don Applausio, by Don Eduardo, is joined by Villa Fortuna, a Bianconi mare that won once from 31 starts, a Welsh Cob, and a couple of miniature horses including one named Flash that three-year-old Boston rides rodeo style.
Jess Brown is to blame for the growing stable at the Hurstbridge farm – she grew up on land at Kangaroo Ground and rode competitively through her youth.
"Jess absolutely loves it. It's a lot of work for her, but after missing out on them (horses) while we lived in Hawthorn and on the Gold Coast, she's loving having them around again, and so am I," Brown said.
"We love the racing side of things, but they're great animals. They've all got their personalities.
"And it's good for kids to grow up around animals. Boston loves it. He has no fear around them and comes out on feed runs and terrorises the miniatures. They love him, too."
My favourite animal is the horse because when I'm sad they make me feel happy, and when I'm happy they make me happier. - Campbell Brown
JACQUI FELGATE
As a nightly news anchor and football reporter for the Seven Network, Jacqui Felgate is one of the most recognisable faces on Victorian television. Throw a couple of young kids, daughters Maddie and Georgia into the mix with media personality husband Michael, and it's a busy life indeed.
There's little wonder then that she finds peace in the saddle.
"It is the biggest joy," she said. 
"Being able to switch off from all the pressures of everyday life, not having to worry about looking at my phone, it's just you and the horse."
Felgate has ridden since she was a teenager and has always found the bond between horse and rider a unique one. A relationship that she is currently developing is with an old Irish sports horse named Kit, who she rides twice a week at Jolong Park in Bangholme on Melbourne's bayside fringe.  
I'm missing riding so much. I usually ride twice a week I love being out in nature and the sound and smell of the horse. There is no better feeling. - Jacqui Felgate
"Now, with my life so crazy at work and with the kids a little older, I've made it a priority to make the time for riding every week and it's been such a great thing to do for my mental health. I like just plodding around at my own pace – I don't compete and I don't ever want to. I'm just a weekend hack, to be honest!"
COVID-19 restrictions may have put the brakes on riding sessions at the moment, but they have also steeled Felgate's resolve to take her hobby further.
"The pandemic has made me decide to buy my own horse at the end of the year. We've owned enough shares in racehorses over the years, so sadly my husband is going to have to cough up for one more, but this time, one for me. Sorry, not sorry Michael!" she said.
Until then, Felgate and daughter Maddie will have to settle for Kit and the Jolong Park horses – once the venue reopens.
"Maddie is eight and has been riding for a year now. Initially, I got her into it to see if she would love it as much as I do.
"I love watching her ride. Children have remarkable balance and no fear. She cantered on her own for the first time not long ago and she was giggling the whole time. It is priceless."
(Photos courtesy of Hamish McLachlan and Campbell Brown)