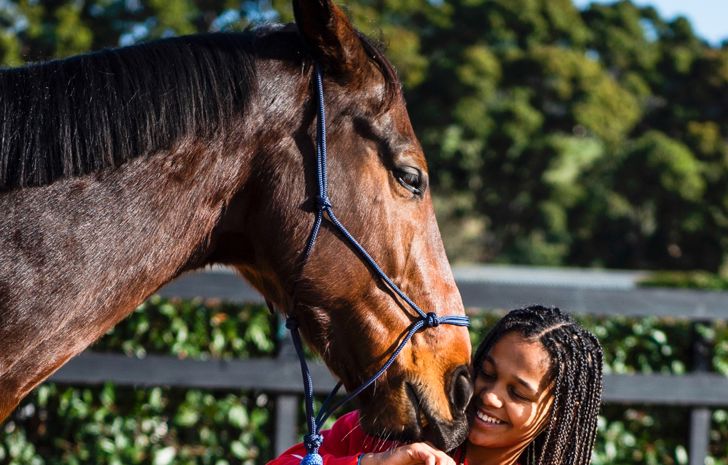 The healing power of equine therapy
16 August 2021
•
Written by
Sarah Marinos
Retired thoroughbred racehorses are proving to be valuable and sensitive assets in the world of equine therapy.
"I came here in not a very good state. Physically and mentally, it's given me the space and time to work out things and unravel," recalled Cassandra Gatt.
"I was in a paddock with a few horses and I was really struggling physically walking, and this horse came and let me lean against him and we just walked together, up and down and around, and I cried. Because he not only knew that I needed that, he was there to support it. It's quite amazing. I love horses now. I love them."
Gatt is one of a number of Australians benefiting from equine-assisted psychotherapy at Racing Hearts on the Mornington Peninsula. The organisation is run by counsellor Lisa Coffey, who has worked in the racing industry for most of her life. Racing Hearts combines her two areas of expertise – thoroughbred racehorses and counselling people towards better mental health.
"I describe equine-assisted psychotherapy as traditional counselling offered in a non-traditional way. It's powerful when you connect people with horses," said Coffey. 
"Some clients want to nut out challenges they face at work, at home or in a relationship. Other people fit somewhere on the full spectrum of mental health diagnoses. We might work in the paddock or in the arena, and horses are brought into sessions in different ways. Clients may sit near the horse or lead or groom a horse. But it's far more than going into a paddock and patting ponies.
"While they're with the horse, people become aware of the thoughts in their head, how those thoughts are impacting on their body and how things change for them when they are with the horse. They notice how the horse responds to their emotions. One woman noticed that when she had bad thoughts about herself, her body became rigid and the horse wouldn't walk for her. When she changed her thinking to be more positive, the horse walked."
Coffey uses six retired racehorses because of their versatility, trusting nature, and awareness.
"Awareness is a big part of what I do, and these horses are very responsive. They are very attuned to how a client is feeling and how they present," said Coffey.
"We have a Shetland pony for young clients, but when she cracks it, we have to put her away! I've never had that with racehorses."
One of Coffey's therapy horses is Lankan Rupee who retired in 2017 and has been on her 40-acre property since earlier this year.
"He's a very robust-looking horse and always evokes feelings of power, excitement and strength. He helps clients when they want to tap into their energy and passion. He exudes energy, but he's also gentle and is good for helping people with contrasting feelings and behaviours," said Coffey.
Coffey also relies on Hissing Sid, a back-to-back Warrnambool Cup winner who retired from racing in 2015. His slow and mellow nature is a useful contrast to the higher-energy Lankan Rupee.
"Nothing is ever a hurry for Sid! He is great for settling nerves and working with clients who are, because nothing phases him," said Coffey.
Also on the Mornington Peninsula is newly established Rehab4Rehab, which brings together the expertise of occupational therapist Sarah Munn and horsewoman Alisha Griffiths. The community-based program offers equine-assisted therapy for mentally challenged and disengaged children and youth.
Griffiths and Munn take in retired racehorses who become part of the healing process for the 70 children who are part of the program. One of the early success stories is 11-year-old Vashana who has Tourette's syndrome, autism spectrum disorder and ADHD. 
Before she began working with Rehab4Rehab, Vashana was not coping at school, and she couldn't hold a pencil or sit still. Vashana's tics couldn't be controlled by medication and she was never further than arms' length from a parent or carer.
But Vashana has learned to plait the mane of a horse, has been able to chop carrots to feed horses even though a knife would usually be too risky for her to handle, and when she is with the horses, she is still. She recently rode for the first time.
"I saw what Sarah was able to do with Vashana and I was so moved that I bought four thoroughbreds from the Echuca Sales, brought them here, let them rest for six weeks and they have become our therapy horses," said Griffiths.
The horses are happy in their own skin and when you put them together with the children, magic happens. 
"They're a natural choice for equine-assisted therapy because they have been broken in and handled, they've been used to human interaction from when they were born, they've been to a beach, seen a dog, a thunderstorm, a boat, a lady with a pram, a truck, people yelling and they've had gates slamming on them. By the time they come to me, they are not scared of anything."
The horses are a calming influence on children and young people with mental illness including anxiety, depression, post-traumatic stress disorder, issues of self-harm, and disengagement from school. The young clients are referred by schools, paediatricians, NDIS, Medicare, and parents. They do different things during their session – from picking feet and grooming to leading a horse, preparing feed, or simply just being in a horse's presence.
"The horses are happy in their own skin and when you put them together with the children, magic happens. Children are taken outside of the treatment room and put in an environment that makes them feel good. They develop friendships with the horse," said Griffiths.
The aim is for Rehab4Rehab to operate as a not-for-profit, if it gets enough financial support.
"I enjoy seeing the improvement in lives – those of horses and humans," said Griffiths.
"You can have a retired racehorse with an unclear future and a kid who feels down and who doesn't want to do anything. Then you bring them together and something happens that makes both of them feel better. I cry every day!"
(Photos supplied by Rehab4Rehab)