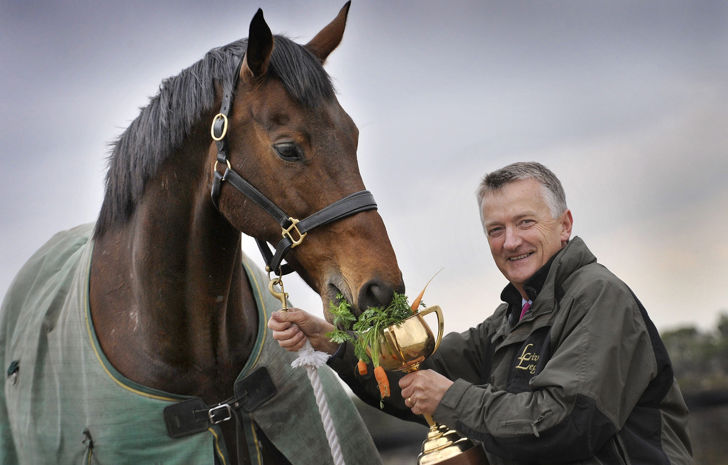 Where champions rest easy
16 August 2021
•
Written by
Keith Hillier
Living Legends, the beloved retirement home for champion racehorses has seen some changes recently, losing two legends but also gaining another.
Might And Power's legacy is impressive. He was the only racehorse to win both the Melbourne Cup and the Caulfield Cup by leading all the way. When he completed that double he was rated the 1997 world-champion stayer.
His outstanding career of 33 starts for 15 wins and $5.2 million in prize money included wins in the 1998 Cox Plate at Moonee Valley, Mercedes Classic at Rosehill, both the AJC and VRC Queen Elizabeth Stakes, Doomben Cup, Chelmsford Stakes and the Yalumba Stakes. The Australian Horse of the Year in 1998 and 1999 and inducted into the Australian Hall of Fame in 2002, he was trained in Sydney by Jack Denham and owned by Nick Moraitis, a tough and successful Sydney businessman. 
When his racing days were over, Might And Power had the honour of being one of the first three thoroughbreds to step inside Living Legends, at the time a new home for retired racehorses located in Greenvale. Two other retired racetrack stars, Doriemus and Better Loosen Up, arrived on the same day and joined Might And Power at Living Legends. Might And Power was given a simple nickname, Bob,  but was more formally referred to as the Living Legends 'Lord Mayor' for the 13 years that he resided there, before passing away from colic complications on April 12 this year.
After his death, Might And Power was given a final lap of honour, his ashes escorted to Caulfield, Flemington and Moonee Valley before he rejoined his former old mates Doriemus and Better Loosen Up in an expanded memorial garden at Living Legends.
The public was invited to participate by leaving a tribute online or making a donation to be part of creating "Bob's Rainbow" at his final resting place. CEO and Veterinary Director at Living Legends, Dr Andrew Clarke, said great care and planning had been undertaken to give Bob a fitting farewell to enable the public to feel part of the ceremony.
"Bob was a once-in-a-lifetime horse and we wanted to give him a farewell like no other," he said. Dr Clarke also praised the VRC, MRC and MVRC for embracing the opportunity to celebrate the career of Might And Power.
Dr Clarke said Might And Power had been a wonderful horse in retirement at Living Legends. "He would run around the paddock so fast he'd scare you, but he also knew when to be mellow, like when meeting children or adults with special needs."
"He was a celebrity who made appearances at Government House, the MCG and Flemington, and enjoyed trips to Sydney, Adelaide and many other cities, as well as country meetings including the Echuca Cup. He was a part of Melbourne's spring racing carnival for over 10 years.
"Bob had a special liking and empathy for children with a disability. Owner Nick Moraitis also has a passion for helping children, and has always been incredibly touched by the way people responded to Might And Power."
Sadly, in July 2020 another legend was lost. Chief De Beers, a star of Queensland racing in the mid to late 1990s, passed away. All 20 of his wins took place in Brisbane at Doomben, including winning two Group 1 Doomben 10,000s (three years apart) and nine other feature races at the track. However, he was a  widely travelled horse and contested Group races at Eagle Farm, Gold Coast, Caulfield, Flemington and Moonee Valley, with black-type placings at three of these five famous tracks.
He was renowned for his tough performances through his long and sustained career. Despite not having a big build, he won races carrying up to 64.5kg, an impressive feat for his size.
Chief De Beers was known around the stables as, 'The Chief', which fit his post-racing career as a mounted police horse for the Queensland Mounted Police after his retirement from the track on 14 July 1999.
His decade-long career in the police force was similar to that on the track – distinguished and impressive. He completed a number of ceremonial escorts, such as the Royal Queensland Show opening, the appointment of the Queensland Governor, and additional events within the community, but his most noteworthy duty was being the designated Governor's police horse. 
Chief was only small in stature but he was big on attitude and spark and kept us laughing right until the end.
In December 2012, 'The Chief' was given a vice regal send off prior to his arrival at Living Legends, where he resided happily until his death, aged 28. 
"Chief was only small in stature but he was big on attitude and spark and kept us laughing right until the end," Dr Clarke said.
"He will be sorely missed at Living Legends and his unique achievements as a champion both on and off the track will be his lasting legacy." He was laid to rest in the memorial garden with Might And Power.
While the loss of Might And Power and Chief de Beers leave a hole at Living Legends, the team and its visitors are buoyed by a new arrival to the property: 10-year-old Tom Melbourne, who won six races plus 18 placings for $1,415,548 in prize money from 51 starts. He was trained by Lee and Anthony Freeman, followed by Chris Waller and finally Lindsay Smith with his ownership managed by OTI Racing's CEO Terry Henderson.
Having started his career in Ireland and raced in four states of Australia – Victoria, New South Wales, Queensland and Western Australia – Tom Melbourne is a well-known and popular horse, and is fast becoming a farm favourite, enjoying being ridden around Woodlands Park.
Operating since 2006, Living Legends has become a treasured place for families, schools and racing fans from around the world to visit. It's home to 26 ex-racehorses, a miniature pony, Peppa Pig and half a dozen egg-laying chooks.
With open spaces, gardens, bike trails and fresh air, Living Legends continues to be a welcome retreat from city life for the local community and its equine stars alike.
To learn more, make a donation or to plan your visit:
(Photos by Tony Gough and courtesy of Living Legends)