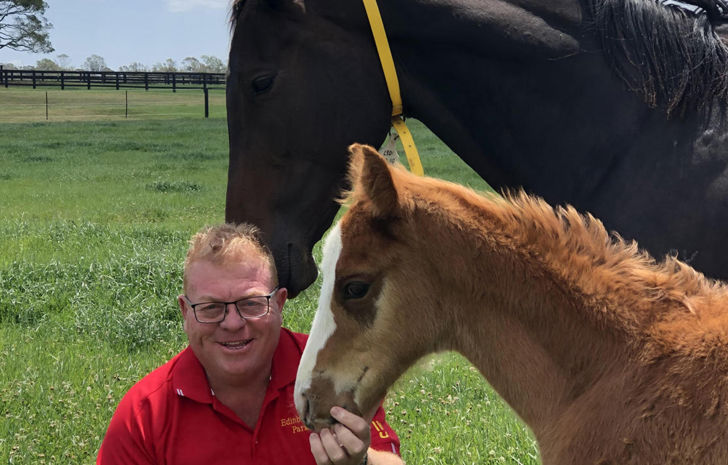 A home for life
16 August 2021
•
Written by
Sarah Marinos
Breeder Ian Smith's love for his horses led him to make an offer that can't be refused: offering the horses he breeds a home for life after retirement.
In October last year, Ian Smith was in his office, watching the ABC 7.30 Report on his laptop. The episode, 'The Final Race', was the result of a two-year investigation into the fate of retired racehorses and the vision was distressing.
The program asserted that 'hundreds of registered racehorses are being discarded at slaughterhouses in Australia, in contravention of racing rules, rehoming policies and animal welfare guarantees.' The program also aired accusations of instances of cruelty.
Within days of the 7.30 Report, respected NSW breeder, Ian Smith, took steps to guarantee the lifelong health and welfare of the horses bred at his Edinburgh Park stud. 
He created a 'guarantee for life' that is a purchase guarantee of $1,000 for any horse carrying his IKS brand. More than the money likely to be paid by an abattoir or knackery, the payment will be enough to see the horse return to live out its days at Smith's boutique thoroughbred stud on the NSW mid-north coast. 
"Our children can always come home, it's our promise to them," said Smith.
"I think a lot of people were affected by the vision in the 7.30 Report and I had a hard think about what we could do. We are select breeders and breed 30 to 40 foals each year, and that comes with an element of responsibility. We wanted to put something in place that can help our thoroughbreds have a better life after racing because if they become ill or injured."
Ian says Edinburgh Park had already been proactive in buying back its horses that were leaving racing and being listed for sale at low prices. 
"Now, with the guarantee, if anyone owns one of our horses and can no longer keep it, we'll pay $1,000 to take it back. Similarly, if we see one of our horses going through public auction or private sale we automatically put a $1,000 bid, so the horse comes back to us."
Edinburgh Park, run by Smith and his wife, Andre, has a reputation for producing quality racehorses including world champion sprinter, Silent Witness. The stud has also bred stakes winners such as Bull Point, Amoviato, Sister Madly, Dances on Waves and two-year-old winner, Tanker, who won the Debutant Stakes at Caulfield in October last year.
As of mid-December, Edinburgh Park Stud horses had won almost $17 million in prize money and raced successfully in Australia, New Zealand, and Asia with a yearling costing about $150k.
"After racing, most of our horses end up pleasure riding or they go on to be broodmares at studs," said Smith.
We want to help change public perception, so people realise that 99.99 percent of people in this industry care for the horses, not only when they're racing but after retirement.
"The number of our horses that would face what was seen on the ABC would be minimal. They mostly go to loving homes, but the guarantee is a safety net."
As yet, Smith has not had to use the guarantee, which he says highlights the fact that the majority of retired racehorses don't suffer the fate of those on the ABC program. It also illustrates that the vast number of people within racing are deeply concerned about the animals they work with.
"We want to help change public perception, so people realise that 99.99 percent of people in this industry care for the horses, not only when they're racing but after retirement. We have to meet the standards that people expect of this industry and most people do that," he said.
Racing Victoria has said that 90 percent of retired Victorian racehorses enter the equestrian, pleasure, or breeding sectors upon retirement and that one percent is sent to abattoirs. Racing Australia has also expanded the national retirement rules to include the early registration of foals and owners to strengthen the traceability of thoroughbred racehorses from birth to retirement.
Smith is hoping that other breeders will step up to offer similar guarantees to save retired racehorses.
"This issue needs more than just my voice," he said. 
"We are just one player in a bigger picture." 
(Photos courtesy of Ian Smith, Edinburgh Park)