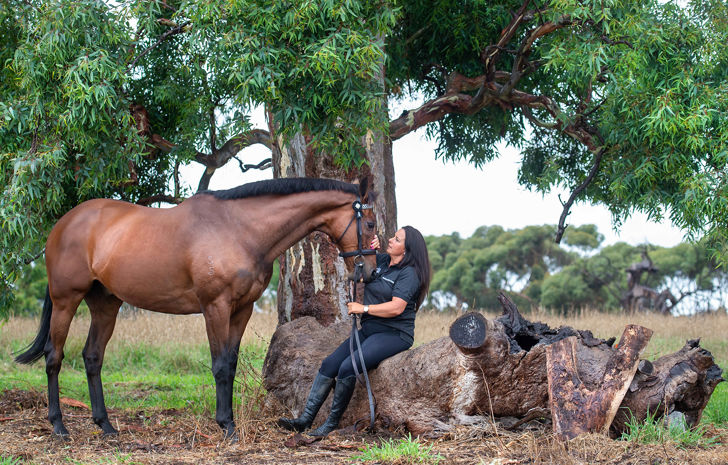 A royally exciting victory
16 August 2021
•
Written by
Brad Bishop
When COVID-19 put a halt to the normal running of the Royal Windsor Horse Show, it presented passionate horsewomen Fiona McIntyre and Melissa Molloy an opportunity to participate virtually.
Each year, the two Victorians longingly look on when the Royal Windsor Horse Show is conducted in England, dreaming about what it would be like to compete.
First conducted as a fundraiser for the war effort in 1943, the Royal Windsor Horse Show has risen to become one of the most prestigious show horse events in the world, held at Home Park in Windsor Castle.
But this year, due to COVID-19, it was unable to be held. At least, not in its traditional form.
Organisers improvised, making it a virtual event, which presented equine enthusiasts from all over the world with the rare chance to be a part of it. "I would often watch classes at Royal Windsor on the internet, because it's one of the biggest shows in the world," McIntyre said.
"I was so excited to get the chance to be a part of it. Given how huge Royal Windsor is in England, I just thought it was such a fantastic opportunity to be able to enter my horses and get a chance to see whether they were competitive on an international scale.
You can imagine the delight of the Australians when they won. More than 4200 entries, from almost 100 countries, were received.
McIntyre entered two former racehorses that she has retrained, Precedence and Caravan Rolls On, in a couple of categories and won the Retraining of Racehorses In-Hand Class with the former, while Molloy was successful in the Ridden Class with Ideal Strategy.
Given the virtual status of this year's event, all McIntyre and Molloy had to do was submit a photo of their horses in their respective disciplines and await judgment.
McIntyre vividly recalls sitting in her living room, in anything but regal attire, eagerly awaiting the results.
"All we literally had to do was submit a photo. You just went online and uploaded a photo," she said.
"They judged the final live, so I sat up in my lounge room with my laptop. They had a host and the judge went through the placings in reverse order from 10th and when he got to the final three he gave a bit more detail as to why he selected the horses that he did.
"When he announced who had finished second, I knew that Precedence had won."
Nigel Hollings, who judged Precedence's section, said the bay gelding ticked all the boxes. 
"A stunning horse, full of quality and limb, which immediately caught my attention," was how Hollings described the son of Zabeel, who is a horse well-known to anyone with as much as a passing interest in racing.
Now 16 years old, Precedence raced across eight seasons and twice won the Moonee Valley Cup, but is best remembered as a horse who ran in the Melbourne Cup on four occasions, including being Bart Cummings' final runner in the race that he won a record 12 times. 
Precedence has been with McIntyre since the day after his final start, in the 2015 Sandown Cup, and she is proud of the way he has adapted to life after racing.
He is just an amazing horse. He's such a great ambassador for thoroughbreds, he loves being a show horse, he loves being a bit of a peacock and puffing the chest out and strutting his stuff.
"He is just an amazing horse," she said. "He's such a great ambassador for thoroughbreds, he loves being a show horse, he loves being a bit of a peacock and puffing the chest out and strutting his stuff.
"He really has taken to it like a duck to water. It's been such an amazing and incredibly satisfying journey.
"It's just brilliant that he has now been recognised on an international scale and for being the horse that he is now, because they would have had no idea who he was at Royal Windsor."
Royal Windsor judges would also not have had any idea of the racetrack deeds of Molloy's horse. Neither would most Australian racing fans.
Molloy's entry competed at Royal Windsor as Relmsparc Foxtrot, but raced as Ideal Strategy and failed to win in 10 starts when trained by Cindy Alderson.
"I have no idea how he was a racehorse, because he's a show horse through and through," Molloy said.
"Obviously he has the looks and he's got his nice movement, he's a thoroughbred type, but he's still got a lot of elegance and beauty about him and amazing temperament to work with.
"As much as it is his looks and type, it's his temperament and trainability that has really allowed him to excel."
The win by Ideal Strategy, a 10-year-old son of Stratum, afforded Molloy a proud boast.
"In the class that he won, one of the Queen's horses finished third," Molloy said. "It was quite surreal just to be competing against the Queen at Royal Windsor, let alone winning."
(Photos courtesy of Fiona McIntyre)