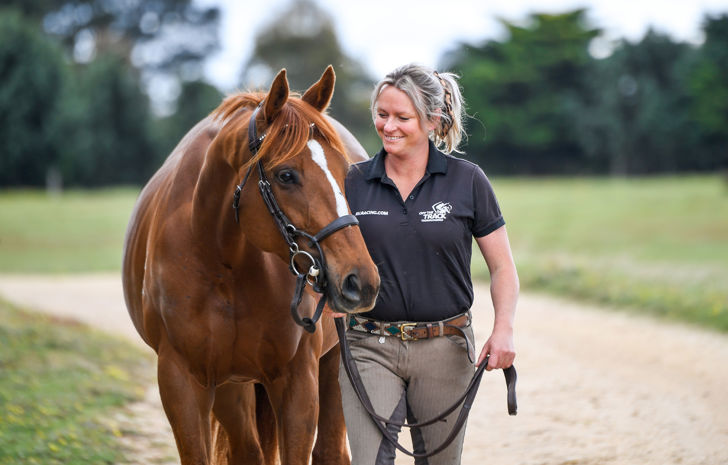 Second chance support
16 August 2021
•
Written by
Michael Lynch
Like all racing jurisdictions throughout the country, Racing Victoria is committed to equine welfare. A new program launched in July called RESET aims to provide direct support for ex-racehorses that have not been successful in their transition to a second career outside racing.
Racing Victoria (RV) has recently launched the RESET Program to complement their Acknowledged Retrainer Network, and the organisation's General Manager – Equine Welfare, Jen Hughes is optimistic that this addition will increase the options for ex-racehorses to find good homes and useful lives once their track days are done.
"The Program name is tridimensional" said Hughes. "It's an acronym of what we are trying to do with the program as it stands for Racehorse, Evaluation, Support, Education and Transition, and aims to 'reset' the stigma around these horses.
It can also be linked to the horse Lloyd Williams once owned a multiple Group 1-winning galloper called Reset, who retired from stallion duties last year] as well, so it works on various levels.
RESET is an evolution of an existing system, Hughes, who is General Manager of Equine Welfare at RV explains, but designed to maximise opportunities for all horses, not just those easy to place.
"Previously, our post-racing strategy was reliant upon our Acknowledged Retrainers to take on retiring racehorses at their own cost. This naturally biased our efforts towards the horses that were easy to sell on, or to retrain and find new homes for. That's understandable, as they are running a business."
Well, it worked, but only up to a point – which is why she and her colleagues sought to build upon it.
"What we were finding is because they [Retrainers] weren't being paid to retrain, we couldn't ask them to take particular horses, so there were certain horses that weren't getting picked up, and they were going round and round in circles on a lonely carousel.
"They might have been a little bit old, maybe they had been turned out in a field for five years, maybe they had retired with a tendon injury and recovered from it but no one wanted to give them a chance, the ugly duckling type of thing.
"The RESET plan is very much targeting that problem."
So, how does it function?
"We offer various incentives for them [Retrainers]; things like subsidised clinics, education, promotion, subsidised adverts for horses. But there's no funding attached to specific horses," Hughes explained.
RESET is very much targeting those horses that are sound and have every chance of making it in the equestrian community.
"It's not sustainable to fund the retraining of every horse coming out of racing, and in doing that you would devalue the ones that do find their own market.
"RESET is very much targeting those horses that are sound and have every chance of making it in the equestrian community, but no one is giving them that chance. The money that people make on turning these horses around would not have been enough to cover their costs to retrain them for three months.
"But by covering their costs to give this horse a chance, to put the extra polish on them at the end of their racing career, it does provide more options.
"If we can support them financially, they will get that three months to learn a few extra tricks, get sharpened up and be presented to the equestrian community a different horse three months later with a far better chance of a second career."
That extra polish is more than just grooming and teaching racehorses a few new 'tricks' to make them appealing.
"The way the horses are trained to race is very different to the job they do in the equestrian disciplines," Hughes said.
"They are carrying a different saddle, the riders' legs are in a different place, the aids are slightly different, they might never have been over a fence before and some of them will be asked to jump obstacles.
"It's an upskilling programme to convert the skills they have already got, into the equestrian field. It's complementary to the existing retraining programme." And, says Hughes, RESET has quickly had an impact following its July launch.
"We are piloting it for 30 horses but that's because we didn't really understand what the take-up would be. We launched it officially in mid-July with 10 horses that were already identified. We are actively seeking to fill the remaining 20 spots without too much delay.
If you have a horse that you think might be suitable please contact the team at equinewelfare@racingvictoria.net.au