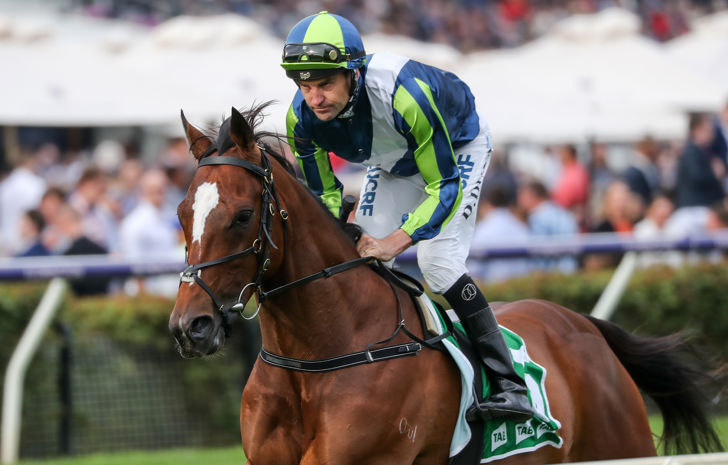 Rostropovich road to recovery
16 August 2021
•
Written by
Patrick Bartley
Following an injury in the 2019 Melbourne Cup, Lindsay Park's Rostropovich was carefully nursed back to health by an expert and caring team.
Melbourne Cup Day 2019 was to be the celebration of one of the world's most acclaimed races and also an opportunity for the powerful Hayes' dynasty to notch another success.

During the race it was apparent that the Hayes runner Rostropovich, the stable's hopeful contender, was beginning to struggle.

In fact, as the field packed up for the final 400m, Rostropovich's jockey, Dwayne Dunn, was aware that something was wrong with the former English stayer and eased him out of the race.

On returning to the mounting yard Dunn told the Hayes training partnership that the horse "was far from right" over the final part of the race.

"We listened intently to what Dwayne said, but when we got him back to the stalls just minutes after the race, it was clear that the horse was not himself. In fact, he was showing signs we hadn't seen before," co-trainer Tom Dabernig said.
Rostropovich, who was specifically purchased to run in all of the majors in Australia, was well credentialed to be a major player in the 2019 Cup.

"Once we knew things were wrong, he was put on a float and he went straight to Werribee for a full examination. The prognosis was that the horse had injured its pelvis and would remain at the veterinary hospital until he could leave to return to our base at Euroa.

"We had to be patient and wait and see how the horse came through. By description, the phrase 'an injured pelvis' sounds dramatic, but I had thoughts in the back of my mind that these injuries can be overcome. But before anything else, Rostropovich's welfare and future was our primary concern," Dabernig said.

A month later Rostropovich was released back to Lindsay Park whereupon the horse immediately commenced a spell while his future was being considered.

"We just gave him time and were patient, and eventually the horse improved and now he's returned to the track in such good shape. What it does prove is that with patience and a little perseverance, injuries like these can be overcome," Chris Waller said recently.

From afar, Dabernig instantly felt that by watching Rostropovich in his leisure days in the paddock that the horse was beginning not only to show vital signs that he'd shrugged any side effects to his injury, but was also thriving since arriving back at the stables.
Whatever we do will be in the best interests of Rostropovich, and when we get him right he'll tell us by his health what we can expect going forward.
Rostropovich was trained in Ireland by leading horseman Aidan O'Brien and was a well-thought-of stayer who was an important addition to the Hayes/Debernig' team.

However, Dabernig instructed the staff to send Rostropovich to the Goulburn Valley Veterinary Hospital for a complete and thorough physical before attempting any return to the track.

The advice was that the horse was ready and more importantly, physically and mentally capable to resume a racing career.

"We were very, very tentative at first. Regardless of whether it was Rostropovich or a newly broken-in yearling, the horse's welfare is first, second and third before anything.

"But slowly he got going, and from the moment the saddle went on him a few months ago he hasn't looked back. He's monitored closely to see that there are no signs of the pelvic problem reoccurring. I have seen similar injuries like these that look very acute and worrying, but with time and a bit of care it's amazing how it all turns around," Dabernig said.

While Rostropovich is looking good, Dabernig cannot stress enough that no plans for the spring are being thought of at this stage. They would rather have the horse at its best before going back to the races.

"Whatever we do will be in the best interests of Rostropovich, and when we get him right he'll tell us by his health what we can expect going forward," he said.