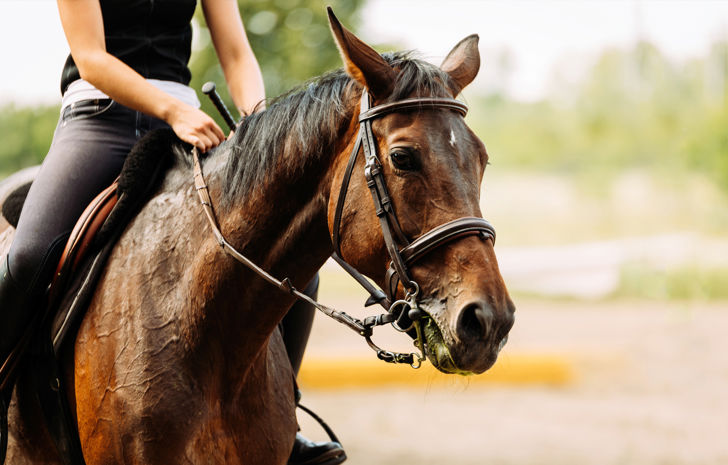 Encouraging change
16 August 2021
•
Written by
Michael Manley
With new guidelines on the use of the whip in flat races in Victoria introduced at the start of this racing season, the place for the whip is an important conversation which continues to be debated.
In the past ten years, racing worldwide has attempted to adjust to changing views in society. Part of this has been altering the whip rule.
For some parts of society, looking from the outside into horse racing there's only one result, and that's to ban the whip. Horsemen, however, argue it is a necessary guiding tool for them – to induce a quick response or to redirect or refocus a horse – and if they didn't have it, there would be safety consequences.
Regardless, change will continue as the racing industry listens to the thoughts of the outside world, and an example of this is in England.
Even though they changed the rules to seven strikes in total in a flat race and eight in a jumps race they feel they might need to do more.
The British Horseracing Authority's Chief Regulatory Officer Brant Dunshea said earlier this year the industry's independent Horse Welfare Board published a new strategic plan which recommended to the British Horseracing Authority that they undertake a consultation on whip use in racing.
"I believe it's a very possible outcome that the whip rules in British racing may change again following that consultation, however, what those changes may look like are still unknown," Dunshea said.
Dunshea said that the consultation would be an open public process but would also include the participation of all industry stakeholder groups to ensure that the outcomes also reflect their views.
"This will enable the sport to gain a clear picture of the views and perceptions of society more broadly beyond the industry itself. The information gathered will ensure that British racing considers those views in regard to any future reforms," said Dunshea.
The whip consultation was due to commence in April this year with recommendations to be implemented in late October but due to COVID-19, it has been put on hold until next year.
In Canada, Jim Lawson, chief executive of Woodbine Entertainment in Toronto and who also sits on the Jockey Club's Thoroughbred Safety Committee said its experiment last year with jockeys only being permitted to use the whip with an underhand technique had been so successful it had been adapted into their rules.
While this was a big change for the industry, all participants were open to the experiment. During last year's trial, we did not see any material impact to wagering on our product. - Jim Lawson
Lawson said the entire horse industry needed to be more open to change.
"The public perception worldwide is not good with respect to the whipping of horses and we feel that our change has been effective to help positively improve the sentiment in this regard."
Lawson said other jurisdictions have since enquired about underhand-only restriction, due to their success.
In Australia, the rule is no more than five strikes before the 100m and then use of the whip at the discretion of a rider but they can't use it in consecutive strides.
Racing Victoria recently updated its penalties and have made them stricter with suspensions more likely. Anything more than five strikes before the 100m and anything more than 12 to 15 times is regarded as excessive in a race.
RV Executive General Manager – Integrity Services, Jamie Stier, said the use of the whip and associated breaches of the national rule had garnered much debate.
Stier said after extensive consultation they adjusted the penalty guidelines from August 1 which would provide greater clarity for all parties.
"All riders are expected to compete in accordance with the national rules and to that end, they should not use their whip outside the permitted limits," Stier said.
Former champion jockeys Alf Matthews and Patrick Payne, while not being fans of strong whip riders, believe it is an essential safety tool for jockeys to have with them, although they are happy we have moved on from the days where jockeys were celebrated for their vigorous use of the whip.
Matthews, along with another former star jockey Darren Gauci, are the coaches at the Victorian Apprentice School.
Matthews said they are teaching them to urge their mounts at the end of a race and not strike them repeatedly.
"We try to teach the apprentices how to use it as a tool of the trade."
Looking back on his own riding experience, Matthews said the whip saved him on many occasions.
"If I didn't have it, it would have led to some seriously dangerous moments, and the last thing any jockey needs is a fall."
Patrick Payne was a champion jockey in Australia and in Hong Kong who was respected for his hands-and-heels style of riding.
Now, as a successful trainer, Payne shies away from using jockeys who have a reputation as whip riders on his horses.
"I've never been a fan of big whip riders. I like to put jockeys on who don't hit too much. The jockeys I use aren't whip riders. I'd rather they guide a horse through a race and then use their hands and heels," Payne said.
Payne believes stewards shouldn't be tied down by rules when assessing whether a jockey has over-used the whip but should rely on their experience to pick up breaches.
"Leave it up to the stewards and let them use their common sense. Stewards should have enough discretion to discipline jockeys who have gone too far,"
"I think that's the best approach. When the stewards watch a race and have seen jockeys have used their whip excessively, then they should be penalised."
Australian Jockeys' Association chief executive Martin Talty said jockeys needed to adapt to the whip rule or they would be fined or suspended, with figures demonstrating that they overwhelmingly had been.
"There are around 175,000 to 180,000 horses which start in races each year and not many jockeys break the rules. It's minuscule.
"Unfortunately, you hear about them more than other charges such as careless riding. It seems to be amplified in the stewards' report," Talty said.

Footnote
Since this article was written, Racing Victoria has announced that it is seeking national action on whip reform in Australian thoroughbred racing prior to the end of 2020. RV is of the view that a new framework is required to transition the industry to an ultimate prohibition on use of the whip for purposes other than to protect the safety of horses and jockeys. 
RV will be seeking a vote at the November 2020 Racing Australia (RA) Board meeting that the transition commences with a significant reduction in the permitted use of the whip in a race. RV will propose that, from 1 January 2021, riders are only permitted to use the whip on a maximum number of occasions throughout the entire race and never in a horse's consecutive strides. RV is proposing that the maximum number be between five and eight occasions per race.
Whip reform is also under consideration in the US, with California and New Jersey set to implement new restrictions within the next few months, while the topic will be debated at an upcoming New York State Gaming Commission board meeting. As of 1 October 2020, riders in California will be restricted to a maximum of six strikes in an underhand motion per race and never in consecutive strikes, with California Horse Racing Board Executive Director Scott Chaney has said that he would like to see whip use eventually eliminated altogether. In New Jersey, starting with the 2021 season at Monmouth Park in January, jockeys will not be allowed to whip a horse at all other than when there are safety concerns.