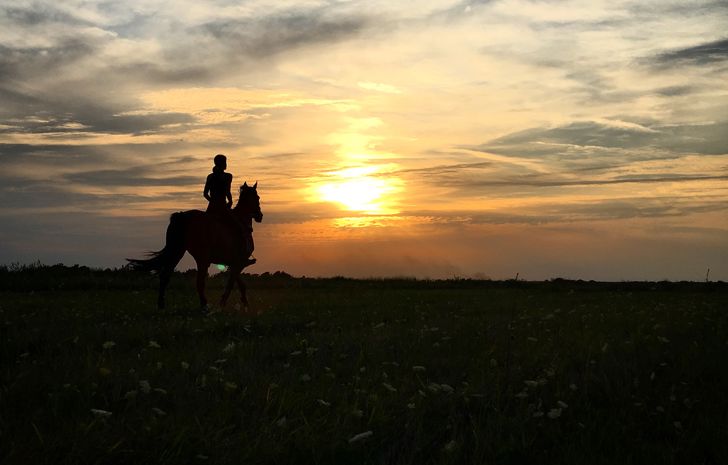 Former galloper creates endurance history
17 August 2021
•
Written by
Jeff Hanson
Baribo created history at the NSW Endurance Riding Association (NSWERA) State Championships late last year when he became the first thoroughbred to be crowned the NSW State Champion.
What makes the win extra special is that Baribo is a thoroughbred and by King of Prussia and out of Torriva and though he won all of $500 as a racehorse, with two lasts and a second last from three starts, he did compete in a Group 3 event at Flemington.
Far from the world of group and listed thoroughbred racing, Baribo has now completed thousands of kilometres as an endurance competitor and is the first thoroughbred to be crowned the NSW State Champion.
Liz Moir, who rode the old boy, made the long trip to Tumut from Wauchope to compete
There has never been another thoroughbred with their name on the cup. - Liz Moir
"Pure bred Arabians, or part bred Arabians normally win these events, so for a NSW thoroughbred to win, it was pretty special."
The 13-year-old is prepared by Jolene Cole and her Kurrajong Endurance Arabians team, and Moir said she was privileged to have had the opportunity to guide the old boy to a history-making win.
"I ride for a team called Kurrajong Endurance Arabians, and I've been riding for those guys for about four or so years," Moir said.
"I'm really privileged to have been given the ride. I manage the horse as well, I have a good record with him with endurance, and I guess I am cool, calm and collected as a rider.
"I've been loyal to the team for four years and Jolene (Cole) knew I was riding fit and on the ground fit, and she knew we could get the win."
The thoroughbred has generated a cult following on the endurance riding circuit, after he was ridden by Jolene Cole to victory in the heavyweight section of the 2019 Tom Quilty, proving he is one of the premier endurance horses in Australia, and likely the Southern Hemisphere.
Moir and Baribo were well prepared for Tumut and NSW's premier endurance event, having competed in the 85km Bullio Cup qualifier earlier this year, which was held on some of the Bondo State Forest course, making the pair ready for the rugged conditions.
"About six weeks ago we were there for the Bullio Cup qualifier, I rode for Kurrajong over the 85km and Jolene rode Baribo in the same event," Moir said.
Following the qualifier, Baribo was second junior at the 120km Bullio Cup four weeks before the NSW State Championship and connections knew he was going well enough to win the open ride.
Still, the champion endurance horse may have never made the endurance riding scene, after Cole purchased him for $700, believing he was due to be sent to the abattoirs.
We bought him from Camden horse sales. I didn't even know he was a thoroughbred; I just knew I had to have him, his eye just promised me the world. - Jolene Cole
Baribo took to being an endurance horse like a duck to water, and soon enough he was competing in feature events, even winning on debut.
"We began by leading young endurance horses off him and he was doing better than them, so we thought why not try him in endurance (and) he did it with ease. Even being first heavyweight at his very first 80km," Cole said.
Tumut's five-stage, 160km course was a challenging affair for Cole, Moir and Baribo, and was made all the more difficult due to rising temperatures on Saturday, along with some challenging legs, meaning it took more than 12 hours to complete the journey.
"It was a huge challenge, just the heat alone was tough, and the course was another thing altogether, and the two together meant it was very hard," Moir said.
"The third leg was probably the best leg, there was a flat part, but that is flat for Tumut. The last leg was tough with the heat, and it took a lot of management."
Moir praised the Tumut Endurance committee, who worked hard to make sure horses and competitors were well hydrated along the trip.
"At each water trough, they made sure they had jugs of water ready, and at every stop, I stopped and jumped off and heaped water on him to make sure we kept his temperature down," Moir said.
"I looked after him the best I could, the heat took the energy out of him, but he was spritely this morning (Sunday) and it helped that there were troughs every three to five kilometres."
During the event, horses were checked at the end of each stage and at the end of the event, and Moir explained that the final check really had the Kurrajong team nervous.
"It was pretty nerve racking, we were all very emotional, but we managed to do it," Moir said.
"In total we had a team of 20 strappers over the day, and we were very thankful for everyone who came to help us out. It was a complete army at the end, with people throwing water on him to get his temperature and heartbeat down."
The 27-year-old went on to thank Tumut Endurance for hosting the event in trying circumstances.
"They (Tumut Endurance) did a fantastic job, it is people like those guys who keep our sport alive," Moir said.
"We can't thank them enough as competitors, it was really a great event."
This story, written by Jeff Hanson, originally appeared on the NSW Country and Picnic Racing site and is reproduced with kind permission of the author.