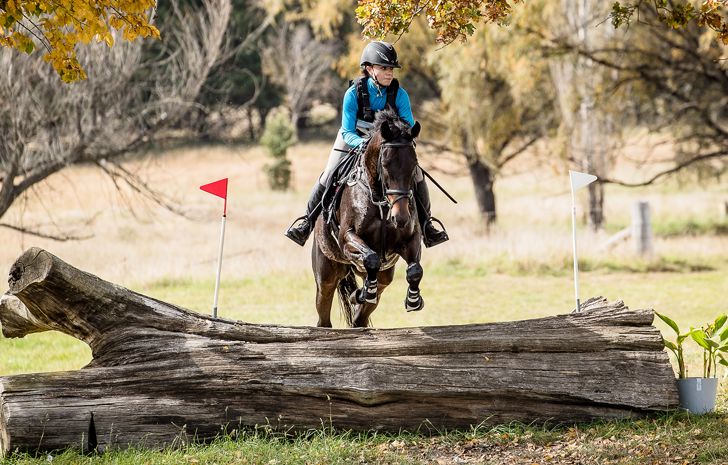 Rehoming the Waller way
8 October 2021
•
Written by
Michael Lynch
After a racehorse's last race is run, they are by no means forgotten by those who have worked with them day in, day out. Chris Waller and his stable are fierce advocates that their horses continue to live long and healthy lives in a variety of new careers. The star trainer is also passionate about educating the public and generations to come about the systems that protect the animals' wellbeing and longevity.
Over the centuries, responsible horse owners and trainers, who are also inevitably horse lovers, have ensured that those who have served them in the racing industry have fulfilled careers when they finish racing.
Many leading stables have established their own extensive protocols for rehoming ex-racehorses, with the nation's leading trainer Chris Waller, taking a hands-on role in ensuring the welfare of former charges is of paramount importance, often paying vets bills and related costs themselves as part of the process.
His staff work tirelessly to match the right horses to the right owners for post-racing careers, making sure that the physical capabilities and temperament of each galloper is suited to the task they will be required to carry out.
These can be many and varied. Some former racing stars like Group 3 winner McCreery end up in equestrian competition; others, like Group 1 Coolmore Stud Stakes-winning sprinter Japonisme and Group 1 winner Foreteller work at studs as "mentors" for yearlings and young horses as they develop for their future careers on the track.
Some end up at places like Living Legends in Victoria, where that grand old stayer and Melbourne Cup regular Who Shot Thebarman now resides.
Waller has been the dominant force in Australian racing for over a decade now and has racked up more than 3,300 winners, 126 of them at Group 1 level as of the start of the 2021-22 season.
But he knows more than most that his success cannot be maintained if racing loses its allure with the general public.
"It's how racing is presented, and how animal welfare has continued to strengthen. We need to be seen to be abiding by community standards," he told Sky Racing's Thoroughbreds Are Go program in an interview on this topic, stressing that as others built the racing industry for the current generation, "it's our job to set it up for the future."
"These horses have been given to us, so it is our job and responsibility to make sure they are getting what we got from them – a beautiful life after racing."
Waller is aware that education on this matter is vital. He invited the RSPCA Chief Scientist and Strategy Officer Dr Bidda Jones to visit his Rosehill stables to have a first-hand look at the conditions in which racehorses are kept and to offer her an explanation of why gear like tongue ties are used and what role the whip has in animal control.
Waller is also upfront with his clients that owning a horse is a whole-of-life responsibility, not just a racing investment. And anyone who takes on an ex-racehorse to rehome is given full details of any issues or injuries that the horse may have had, either recently or in the past.
"I think the rule should be that if you are coming into horse ownership, responsibility should be for the cost of the horse, not just while they are running in their racing career. It also costs to rehome the horse.
"Prize money in Australia is second to none, [and] anyone can race a horse. We can all share racing a horse, we can all share it (the cost) beyond the horse's racing career as well."
Sophie Baker is the Executive Assistant to Waller and she plays a major role in stable administration and management, particularly the rehoming process.
"Before Chris worked with horses, he worked with animals (on a dairy farm in New Zealand) so he has always been someone who cared a lot about them and their wellbeing.
"He is a big believer that the horses have been so good to us, we need to be good to them in return." - Sophie Baker
Decisions on retirement are driven by the trainer, she explains.
"When horses either get an injury or get older to the point where we don't want to put them under more pressure by continuing to race them on – they are not machines – Chris will advise the owners that it's best to retire the horse.
"The vet will examine the horse, and give me an idea of any issues the horse has or has had in the past, and from that he will do up a vet report and we will put our feelers out for re-homing options."
"We have made contacts with a number of equestrian professionals who put me in touch with potential new owners.
"We will filter through those people, ask questions about their background, references, where they would keep the horse and their intentions with the horse etc. We want the horses to go somewhere where they can have a forever home."
There is usually a lot of paperwork involved, but this does not worry the Waller stable, as they strive to mandate that new owners do the right thing.
"We have a form that we ask the new owner to complete and sign to say they are aware of any issues the horse has had.
"They also commit to looking after the horse for the rest of his/her life, that they will not send them to an abattoir or slaughterhouse, they will not race them, and guarantee that in times of hardship they are to contact Chris Waller Racing. And if they want to move the horse on, they have to contact us as well.
"It's something we have developed. Racing NSW has a basic protocol that we used and then elaborated on for ourselves."
Waller horses tend to end up all over the country.
"Fiona McIntyre is a registered Victorian re-trainer. She has taken one of our horses whom she has kept for herself because she fell in love with him. His name was Able Fun. Since then I have sent her two others: Raqeeq and Life Less Ordinary. One is being rehabilitated from injury and will then be found a home. The other one will be found a home."
"In New South Wales Clare Oxley has been a huge help re-homing horses over the years, she had a lot of success eventing Group 1 winner Triple Honour and we are lucky to have Leah Timms in Queensland who, along with her husband Mark, own a number of horses in the stables and they also have an agistment property we use to spell horses," Baker said.
There are a variety of jobs that ex-gallopers can do when they finish.
"We retire them as paddock mates, show horses, eventers, dressage horses, show jumpers, and a couple (the aforementioned Who Shot Thebarman and cult hero Tom Melbourne) have gone to Living Legends.
"Mister Sea Wolf (the winner of over $1.5m) has retired in Queensland. Winx's part-owner Peter Tighe's very good friends Paul and Jill Williams have a farm up in Queensland. They have horses in the stable with us and also breed horses. Jill does a lot of dressage and is going to do some dressage work with him so he has gone to a very knowledgeable home.
"Kings Will Dream and Humidor (two former Group 1 winners) have ended up together with Bonnie Weir. They live on a beautiful property, and Bonnie knew the horses well so they agreed it would be a great home to go to.
"One of the girls from our stables has taken Brimham Rocks. She has a property about half an hour away from Rosehill. Her partner is a farrier, and she is going to do some showjumping and eventing with him when everything gets back to normal.
"Wu Gok is another one we have retired. He has gone to The Hermitage (where Winx used to spell). They own him, and one of the staff is going to do some eventing with him."
"Many will remember McCreery, he was a much loved member of the team. He has retired with Jen Lynch in NSW and has fallen on his feet. He's often out and about hacking or eventing; and spoilt rotten."
Waller also gets involved in ancillary ways as well, explains Baker.
"Chris often sponsors events at the Easter Show, he had made donations to Living Legends, sponsored jumps at OTT shows and he has put money towards Caroline Searcy's show Thoroughbreds Are Go.
"Chris has also paid vet bills to help people out if they can't afford to pay."
Getting the message across is essential, too.
"It's important to show people, using traditional and social media, how we cater for these horses. Staff, previous owners and industry followers love to see how the horses have progressed and it is so important that racing shows off and showcases how well we do look after these horses following their racing careers. There can be so much negativity out there about racing, but working with these horses day in and day out, we fall in love with them all, for their different quirks and personalities and they become part of the family. It's not just about looking after them during their racing career, but their whole lives." she said.