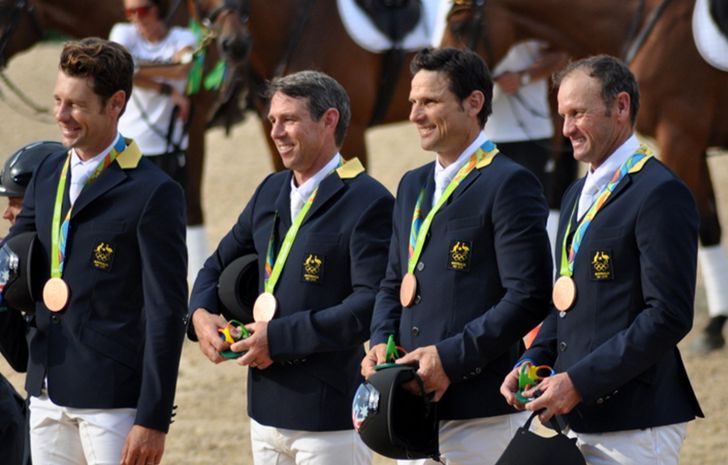 10 top facts about horse sports at the Tokyo Olympics
8 October 2021
•
Written by
Debbie Higgs
Everything you need to know about horse sports at this year's Olympic Games
Three equestrian competitions took place at the Tokyo 2020 Olympic Games (25th July - 7th August) in Dressage, Eventing and Show Jumping with individual and team medals awarded in each of the three disciplines. Para-Equestrian Dressage is the only discipline included in the Paralympic Games (26th – 30thAugust 2021) where the riders compete for two individual medals per grade (I-V depending on disability level) and an overall team medal.
Equestrian is the only Olympic and Paralympic sport that involves animals. In order to be eligible to compete, the nationality of the horse registered with equestrian sport's international governing body, the Federation Equestre International (FEI), must match the country they are competing for, requiring them to have at least one owner (which may or may not be the rider) of the same nationality as the athlete.
Germany has won the most gold medals in Olympic equestrian sports (26), with Michael Jung dominating individual eventing, winning gold in both London 2012 and Rio 2016. Australia created history by winning three consecutive Olympic gold medals in the team competition for eventing at Barcelona, Atlanta and Sydney and performed incredibly well at Tokyo 2020 taking home the silver medal.
Historically, thoroughbreds have been an integral part of the Australian Equestrian Team's success in eventing. Some of the incredible thoroughbreds who have brought home Olympic medals for Australia include Kiwi (Andrew Hoy – Team gold medal, Barcelona 1992), Sunburst (Wendy Schaeffer – Team gold medal, Atlanta 1996), True Blue Girdwood (Phillip Dutton – Team gold medal, Atlanta 1996), House Doctor (Phillip Dutton – Team gold medal, Sydney 2000), Jeepster (Stuart Tinney – Team gold medal, Sydney 2000), and All Luck (Shane Rose – Team silver medal, Beijing 2008). While there were no thoroughbreds on the Australian team for this year's Olympic Games in Tokyo, there were two shortlisted ahead of the original date last year – Koko Popping Candy (Amanda Ross) and Willingapark Clifford (Hazel Shannon) while Shane Rose's horse, Virgil, has a thoroughbred dam.
There were twice as many mixed gender sports (where men and women compete as part of the same competition team) at Tokyo than at Rio 2016 but there are still only two Olympic sports where men and women compete head-to-head against each other. They are Equestrian (all disciplines) and Sailing (one competition – the mixed Nacra 17 class).
The Equestrian competitions were held at the Baji Koen Equestrian Park, the 1964 Olympic legacy venue that hosted some equestrian competitions at the Tokyo 1964 Games. Equestrian Park is owned by the Japan Racing Association, an Official Contributor for the Tokyo Games,  and had the facility renovated for Tokyo 2020. The new stadiums at Equestrian Park were designed to seat 9,600 people but there were no spectators due to COVID-19 restrictions.
The Eventing Cross Country was run across a temporary course at Sea Forest, an area of reclaimed land that provides superb views of Tokyo Bay and Tokyo's dramatic cityscape. The cross country course was approximately 4,500 metres long and had an optimum time of around eight (8) minutes.
A total of 325 horses were flown into Tokyo across the two Games. Horses travelling from Europe flew on an Emirates SkyCargo Boeing 777-F to Dubai, where there was a 90-minute refuel and crew change and then on to Tokyo. The final transfer from Haneda Airport to Baji Koen was via a convoy of state-of-the-art air-conditioned horse trucks, owned by the Japanese Racing Association.
Like their riders, horses needed a passport to travel to Tokyo. The passport, issued by equestrian sport's international governing body, the Federation Equestre International (FEI), identifies individual horses for travel and competition, ensuring that they have all the appropriate health and veterinary certificates. If a horse lacks a passport or the passport is deemed inaccurate, he/she is not allowed to compete.
Before Tokyo 2020, Australia had won 21 Olympic and Paralympic medals in equestrian disciplines. Andrew Hoy represented Australia in Tokyo 2020 at an unprecedented eighth Olympic Games, the most Olympic appearances by an Australian athlete. 62-year-old Hoy performed exceptionally well, winning team silver and individual gold with his horse Vassily De Lassos. He won his first team gold in Barcelona in 1992.