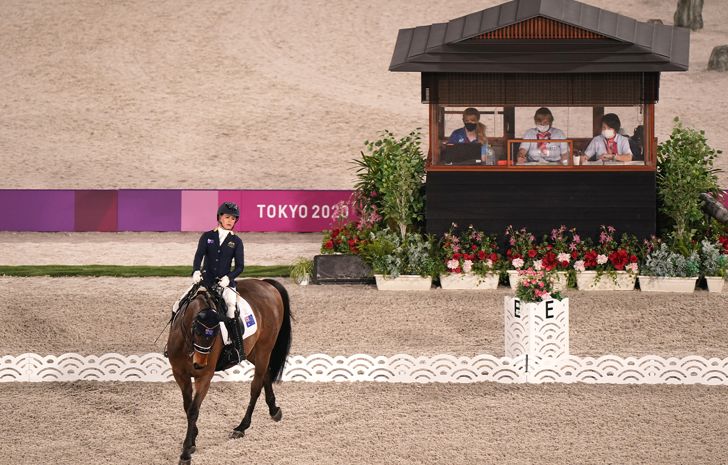 Emma Booth – Looking ahead to Paris 2024
8 October 2021
•
Written by
Debbie Higgs
Emma Booth made history in Tokyo as the first Australian Para-Equestrian rider to compete at two Paralympic Games with the same horse, finishing in a very creditable fifth place at both Rio and Tokyo. Now her sights are firmly set on Paris.
"I've always strongly believed that everything happens for a reason. At first, I couldn't see any reason for what happened to me but now I've realised that it's so I can go to the Paralympic Games in Rio in 2016" said Emma Booth at a Fundraising Ball in her honour in 2013, just months after a near-fatal car crash.
Emma was returning from an equestrian competition in Australia when the road accident that caused multiple life-threatening injuries also left her unable to walk. But just seven months later, she made her international debut in 2014 at the CPEID3* at Hartpury, UK, where she finished in the top 10 and, as the highest scoring Australian, was named as a reserve rider for the 2014 FEI World Equestrian Games in France.
In 2016, she achieved the goal she had set herself so soon after the terrible accident - competing at the Rio 2016 Paralympic Games with her horse Zidane. They took fifth place in the mixed dressage individual championship and ninth in the team competition with teammates Sharon Jarvis, Lisa Martin and Katie Umback. In 2017 Emma was awarded with the Against All Odds Award by the Federation Equestre Internationale (FEI), the international governing body of equestrian sport, recognising her tenacity and courage in the face of adversity and in 2018 they competed at the World Equestrian Games in Tryon, taking fifth place in the Freestyle and fourth place in the Individual competition.
Now 30 years old, Emma has just returned to Australia after competing at her second Paralympic Games at Tokyo 2020 where she once again took fifth place in the Freestyle competition. Emma and her horse Zidane finished in eighth place in the individual competition on the first night to qualify for the Freestyle, as well as completing a solid performance to score 68% on the second night despite a few little mishaps, to contribute as part of the Australian team which finished in 13th place.
Thanks to her treasured horse Zidane, she also became the first Paralympian to represent Australia twice on the same horse, but it is now time for Zidane to hang up his competition boots and enjoy a well-deserved rest after many years of a great partnership.
"It's time for him to enjoy trail rides, going to the beach and some fun stuff" says Emma of the 19-year-old Danish bred warmblood who has been her partner on this journey for the past six years.
After travelling overseas to try and find the right horse with no success, it turned out that the perfect match, Zidane, was just ten minutes down the road from Emma's home in Victoria. And, even though he had no experience as a para-dressage horse, the pair immediately clicked when Emma first tried him in late 2015, just weeks before their first qualifying competition for Rio.
"I instantly knew he was the one we'd been looking for" says Emma "He is a very sensitive clever horse that was trained to Prix St George level, and it didn't take much for him to figure out what I was asking. Almost instantly during that first ride he just 'got it'."
Like all good riders Emma uses her core control and shifting of weight in the saddle as aids to direct her horse but Zidane has to understand her commands without traditional leg aids. A whip held in each hand helps to compensate for the lack of Emma's leg aids and voice commands are also an integral part of their communication.
"The voice commands are pretty much clicking noises that many horse riders and trainers use anyway, so he immediately understood that as a forward aid. From there we made up a system that worked well for us."
The formula was instantly a winning one as Emma and Zidane broke the Freestyle record in Australia at their first competition and went on to be consistent performers. Emma was confident of another good result heading into Tokyo 2020 but the postponement to 2021 proved to be a big challenge.
"We had to do all of our qualifying events again which is taxing, not just for Zidane as an older horse but also mentally quite difficult to deal with as well. It was a very uncertain time, not knowing if Tokyo would even go ahead but still campaigning towards it, so it was a huge relief once we were actually there."
Like their Olympic equine counterparts, the para-equestrian horses are usually well-seasoned travellers but there is plenty to consider to ensure their welfare during transport and in their new competition environment.
"There is an awful lot to organise behind the scenes" says Emma "Logistically there is a lot to manage for any equestrian sport at this level - the horse's gear, their feed, their supplements and ensuring you know the rules and regulations. And then of course, for the para-athletes there are other things to be taken into consideration such as medical requirements, the role of carers and assisting staff - it's a huge undertaking."
"A lot of people probably don't realise the level of care that our horses receive; keeping them fit and healthy is a big part of our everyday job and this is particularly important in the lead up to a major competition. During Pre-Export Quarantine just prior to Tokyo our horses were trotted up every day in front of the team vet and of course flying can be taxing for them, so we were careful to monitor everything before and afterwards. On top of that, there was the climate in Tokyo and adjusting to a new venue. So, it's one thing to be selected to compete at the Paralympics but another to make sure that you keep your horse sound, healthy and mentally and physically ready to put in the best performance they can in a completely new environment."
"I've always strongly believed that everything happens for a reason. At first, I couldn't see any reason for what happened to me but now I've realised that it's so I can go to the Paralympic Games in Rio in 2016" - Emma Booth
Zidane handled the climatic conditions in Tokyo as well as Emma had expected.
"He is more of a cool weather horse, but we were prepared for that and careful about managing his training sessions. The biggest problem we found was that he didn't particularly like working under lights, which we had never done before in a competition environment, and this made him a little tense at times. So that was something we just had to manage the best we could, given the situation."
Despite that, they produced a Freestyle score of 73.807% for fifth place, less than 3% off a podium finish.
"To finish fifth in the Freestyle at Tokyo was awesome," says Emma, "I really don't think we could have done any better in that grade and that field. There were some extremely competitive combinations, and it was a big ask for an older horse but Zidane really held his own."
"It was an incredibly emotional night, knowing that it was his last ride on the world stage and after such a long lead up to the Games. I came out of the arena after the Freestyle test and my coach, who is not one prone to crying, was in tears; it was a very moving moment and such a lovely way to end our career together."
With the delay of Tokyo 2020, the next major Para Dressage Championship is now fast approaching with the World Equestrian Games (WEG) in 2022 and Emma is hoping to have another horse qualified to compete.
"I have a lovely Off The Track thoroughbred – Pakaya Prince – and it will be exciting to see how far he can go as a Para-dressage horse, but for the coming major championships I need to add another top level campaigner," she says.
There is a possibility of campaigning towards WEG from Europe as that may be where the next horse is found but there is much to consider.
"It's very much up in the air at the moment but finding a horse and campaigning in Europe is something we would love to do next year. On the other hand, it may not be possible to find the right horse and be ready in time for WEG but Paris only two years later so there is plenty to aim for."
"It is exciting - you come out of a Paralympic Games on such a high and knowing that the next one is only three years away is very nice!"
Finding another horse as good as Zidane will not be easy.
"It feels longer than six years – we've done so much together. I almost can't remember not having him in my life," admits Emma
"No horse is going to be able to replace Zidane and what he's done for me. But hopefully we will be able to find another top horse suitable for my needs and capable of performing at international competition that will take me on another journey."