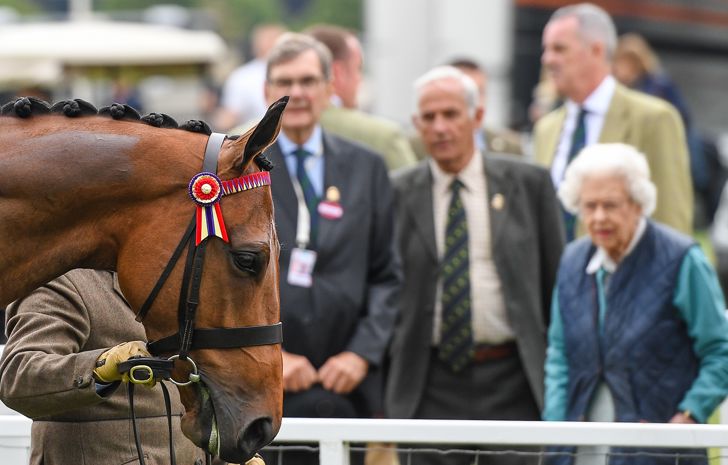 HM The Queen's success with Off The Track thoroughbreds at Royal Windsor Horse Show
8 October 2021
•
Written by
Debbie Higgs
Her Majesty The Queen is Patron of the Royal Windsor Horse Show and has attended every year since it started in 1943, when it was established to raise money for the war effort. The Show is a perfect platform for her retired racehorses, who have enjoyed considerable success in the show ring.
The 78th edition of the CHI Royal Windsor Horse Show heralded a return to 'almost normal' for the equestrian world in yet another pandemic year.
The Show, traditionally held in May each year, is a highlight of the global equestrian calendar.
It is the only time of year that the private grounds of Windsor Castle, a Royal home and fortress for over 900 years, are open to the public.
Her Majesty The Queen is Patron of the Show and has attended every year since it started in 1943, when it was established to raise money for the war effort. During the Second World War, Windsor Castle was home to the young Princesses Elizabeth and Margaret Rose and today The Queen still uses the Castle regularly, spending most of her weekends there.
The week of the Royal Windsor Horse Show is a perfect opportunity for The Queen to combine spending time at Windsor Castle with that of her love for horses. A keen rider herself, Queen Elizabeth II has taken a special interest in horses and racing all her life.  Her passion for horse breeding and racing has resulted in success in some of the most famous races in the world, but that is not where her interest ends for these stars of the stable. Following their time sporting the famous purple, scarlet and gold colours, some of her racehorses also go on to have illustrious second careers. And a few of these have 'stolen the show' at Royal Windsor Horse Show over the years.
The most well-known to date is Barbers Shop – by Saddlers' Hall out of Close Harmony – the last horse to be bred by the Queen's mother, Queen Elizabeth. After retiring from racing, he went on to win first prize in the Retraining of Racehorses (RoR) Thoroughbred Ridden Show Series Qualifier three times at Royal Windsor Horse Show, and also took Supreme Champion there in 2017, his last year of showing.
The popular ex-racehorse, re-trained and ridden in the show ring by Katie Jerram-Hunnable, returned to the Royal Windsor Horse Show the following year for a special retirement celebration. It was his second retirement; the first had been from his National Hunt racing career during which he was trained by Nicky Henderson, winning eight races between 2006 and 2012 and more than £143,000 in prize money, and then in 2018 he retired from his showing career
"Barbers Shop was a very easy horse to retrain, thanks to Nicky Henderson," says Katie Jerram-Hunnable, "He came to me in October 2012 when he was 11-years-old and by March the following year he was already winning classes and won his first Royal Windsor in May."
There were a few little things however that the ex-racehorse had to get his head around before becoming a showing star.
"He was an amazing horse to ride and compete – his only weakness was his canter transitions. He could take quite a hold in them! We spent four months just doing canter right, canter left but you could never drill him. Eventually he got the idea, and it was very easy once he understood what was being asked," says Katie.
"In the early days, he could also get a little bit 'antsy' when the Rider Judge would get him on, but after the first twelve months or so he was absolutely fine, and you could put anyone on him."
"Barbers Shop is still with us now, he's still in work and looks a million dollars!" says Katie fondly of the horse who retired from the show ring on a high at the age of 15 to live at the Jerram-Hunnable base at Collins Farm.
"Her Majesty made the decision to retire him after his third win at Royal Windsor so that he could go out in top competition form."
Although he no longer competes, Barbers Shop fans still get to see him at Retraining of Racing Parade Days although these outings have been reduced in pandemic times, much to the dismay of Barbers Shop himself.
"He loves a day out," laughs Katie. "If I loaded up and took him out to a competition tomorrow, he would be as happy as Larry. But he really has no need to prove himself anymore."
In 2020 the Royal Windsor Horse Show, like so many others around the world, was cancelled due to the COVID pandemic. In its place, an online version of the Royal Windsor Horse Show competition took place and the Queen had to settle for third place when the virtual Ridden Class was won by an Off The Track thoroughbred on the other side of the world.
"It was quite surreal just to be competing against the Queen at Royal Windsor, let alone winning" said Melissa Molloy whose Australian Off The Track thoroughbred Relmsparc Foxtrot took the honours.
The Royal Windsor Horse Show was back in real life again in 2021, albeit a little later than usual taking place in July, and once again Her Majesty the Queen was in the winner's circle.
On the third day of the show the Queen's home-bred former racehorse, First Receiver – a bay gelding by New Approach, out of Her Majesty's mare Touchline – won the Retraining of Racehorses In Hand class.
The four-year-old, formerly trained by Sir Michael Stoute, had won once in his four start career but never finishing further back than third, running his final race at Royal Ascot in June 2020 under Frankie Dettori where he finished second to Russian Emperor.
Once again, the Jerram-Hunnable team had been chosen to help First Receiver, who was raced as an entire, make the move into his new career. After being gelded in late 2020, he came to their base at Collins Farm in January where the focus was very much on easing the 'big, correct looking horse' into his new work.
"We're getting him used to the atmosphere first as he is such a young horse and, especially as he was recently gelded, we're taking it slowly. We're very lucky that the In Hand Series is on at this time and, although it's early days, he has taken already two In Hand Championships including the one at Royal Windsor," says Katie.
At Royal Windsor he was shown in hand by Katie's husband, Chris Hunnable, a former eventing rider who rode for Britain at the 1996 Olympic Games in Atlanta.
"My husband started in showing before he turned to eventing and he still loves the in-hand work –  he does it with all my horses. But Her Majesty sends the horses to be ridden by me and I'll be taking over the reins in the ring next year," says Katie.
"I'm riding First Receiver at home but the In Hand competitions are perfect for gently allowing him to get used to the competitions rather than immediately taking him to a show under saddle."
"When he does go in the ring with me, I want him to be 100% ready. He has been ridden away from home and he's a good stick, but he needs time so this winter he'll be doing some dressage competitions before his debut under saddle in the show ring. Hopefully by mid-2022 he will be well established in his new career," Katie adds.
Her Majesty's stud groom Terry Pendry discusses with Her Majesty the horses that they would like to come to Katie and will suit the environment at Collins Farm.
 "After Barbers Shop, I think they were keen to find another one for me to ride. So, when First Receiver came along, I was given the opportunity to go see him at the Sandringham Stud and discuss the opportunity before it was decided that he would come to me," says Katie.
"It is such an honour to ride Her Majesty's horse," admits Katie, "Sometimes I have to pinch myself."
"When I was a child, my grandmother used to chide me for having elbows on the table, saying 'What would The Queen say if she walked in and saw you' and I used to reply "Don't be silly Granny, that would never happen.'"
"Sadly, Granny didn't live to see the day that The Queen first rang me to discuss riding her horses, but I do know that she would be very proud now!"