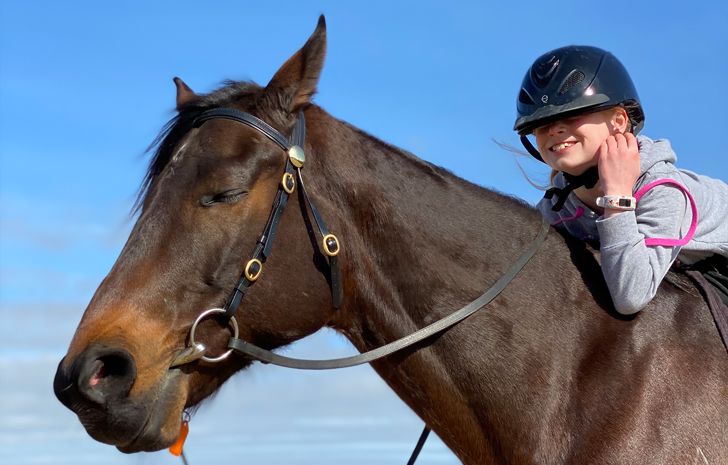 The Perfect Match: Retired racehorses changing young people's lives
8 October 2021
•
Written by
Belinda Meyers
Rehab4Rehab is leading the way in evidence-based equine therapy program, offering a unique style of clinical psychology minus the clinical setting, and with the addition of retired racehorses who are proving extremely adept at breaking down barriers.
Clinical Psychologist Joanna Paterson has always appreciated the value of the human connection with horses, but it's never been more apparent to her than now that retired racehorses are changing – and saving – young lives.
As Head Of Therapy at Rehab4Rehab, Joanna treats some of the most vulnerable children suffering from the most severe forms of mental illness, and it's changed her view on therapy.
"I'll never do therapy with a child or teen in a clinical room ever again," she says.
Rehab4Rehab is Australia's most advanced evidence-based equine therapy program, offering a unique style of clinical psychology minus the clinical setting, while also helping injured racehorses through their recovery. Sadly, many children who attend Rehab4Rehab do so as a last resort, because traditional therapy hasn't worked for them.
"We find that when kids aren't under a spotlight and expected to disclose personal information they are far more likely to open up and engage in meaningful conversations," Joanna explains.
Founder Alisha Griffiths says that more often than not something remarkable happens when a child meets a horse at Rehab4Rehab, leading to life-changing outcomes.
"We see the profound impact of equine therapy on children every day. We've seen non-verbal kids speak for the first time, we've seen suicidal kids turn their lives around through our programs; it's amazing what can happen when the pressure is off."
Whether they're leading a horse or doing groundwork, therapy is based on mindfulness and 'being in the moment', empowering young people to manage their anxiety, regulate their emotions and improve their communication skills.
"They will walk to a creek with a horse, sit on a bale of hay in the hay shed or hose a horse's leg. The horse is the intervention, there are unlimited role-play scenarios taking place in real-life nature and the clinical psychologist is noticing everything along the way."
"Often that's just the environment a child needs to take that first step towards sharing the most horrific and heartbreaking issues going on in their lives. And if you asked 15 parents, they would say that (head therapy horse) Crackajack has saved their child's life." Alisha says.
Ex-racehorse Crackajack is just one of a number of injured or homeless horses that have found a purposeful life after racing, helping humans while also healing themselves. He's in good company with others like Sale Cup winner Eraset, One Won't Hurt, Cauliflower and Street Prince to name a few.
While these thoroughbred geldings may have held no monetary value as injured racehorses coming off the track, they are the perfect equine therapy horses and priceless in the eyes of parents.
"They are so humanised; they have been exposed to humans since they first opened their eyes. Racehorses have already been desensitised; they've seen dogs, helicopters, umbrellas, everything! There's not a lot they haven't seen, and the more they have raced, the more they've seen and the more easily they take to equine therapy. Having a human on their back, it's all they know," Alisha says.
"One Won't Hurt will be banging at the gate wanting to come out and connect with the children, and Eraset will stand at the gate waiting for his therapy session. It's incredible to see the connection on both sides."
Rehab4Rehab is now an Off The Track Acknowledged Retrainer and part of Racing Victoria's RESET program, while also a registered charity helping children from all walks of life, even if they are unable to afford the therapy themselves.
Beyond the benefit to children and retired racehorses with limited options, Rehab4Rehab is on a mission to spread the word about the value of thoroughbreds after racing.
"We are showcasing to the community — non-racing people included — how valuable retired racehorses are. We're trying to change the narrative of the way people see these horses. We also want the industry to see the program in action, and we'd love to get to the point where equine therapy can be integrated with stable and staff wellbeing programs in the future."
"It's a very powerful win-win for the racing industry and the health industry. We've got the system – the demand is there, we just need more therapists, more locations and, of course, more horses to go through the program."