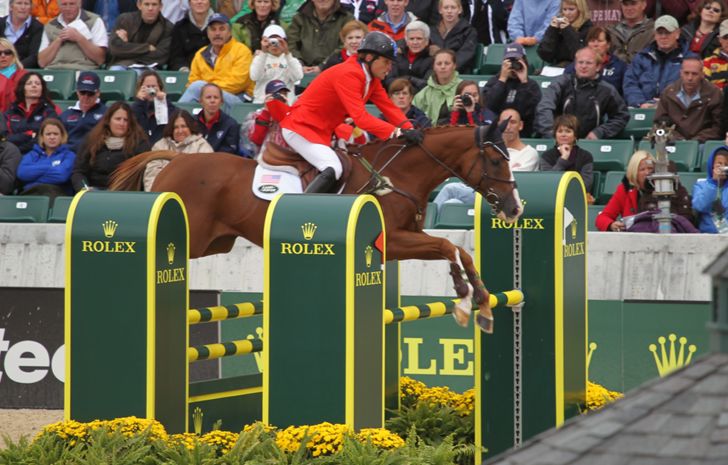 Boyd Martin – How Australian thoroughbreds helped shape a US Olympian's career
8 October 2021
•
Written by
Debbie Higgs
Boyd Martin may now reside and compete as a top-flight international eventing rider for the USA but at heart he is still an Aussie who attributes much of his success to Off The Track thoroughbreds.
Born in Australia and raised in the northern Sydney suburb of Terrey Hills  by Winter Olympian parents, America's Toy (Dorgan) and Australia's Ross Martin, it is not surprising that Boyd would become an Olympian himself.
His parents met at the 1968 Winter Olympic Games where they were competing in speed skating and cross country skiing but Boyd was attracted to a different sport. He first rode a horse as a 12-year-old when he accompanied his sister to the local Pony Club and was soon hooked, going on to represent Australia in eventing at Young Rider level.
But the highlight of his Australian competition career came when he won the CCI4* at the 2003 Adelaide International riding True Blue Toozac.
The gelding by Komon (Be My Guest), was just one of the Australian thoroughbreds that Boyd has competed at the highest level. There are only seven CCI5* events in the world (previously known as CCI4*) and they are the most demanding and prestigious competitions in the sport of eventing. Few horses have what it takes to compete at this level which requires them to perform a dressage test showing submission and elegance, gallop around a cross country course of more than 6,000m jumping 40-45 obstacles and be careful enough to jump a show jumping course on the final day without touching any rails. Even fewer horses have the stamina and longevity to keep tackling these events over many years.
However, one Australian Off The Track thoroughbred called Neville Bardos was not just a 5-Star horse but a '6-Star horse' according to Boyd.
By Muhayaa, Neville Bardos was bred at Woodlands Stud in the New South Wales Hunter Valley where he raced under the name. He 'wasn't much chop on the racetrack' and found a home with Boyd as an eventing horse at three years old. Together they moved up through the levels and went on to place ninth in the CCI5* at Kentucky in 2008 when Boyd was still riding for Australia. In 2010 they finished fourth at the same event, this time competing for the USA, earning Boyd his first cap on a US team at the 2010 World Equestrian Games held at the Kentucky Horse Park in Lexington later that year.
He may have been a 'failed racehorse', but Neville put in a personal best score during the dressage at the World Equestrian Games, went clear and under the time around a huge cross-country course and finished off a perfect weekend as the home crowd favourite, show jumping clear to be the highest placed US horse in 10th place. The USA team finished fourth, narrowly missing out on a medal.
But it was Neville Bardos' recovery following a horrific barn fire in May 2011 at Boyd's property in Pennsylvania that caught the public's imagination. Boyd battled the flames to save Neville from the fire, which claimed the lives of six other horses; luckily Neville's bad habit of wind sucking whilst stabled meant that he was wearing a collar, giving Boyd something to hang on to as he guided the horse through the flames and smoke of the burning barn.
Neville suffered scorching to the throat and potential lung damage but thanks to intensive care, and much to the amazement of vets, he quickly recovered and went on to place seventh in the CCI5* at the famous Burghley Horse Trials in England in September, just four months later. Boyd was delighted but not quite so amazed.
"This horse had a huge amount of heart and courage," he says, "I knew that, even though the fire had knocked him around a little bit, he was an athlete with such stamina and endurance that he would be fine, even at Burghley."
At the end of 2012, Neville was diagnosed with arthritis in his neck and didn't compete again until 2015, this time with a new rider – Mike Pendleton.
Mike, who has worked for Boyd since 2013, rode him at some lower-level events and even now Neville, at 22-years-young, is the occasional 'school master' of the stable.
"He's happily installed in the back paddock with a couple of other older horses but he still helps out occasionally. We sometimes have working pupils who don't own their own horse and he does a bit of dressage and small jumps with them – he still loves it and it's good for him. He's still in great shape."
Neville is not the only Australian ex-racehorse with a long 5* career and a forever home with Boyd. Steady Eddie, now 18 years old and having just completed his fifth CCI5* at Kentucky in April 2021, was discovered by Boyd whilst on holiday back in Australia in 2010.
Steady Eddie was born in New Zealand, sired by Group 1 winner Jetball who is by Marscay, the sire of many Grand Prix show jumpers in Australia including Sydney Olympian Zazu ridden by Jamie Coman. There is also impressive eventing breeding on the dam side through Vain, who is the grand-sire of New Zealand's Olympic Eventing champion, Ready Teddy, ridden by Blyth Tait. Racing fans will be familiar with Vain as the dominant sprinter of the late 1960s who set Australian prize money records as a two-year-old and three-year-old and went on to sire two Golden Slipper winners as a leading sire in Australia. Marscay was also renowned both on the racetrack and in the breeding barn, winning the Group 1 Golden Slipper in his two-year-old season and proceeding to sire Golden Slipper winner Bint Marscay as well as claiming the title of Champion Australian Sire in 1990-91 and 1992-93.
It was not so much the breeding as the jump that impressed Boyd when he tried him in unusual circumstances near Rockhampton in Queensland.
"I wasn't really looking for a horse and I only had shorts and flips flops on at the time but when I jumped him, I decided I had to buy him. He was straight off the track so didn't cost very much but I had to ship him over to America where he turned into a great horse, even though he did break my leg in two on cross country once!"
"He's tough as nails – if you look at his race record, he raced a lot in Australia but still went on to have a long second career in eventing and is still going strong". Steady Eddie raced as Big Jet in Australia and won seven races from 36 starts from Jan 2007 to Oct 2009. He started his career with Tommy Hughes in Melbourne and finished racing in Queensland, where he met Boyd for the first time.
After competing at Kentucky CCI5* in 2016 and 2017, Steady Eddie jetted over to England with Boyd to have a crack at Burghley Horse Trials, Boyd's first appearance there since riding Neville Bardos around the big track in 2011. They finished in 10th place, much to Boyd's delight, after a tough day at the office on cross country day.
"I had almost forgot how tough of a course it was. Eddie did not disappoint.  He lost both front shoes and I later discovered that he had cut one of his hind legs but he gave no indication of any problem while we were on course The toughness and bravery of Eddie was evident with a top 10 finish."
In 2018 Steady Eddie competed at 5* level at Kentucky and Les Etoiles de Pau in France but this was his last year of high-level competition with Boyd. Like his stablemate before him, Steady Eddie was entrusted to Mike Pendleton who achieved a long-held dream in April 2021, competing at his first CCI5* competition on the 18-year-old Steady Eddie and plans are in place for them to head to their next CCI5* competition at Maryland, USA in October.
Both Steady Eddie and Neville Bardos have enjoyed long careers in eventing following on from their racing life and Boyd readily admits that they have been 'looked after like kings' in his care. In return, the many Off The Track racehorses he has ridden have repaid him with not just success at the highest level of eventing but also by shaping him as a rider.
"Turning a racehorse into an eventing horse is a real art and a great experience for any rider; thoroughbreds come in all shapes and sizes and they've all had a previous career. It requires feel and patience - developing those skills is what made me a better rider and has helped me throughout my career."
Thanks to his American mother, Boyd had always enjoyed dual citizenship, and he relocated to the United States in 2007 before officially representing his new country in international eventing competition from 2009. Since then, he has represented the USA at three Olympic Games, three World Equestrian Games and two Pan-Am Games, including a top 20 finish at Tokyo 2020.