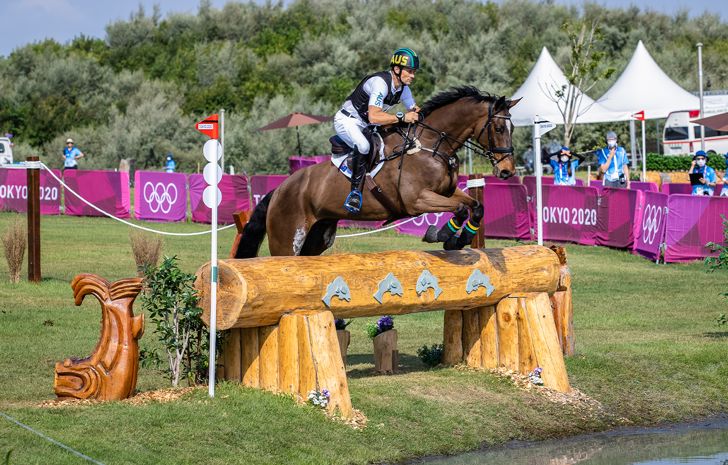 Thoroughbred bloodlines at Tokyo 2020
8 October 2021
•
Written by
Debbie Higgs
Thoroughbreds have a long and storied track record of winning Olympic medals in eventing, but did you know that the gold medal winners in Tokyo in dressage and show jumping also owe much of their success to their thoroughbred bloodlines?
Gone are the days when thoroughbreds won medals at the Olympic Games. Or have they?
Pure thoroughbreds have had great success in eventing at Olympic Games over the years – Stuart Tinney's gold medal winning Jeepster (AUS), Shane Rose's silver medallist All Luck (AUS) and Britain's multi-medallist Miner's Frolic, ridden by Tina Cook, daughter of legendary British trainer Josh Gifford who trained the 1981 Grand National winner Aldaniti, immediately spring to mind. In the lead-up to Tokyo 2020, two Australian thoroughbreds were also long-listed for the Olympic Games with Hazel Shannon's Willingapark Clifford and Amanda Ross' Koko Popping Candy both considered for selection.
In the disciplines of pure dressage and show jumping, the top level riders now compete solely on horses purpose bred for equestrian performance. But, when you look closely across the disciplines, thoroughbred bloodlines still play an important part in the breeding of Olympic medal winning horses.
Eventing is of course the equestrian discipline in which thoroughbreds still excel at all levels. The cross country phase of the competition demands stamina and the ability to gallop and jump at high speeds; the very things that thoroughbreds all around the world do so well. One of the most successful eventing horses in recent years is the now retired La Biosthetique Sam who, during his 10- year partnership with Germany's Michael Jung, won three Olympic gold medals and a silver medal at the 2012 and 2016 Games. Thanks to gold at the 2010 FEI World Equestrian Games in Kentucky, the 2011 FEI European Championships in Luhmuhlen and the 2012 Olympics, they became the first ever combination to hold all three titles at the same time.
La Biosthetique Sam (by the influential thoroughbred stallion Stan The Man out of the mare Halla, who was sired by another well-known thoroughbred, Heraldik) was 76% thoroughbred which at the time was considered to be a perfect level of bloodlines. But over the years, as more emphasis has been put on the dressage and show jumping phases of eventing competitions, there has been a trend to blend thoroughbred bloodlines with other breeds to improve performance in those areas.
Only one horse in the eventing competition at Tokyo 2020 was a pure thoroughbred and he was also an ex-racehorse. The 16-year-old Glenfly may have had a very average early career as a steeplechaser, having nine national hunt starts in England for trainers Trevor Hemmings, Phillip Hobbs and Chris Kellett with equally poor results, but his second career in the equestrian sport of eventing has taken him to the heights of the sport.
At the time of his retirement from jumps racing, Glenfly (by Presenting out of Dorans Glen) was spotted by the Brazilian eventing rider Marcelo Tosi, who splits his time between running his family business in Brazil and eventing in the UK.
Since then, Glenfly has won the Brazilian Eventing Championship three times, in 2016, '17, and '18, been part of the Brazilian eventing team at the 2018 World Equestrian Games in Tryon, USA and competed at CCI5* competitions – the highest level of the sport – in the UK, USA and France. Then in August 2021, he and Marcelo had the honour of competing for their country at the Tokyo 2020 Olympic Games.
Glenfly's thoroughbred characteristics came to the fore on cross country day when, in the hot and humid conditions, he ate up the approximately 4.5km galloping course, jumping clear over all the obstacles and coming home with a good score for his team. Unfortunately, unbeknown to Marcelo, Glenfly had lost a shoe early in the course and, although no serious damage had been done to the hoof by the loss of the shoe, Glenfly was slightly sore the next day. With his horse's welfare a priority, Marcelo opted to withdraw him from the competition and now they look forward to next year's World Equestrian Games in Italy.
Glenfly may have been the only full thoroughbred competing at Tokyo 2020, but a closer look at the percentage of thoroughbred blood in the top horses, and especially those who performed well in the cross country phase, suggests that thoroughbred bloodlines are still an influencing factor. Prior to the 2020 Tokyo Olympic Games, and especially after the Equestrian Test Event in 2019 when reports were produced regarding the climatic conditions for horses and riders, it was always thought that horses with more thoroughbred blood would handle the conditions best, and this appears to have been the case.
Georgie Belton of the Gemini Stud in England investigated the levels of thoroughbred blood in the top horses at Tokyo 2020 and it turns out that the average percentage of thoroughbred blood across the three Individual medal winning eventing horses was 57.03% - certainly less than that of La Biosthetique Sam but still a considerable influence.
The gold medal winning horse, Amande De B'Neville (Sire: Oscar Des Fontaines Dam Sire: Elan De La Cour) ridden by Germany's Julia Krajewski has 45.31% and the silver medal winning Toledo De Kerser (Sire: Diamant De Semilly, Dam Sire: Papillion Rouge) ridden by Britain's Tom McEwen was also just under 50% thoroughbred blood at 47.85%. But it was the bronze medal winning Vassily De Lassos (Sire: Jaguar Mail, Dam Sire: Jalienny) ridden by Australia's Andrew Hoy who upped the average with a whopping 77.93% thanks to his Anglo Arab breeding.
The French bred 12-year-old Vassily De Lassos, who Andrew has described as one of the best horses he has ridden in his long career, could have been bred for Tokyo 2020. He found the cross country easy, galloping home within the time with 10 seconds in hand and pulling up fit and strong for the next day's show jumping proving, as Andrew had predicted, that the horse was suited to the task and 'phenomenally fit'.
New Zealand's Jonelle Price, currently ranked seventh in the World Eventing Rankings, had also specifically chosen her horse for Tokyo 2020 due to his thoroughbred blood. Jonelle's 13-year-old Irish Sport Horse Grovine De Reve (Sire: Hermes De Reve and out of a mare by the full Thoroughbred stallion Rimilis) has 76.76% thoroughbred blood lines and he too easily handled the cross country day conditions, eventually finishing in 11th place.
Jonelle finished just behind another Antipodean rider, Australia's Shane Rose whose 16-year-old gelding Virgil took 10th place individually, helping the Australian team to secure the silver medal. Virgil's breeding is listed as warmblood in the database of the Federation Equestre Internationale (the governing body of the sport) and indeed his sire is the Belgian Warmblood show jumper Vivant who was imported at the age of three and went on to compete for Australia at the highest level. Like Andrew Hoy's Vassily De Lassos, Vivant's breeding was also heavily influenced by French Selle Francais bloodlines.
Virgil's dam however is unlisted in the FEI database, but it turns out she was a full Australian thoroughbred called North Pole (by Distinctly North from the mare Rose Gold). Michelle Hasibar, co-owner of Virgil with Shane Rose, bought North Pole as a four-year-old when she was retired from racing in NSW, Australia, put her in foal to Vivant 'in a moment of madness'. The rest is history – at Tokyo 2020 Shane and Virgil produced one of only seven clear cross country rounds of the day, four seconds inside the optimum time, no doubt making his thoroughbred mum very proud.
Colorado Blue (Sire: Jaguar Mail, Dam Sire: Rock King), ridden by Ireland's Austen O'Connor, is another who produced a double clear cross country round at Tokyo and also has a very high thoroughbred blood percentage of 83.79%.
But even more surprisingly than the level of thoroughbred blood in the Tokyo 2020 eventing horses, is the discovery that even some of the dressage and show jumping horses competing there had relatively high levels of thoroughbred breeding too.
The Individual show jumping gold medal winner Explosion (Sire: Chacco Blue, Dam Sire: Baloubet Du Rouet) ridden by Britain's Ben Maher is 40.63% thoroughbred and the Dressage team gold and individual silver medal winner, Bella Rose 2 (Sire: Belissimo M, Dam Sire: Cacir) has a thoroughbred percentage of 48.63%.
So, the next time you are contemplating breeding an Olympic medallist, don't overlook the lovely thoroughbred mare in your paddock.
As Michelle Hasibar says "It may have been a mad, last-minute thought to put North Pole in foal when I first got her, but it was one of the best decisions I ever made. I firmly believe that, if we really focused on breeding with the thoroughbred bloodlines that are most suited to our sport rather than being fixated on European bloodlines, we could produce some of the best eventing horses in the world right here in Australia". 
And she has the Olympic silver medal to prove it.
Acknowledgement: Many thanks to Georgie Belton for the statistics provided, which were first published in Insights Magazine (link to https://insightsmagazine.co.uk/magazine )