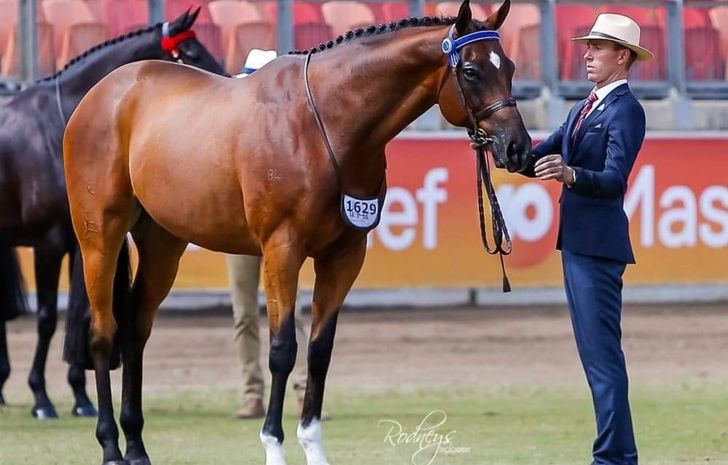 Godolphin Lifetime Care Program
8 October 2021
•
Written by
Jo McKinnon
Godolphin is a world class racing and breeding operation and when it comes to managing the welfare of its equine representatives, upholds its high standards of excellence. Read more about the processes put in place to ensure that every horse is able to reach their full potential in a suitable vocation beyond the racetrack.
Godolphin is a world class racing and breeding operation and when it comes to managing the welfare of its equine representatives, upholds its high standards of excellence.
Thoroughbreds that are bred to race for the "blue army" are given the very best of care and training from the moment they are conceived in springtime each year right until the end of their living days.
"Welfare is of paramount importance for every individual whether they make it to a racecourse or they don't, or whether they race to a high level or they don't," said Godolphin's Australian Racing and Bloodstock Manager, Jason Walsh.
While achieving success on the racetrack and in the breeding barn is Godolphin's ultimate aim, the reality is that not every horse can meet those expectations.
With that in mind, a robust set of initiatives under what's known as the 'Godolphin Lifetime Care Program' have been put in place to ensure that all horses are able to reach their full potential in a suitable vocation beyond the racetrack or, at the very least, live out their days in happy, healthy retirement.
"The Godolphin Lifetime Care Program illustrates a global vision and an absolute commitment to ensure the highest standard of care at each stage of development during their racing career and after.
"There are nuances in each jurisdiction and our operations are influenced by the type of environment they are in and the equine pursuits that are most relevant to the horse.
"It's all underpinned by a global vision of ensuring the highest standard of care for our horses," he said.
Tayla Gilmore is Godolphin's Community and Industry Program Officer in Australia and she's passionate about the program and the many positive rehoming outcomes it has been able to achieve since its inception.
"It's amazing to be a part of it. I love the stories of the horses teaching young people to ride and improving their skills or a horse that was once boisterous on the track that has now changed considerably in its second career and quite successful," said Gilmore.
A keen horsewoman herself who enjoys equestrian pursuits in her spare time, Gilmore explained how the rehoming process works for Godolphin graduates.
"Following each horse's retirement, they are transferred to Kelvinside for a minimum six-week spell. If the horse retires with an injury, they will be afforded the appropriate veterinary care and rehabilitation prior to becoming available for rehoming.
"We then assess each horse to determine their suitability for rehoming and the discipline they are best suited to.
"We are transparent with new owners in the information that is provided, to ensure that they know their history and capabilities going into a second career.
"We aim to find a person best suited to each particular horse and someone who is committed to offering a forever home. It's our preference that they stay with that person throughout the rest of their life but we understand that some circumstances change and we ask them to come back to us to discuss options so we can be a part of that process and offer support where needed."
When horses are retired from duties with Godolphin there's one of three ways they can go. If they are sound enough and possess a genuine interest to continue racing, they are sold to trainers and owners throughout Australia mainly through the online auction system, while suitable fillies and mares are often retained for Godolphin's extensive breeding program.
Those not sold on for racing purposes or retained for breeding are offered up for rehoming and their details are provided on the Godolphin Lifetime Care website.
"We always try and direct everyone to our website to apply for our horses. The website provides an overview of our rehoming program and also displays some horses that are available.
"Through the enquiry process we discuss further details to try and match the right horse to the right person. We are transparent in the information we provide which includes their full vet history with the main aim being to ensure potential new owners of our retired racehorses understand their capabilities and that they are not pushed beyond limit in the second stage of their career," said Gilmore.
 Whether they are Group 1 winners or have never won a race in their life for Godolphin, the priority is to afford all horses that have come through their breeding and racing system the best opportunities for a rewarding life beyond.
Jason Walsh explained that a number of high-profile horses play a vital role as flagbearers for the Lifetime Care Program including It's Somewhat, Hartnell and more recently Avilius.
"As you can imagine the highest level of care is integral to every decision we make around them. We maintain ownership of them for the remainder of their life but with the profile they have they give us the opportunity to use them and give momentum to the program with the sort of exposure it needs to promote the versatility of the Thoroughbred generally," said Walsh.
Reg Fleming is the direct custodian of Hartnell who is now performing exceptionally as a show horse in Victoria with Sheralee Patterson as his trainer and rider.
"It's a pretty rigorous process around finding a custodian to care for those horses day to day. They are people we feel can take these horses to as high a level as they can to bring as much positivity and promotion to the breed as possible" said Walsh.
At his show ring debut in February the stunning looking British import beat a star-studded field of retired thoroughbreds, including Chautauqua, in the Led Rising Star event.
"We make some decisions around placing them in a home most suitable to future athletic endeavours whatever level that is. The exposure they had in racing they can carry to life after which helps promote the breed.
"Hartnell is a really rare character. He had a particular charisma that you only get with elite athletes and he's carried that into his next career. We are very proud of him and also Reg," Walsh said.