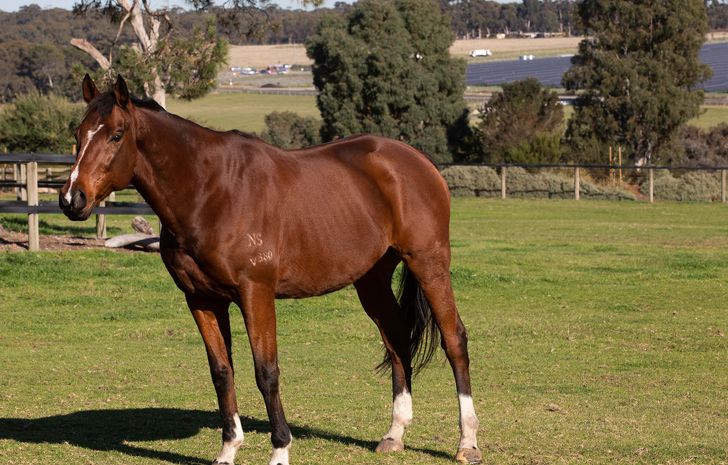 Living Legends: an update
24 June 2022
•
Written by
VRC
Living Legends is well known as a home for retired racehorses. It is also a place of respite and happiness for people who love racing, and horses. On a constant mission to keep the community connected to racehorse champions and enable equine retirees to continue their inspirational work in a whole new way, there is always something happening at Woodlands Homestead.
"… Rest in the love and peace you found with horses…." reads an inscription on a recently installed garden bench at Living Legends. A generous donation from Glynis Mitchell in memory of her husband Noel Mitchell, a thoroughbred enthusiast, it is a symbol of the deep connection and peace that people find with horses. Living Legends aims to foster this deep link between people and horses and to promote the life after racing for all horses.
To add to the already impressive list of champions at Woodlands Homestead, 2020 Melbourne Cup winner Twilight Payment arrived in November to commence his life after racing. He joins fellow Team Williams' former Cup winners Efficient (2007) and Almandin (2016), as well as 2013 Caulfield Cup winner Fawkner, who also carried the famous navy and white Williams colours. 'Twiggy' was joined in February by multiple Group 1 winner Gailo Chop. The French-born chestnut, who has been given the nickname 'Chopper' by his new carers, is settling in and loving life on the property. 
The two newcomers will soon be joining the other Legends in their Legends on the Road program, as, after two years of uncertainty, the horses are back travelling to race tracks all over Victoria. From Flemington to Ballarat and everywhere in between, the horses regularly make appearances at race days, events, functions, and equestrian competitions. It is just another way for Living Legends to nurture the deep connection between the community and racehorse champions and to promote life after racing for all horses.
Rattan is another name that was added to the honour roll in April, as this former Hong Kong star now calls the property home. The news delighted Hong Kong racing fans, as well as Cox Plate-winning jockey Chad Schofield, who rode the son of Savabeel to five of his seven career victories. Rattan will enter the Legends Under Saddle program after a six-month break.
In May 2022, Hong Kong galloper Pakistan Star who captured the attention of racing fans all around the world with his debut win at Sha Tin in July 2016, where he came from last to first, was retired. He has joined Living Legends for the next stage of his life.
In December 2021, Living Legends farewelled a favourite, 'Barry' or better known to racing fans, Who Shot Thebarman. Who Shot Thebarman retired from racing as a 10-year-old in the spring of 2018.
After a career start in New Zealand, he was transferred to Chris Waller where he was a regular competitor in Australia's biggest staying races – including four Melbourne Cups and five Sydney Cups, of which he won one – Zipping Classic, The Bart Cummings, and Moonee Valley Cup. When he retired, Who Shot Thebarman's owners, the O'Leary family, were happy for him to spend the early years of his retirement at Living Legends.
"The situation always was that the O'Leary's said that, initially we could have him for a year, and when COVID hit, they extended that out for another year, which was just fantastic of them, and it's been so great to have the horse at the farm," Living Legends CEO & Veterinary Director, Andrew Clarke, said.
"He's been in our Legends Under Saddle program, he's one of those iron horses that people just love. It has just been so special to have at the farm for people to come and see and also take him out to some race meetings as well."
Barry returned to his native home of New Zealand, to enjoy further retirement in the pastures of Whangaehu.
Sadly, the Living Legends team lost another favourite when Zipping passed away after suffering an irreparable leg fracture as a result of a paddock accident and was humanely euthanised in March. The popular gelding won 16 of his 47 starts while amassing more than $4.5m in prizemoney in a terrific career. His biggest wins included Group 1 triumphs in the 2010 Australian Cup and Turnbull Stakes at Flemington. The four-time winner of the Sandown Classic was recognised for this feat when the race was renamed in his honour to The Zipping Classic.
The Living Legends team were devastated by this tragic accident, and the twenty-year old 'iron horse' will be sorely missed by not only his fans and the people who cared for him, but also his paddock mate Fish (Efficient).
The important work completed by the Living Legends team was recognised recently with a Silver Award in the Culture and Heritage Tourism category at the VTIC Tourism Awards. They were also a finalist in the Tourist Attraction award, and received a City of Melbourne Tourism Innovation and Resilience Award for their approach to the challenges of 2020 and 2021 in chartering a course through COVID.
As a not-for-profit organisation, the organsiation relies on support from the community to continue its valuable and unique work. When you donate to Living Legends, you are helping to deliver one-of-a-kind experiences for people of all ages and abilities; supporting education and learning opportunities for the next generation; and ensuring the future of horses that touched the hearts of millions and became household names.
The VRC continues to support Living Legends with funding, while showcasing two equine Legends every race day at Flemington.
Visit Living Legends to contribute or book a tour. 
System.Web.HttpException (0x80004005): Error executing child request for handler 'System.Web.Mvc.HttpHandlerUtil+ServerExecuteHttpHandlerAsyncWrapper'. ---> System.NullReferenceException: Object reference not set to an instance of an object.
   at ASP._Page_Views_Partials_googleAd_cshtml.Execute() in C:\home\site\wwwroot\Views\Partials\googleAd.cshtml:line 4
   at System.Web.WebPages.WebPageBase.ExecutePageHierarchy()
   at System.Web.Mvc.WebViewPage.ExecutePageHierarchy()
   at System.Web.WebPages.WebPageBase.ExecutePageHierarchy(WebPageContext pageContext, TextWriter writer, WebPageRenderingBase startPage)
   at System.Web.Mvc.RazorView.RenderView(ViewContext viewContext, TextWriter writer, Object instance)
   at System.Web.Mvc.BuildManagerCompiledView.Render(ViewContext viewContext, TextWriter writer)
   at Umbraco.Web.Mvc.ProfilingView.Render(ViewContext viewContext, TextWriter writer) in D:\a\1\s\src\Umbraco.Web\Mvc\ProfilingView.cs:line 25
   at System.Web.Mvc.ViewResultBase.ExecuteResult(ControllerContext context)
   at System.Web.Mvc.ControllerActionInvoker.InvokeActionResult(ControllerContext controllerContext, ActionResult actionResult)
   at System.Web.Mvc.ControllerActionInvoker.InvokeActionResultFilterRecursive(IList`1 filters, Int32 filterIndex, ResultExecutingContext preContext, ControllerContext controllerContext, ActionResult actionResult)
   at System.Web.Mvc.ControllerActionInvoker.InvokeActionResultFilterRecursive(IList`1 filters, Int32 filterIndex, ResultExecutingContext preContext, ControllerContext controllerContext, ActionResult actionResult)
   at System.Web.Mvc.ControllerActionInvoker.InvokeActionResultFilterRecursive(IList`1 filters, Int32 filterIndex, ResultExecutingContext preContext, ControllerContext controllerContext, ActionResult actionResult)
   at System.Web.Mvc.ControllerActionInvoker.InvokeActionResultFilterRecursive(IList`1 filters, Int32 filterIndex, ResultExecutingContext preContext, ControllerContext controllerContext, ActionResult actionResult)
   at System.Web.Mvc.ControllerActionInvoker.InvokeActionResultFilterRecursive(IList`1 filters, Int32 filterIndex, ResultExecutingContext preContext, ControllerContext controllerContext, ActionResult actionResult)
   at System.Web.Mvc.ControllerActionInvoker.InvokeActionResultWithFilters(ControllerContext controllerContext, IList`1 filters, ActionResult actionResult)
   at System.Web.Mvc.Async.AsyncControllerActionInvoker.<>c__DisplayClass3_6.<BeginInvokeAction>b__4()
   at System.Web.Mvc.Async.AsyncControllerActionInvoker.<>c__DisplayClass3_1.<BeginInvokeAction>b__1(IAsyncResult asyncResult)
   at System.Web.Mvc.Async.AsyncResultWrapper.WrappedAsyncResult`1.CallEndDelegate(IAsyncResult asyncResult)
   at System.Web.Mvc.Async.AsyncResultWrapper.WrappedAsyncResultBase`1.End()
   at System.Web.Mvc.Async.AsyncControllerActionInvoker.EndInvokeAction(IAsyncResult asyncResult)
   at System.Web.Mvc.Controller.<>c.<BeginExecuteCore>b__152_1(IAsyncResult asyncResult, ExecuteCoreState innerState)
   at System.Web.Mvc.Async.AsyncResultWrapper.WrappedAsyncVoid`1.CallEndDelegate(IAsyncResult asyncResult)
   at System.Web.Mvc.Async.AsyncResultWrapper.WrappedAsyncResultBase`1.End()
   at System.Web.Mvc.Controller.EndExecuteCore(IAsyncResult asyncResult)
   at System.Web.Mvc.Controller.<>c.<BeginExecute>b__151_2(IAsyncResult asyncResult, Controller controller)
   at System.Web.Mvc.Async.AsyncResultWrapper.WrappedAsyncVoid`1.CallEndDelegate(IAsyncResult asyncResult)
   at System.Web.Mvc.Async.AsyncResultWrapper.WrappedAsyncResultBase`1.End()
   at System.Web.Mvc.Controller.EndExecute(IAsyncResult asyncResult)
   at System.Web.Mvc.Controller.System.Web.Mvc.Async.IAsyncController.EndExecute(IAsyncResult asyncResult)
   at System.Web.Mvc.MvcHandler.<>c.<BeginProcessRequest>b__20_1(IAsyncResult asyncResult, ProcessRequestState innerState)
   at System.Web.Mvc.Async.AsyncResultWrapper.WrappedAsyncVoid`1.CallEndDelegate(IAsyncResult asyncResult)
   at System.Web.Mvc.Async.AsyncResultWrapper.WrappedAsyncResultBase`1.End()
   at System.Web.Mvc.MvcHandler.EndProcessRequest(IAsyncResult asyncResult)
   at System.Web.Mvc.MvcHandler.System.Web.IHttpAsyncHandler.EndProcessRequest(IAsyncResult result)
   at System.Web.Mvc.HttpHandlerUtil.ServerExecuteHttpHandlerAsyncWrapper.<>c__DisplayClass3_0.<EndProcessRequest>b__0()
   at System.Web.Mvc.HttpHandlerUtil.ServerExecuteHttpHandlerWrapper.<>c__DisplayClass5_0.<Wrap>b__0()
   at System.Web.Mvc.HttpHandlerUtil.ServerExecuteHttpHandlerWrapper.Wrap[TResult](Func`1 func)
   at System.Web.Mvc.HttpHandlerUtil.ServerExecuteHttpHandlerWrapper.Wrap(Action action)
   at System.Web.Mvc.HttpHandlerUtil.ServerExecuteHttpHandlerAsyncWrapper.EndProcessRequest(IAsyncResult result)
   at System.Web.HttpServerUtility.ExecuteInternal(IHttpHandler handler, TextWriter writer, Boolean preserveForm, Boolean setPreviousPage, VirtualPath path, VirtualPath filePath, String physPath, Exception error, String queryStringOverride)
   at System.Web.HttpServerUtility.ExecuteInternal(IHttpHandler handler, TextWriter writer, Boolean preserveForm, Boolean setPreviousPage, VirtualPath path, VirtualPath filePath, String physPath, Exception error, String queryStringOverride)
   at System.Web.HttpServerUtility.Execute(IHttpHandler handler, TextWriter writer, Boolean preserveForm, Boolean setPreviousPage)
   at System.Web.HttpServerUtility.Execute(IHttpHandler handler, TextWriter writer, Boolean preserveForm)
   at System.Web.HttpServerUtilityWrapper.Execute(IHttpHandler handler, TextWriter writer, Boolean preserveForm)
   at System.Web.Mvc.Html.ChildActionExtensions.ActionHelper(HtmlHelper htmlHelper, String actionName, String controllerName, RouteValueDictionary routeValues, TextWriter textWriter)
   at System.Web.Mvc.Html.ChildActionExtensions.Action(HtmlHelper htmlHelper, String actionName, String controllerName, RouteValueDictionary routeValues)
   at Our.Umbraco.DocTypeGridEditor.Web.Extensions.HtmlHelperExtensions.RenderDocTypeGridEditorItem(HtmlHelper helper, IPublishedElement content, String editorAlias, String viewPath, String previewViewPath, Boolean isPreview)
   at ASP._Page_app_plugins_doctypegrideditor_render_DocTypeGridEditor_cshtml.Execute() in C:\home\site\wwwroot\app_plugins\doctypegrideditor\render\DocTypeGridEditor.cshtml:line 34
   at System.Web.WebPages.WebPageBase.ExecutePageHierarchy()
   at System.Web.Mvc.WebViewPage.ExecutePageHierarchy()
   at System.Web.WebPages.WebPageBase.ExecutePageHierarchy(WebPageContext pageContext, TextWriter writer, WebPageRenderingBase startPage)
   at System.Web.Mvc.RazorView.RenderView(ViewContext viewContext, TextWriter writer, Object instance)
   at System.Web.Mvc.BuildManagerCompiledView.Render(ViewContext viewContext, TextWriter writer)
   at Umbraco.Web.Mvc.ProfilingView.Render(ViewContext viewContext, TextWriter writer) in D:\a\1\s\src\Umbraco.Web\Mvc\ProfilingView.cs:line 25
   at System.Web.Mvc.HtmlHelper.RenderPartialInternal(String partialViewName, ViewDataDictionary viewData, Object model, TextWriter writer, ViewEngineCollection viewEngineCollection)
   at System.Web.Mvc.Html.PartialExtensions.Partial(HtmlHelper htmlHelper, String partialViewName, Object model, ViewDataDictionary viewData)
   at System.Web.Mvc.Html.PartialExtensions.Partial(HtmlHelper htmlHelper, String partialViewName, Object model)
   at ASP._Page_Views_Partials_grid_editors_Base_cshtml.Execute() in C:\home\site\wwwroot\Views\Partials\grid\editors\Base.cshtml:line 20