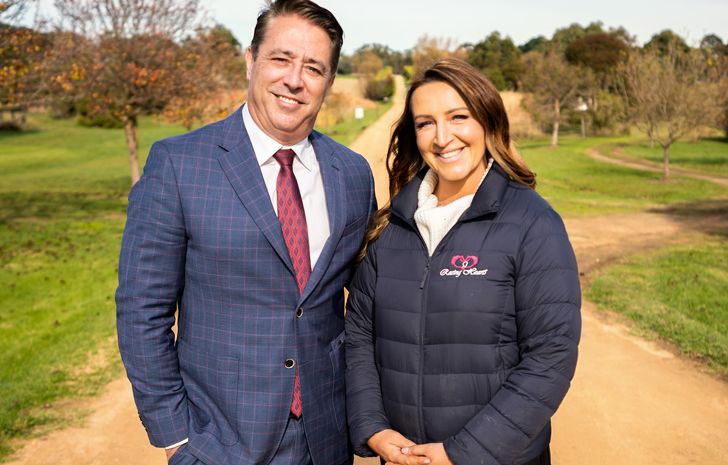 VRC boosts support of Racing Hearts
21 July 2022
•
Written by
Celia Purdey
Retired thoroughbred racehorses are valuable partners in the world of equine therapy, and counsellor Lisa Coffey has tapped into this, sharing her knowledge through Racing Hearts, which provides equine-assisted therapy using retired racehorses. The Victoria Racing Club has announced a new partnership with the organisation that will support a pilot program for secondary school students interested in pursuing a career in the thoroughbred industry.
Hailing from Ireland where she worked as an apprentice jockey teacher and at Aidan O'Brien's stables, Lisa Coffey ended up in Melbourne purely because of the Melbourne Cup.
"The Melbourne Cup is just held in such high esteem in Europe," she said. Her job search led her to Melbourne Cup-winning trainer Sheila Laxon, riding work at her stables in Seymour. A desire to experience racing in the city took her to Peter Moody's stables, then to Racing Victoria and then into rehoming and retraining. This led to her creating Racing Hearts, equine assisted psychotherapy, which combines her two areas of expertise – thoroughbred racehorses and counselling people towards better mental health.
"I describe equine-assisted psychotherapy as traditional counselling offered in a non-traditional way. It's powerful when you connect people with horses," said Coffey.
"We might work in the paddock or in the arena, and horses are brought into sessions in different ways. Clients may sit near the horse or lead or groom a horse. But it's far more than going into a paddock and patting ponies.
"While they're with the horse, people become aware of the thoughts in their head, how those thoughts are impacting on their body and how things change for them when they are with the horse. They notice how the horse responds to their emotions."
Coffey uses retired racehorses because of their versatility, trusting nature, and awareness.
"Awareness is a big part of what I do, and these horses are very responsive. They are very attuned to how a client is feeling and how they present," said Coffey.
"These horses provided support to those participants that no human therapist could ever offer in the same powerful way," said Coffey. "Feedback included feelings of being heard, no judgment, extreme calmness, clear minds, relaxed body, decreased heart rates, friendship, conversation, safe touch, support and protection. For a lot of kids, it was the first time they recall experiencing some of those feelings."
Now, in collaboration with the VRC, Coffey and her team are offering the Racing Hearts Secondary Schools Pilot Program, which provides learning pathways leading to meaningful employment opportunities for young people seeking an alternative to the Victorian Certificate of Education.
"The Secondary Schools Pilot Program provides these kids with education and career opportunities while also helping them recover from past traumas and develop their sense of self," said Coffey.
The pilot program has been designed with the Racing Hearts team of mental health practitioners and combines a yearlong mental health program with a skills based academic program. Upon successful completion of the program students will have gained a Certificate II in Racing Industry (stable hand) qualification through the Racing Industry Skills Centre RTO, equipping them with the skills required to work with racehorses in a racing stable.
Through its strong connections across the racing industry, Racing Hearts will support students to develop a network, gaining valuable work experience in a wide variety of roles, from hands-on work with horses to track maintenance, fashion, and administration, with the aim of assisting them to secure meaningful employment in the industry.
Further educational pathways exist with a Certificate III in Racing Industry (track rider or stable hand) qualification for students that choose to extend their schooling beyond the pilot program.
Observing the students who are already working within the program, Coffey is thrilled with how it's working so far.
"The Secondary Schools Pilot Program provides these kids with education and career opportunities while also helping them recover from past traumas and develop their sense of self." - Lisa Coffey
"The impact that the horses have on our students is very similar to the impact they have on our clients," she said. "I can already see the bonds that some of these students are starting to form with the horses. The horses are impacting how they make choices, how they express their boundaries, how they have awareness of their emotions and how they can regulate their emotions, which are all the things that we go through with the client in a therapy session."
The students who have been chosen for the program so far were handpicked by their school, identified as students who have become a little bit lost, may have mental health struggles, have trauma backgrounds, or may have learning difficulties.
"It sounds like a really big statement to make, but these horses are genuinely saving people's lives," said Coffey. "The relationships people build with the horses here are really special, because they're not judgemental."
Coffey still can't believe the perfect synergy of partnering with the VRC on this program. "I mean, I came to Australia because of the Melbourne Cup, and I'm not sure that Racing Hearts would even exist if I didn't. So for VRC to partner with us and support us in the pilot program, it's absolutely amazing."
System.Web.HttpException (0x80004005): Error executing child request for handler 'System.Web.Mvc.HttpHandlerUtil+ServerExecuteHttpHandlerAsyncWrapper'. ---> System.NullReferenceException: Object reference not set to an instance of an object.
   at ASP._Page_Views_Partials_googleAd_cshtml.Execute()
   at System.Web.WebPages.WebPageBase.ExecutePageHierarchy()
   at System.Web.Mvc.WebViewPage.ExecutePageHierarchy()
   at System.Web.WebPages.WebPageBase.ExecutePageHierarchy(WebPageContext pageContext, TextWriter writer, WebPageRenderingBase startPage)
   at System.Web.Mvc.RazorView.RenderView(ViewContext viewContext, TextWriter writer, Object instance)
   at System.Web.Mvc.BuildManagerCompiledView.Render(ViewContext viewContext, TextWriter writer)
   at Umbraco.Web.Mvc.ProfilingView.Render(ViewContext viewContext, TextWriter writer) in D:\a\1\s\src\Umbraco.Web\Mvc\ProfilingView.cs:line 25
   at System.Web.Mvc.ViewResultBase.ExecuteResult(ControllerContext context)
   at System.Web.Mvc.ControllerActionInvoker.InvokeActionResult(ControllerContext controllerContext, ActionResult actionResult)
   at System.Web.Mvc.ControllerActionInvoker.InvokeActionResultFilterRecursive(IList`1 filters, Int32 filterIndex, ResultExecutingContext preContext, ControllerContext controllerContext, ActionResult actionResult)
   at System.Web.Mvc.ControllerActionInvoker.InvokeActionResultFilterRecursive(IList`1 filters, Int32 filterIndex, ResultExecutingContext preContext, ControllerContext controllerContext, ActionResult actionResult)
   at System.Web.Mvc.ControllerActionInvoker.InvokeActionResultFilterRecursive(IList`1 filters, Int32 filterIndex, ResultExecutingContext preContext, ControllerContext controllerContext, ActionResult actionResult)
   at System.Web.Mvc.ControllerActionInvoker.InvokeActionResultFilterRecursive(IList`1 filters, Int32 filterIndex, ResultExecutingContext preContext, ControllerContext controllerContext, ActionResult actionResult)
   at System.Web.Mvc.ControllerActionInvoker.InvokeActionResultFilterRecursive(IList`1 filters, Int32 filterIndex, ResultExecutingContext preContext, ControllerContext controllerContext, ActionResult actionResult)
   at System.Web.Mvc.ControllerActionInvoker.InvokeActionResultWithFilters(ControllerContext controllerContext, IList`1 filters, ActionResult actionResult)
   at System.Web.Mvc.Async.AsyncControllerActionInvoker.<>c__DisplayClass3_6.<BeginInvokeAction>b__4()
   at System.Web.Mvc.Async.AsyncControllerActionInvoker.<>c__DisplayClass3_1.<BeginInvokeAction>b__1(IAsyncResult asyncResult)
   at System.Web.Mvc.Async.AsyncResultWrapper.WrappedAsyncResult`1.CallEndDelegate(IAsyncResult asyncResult)
   at System.Web.Mvc.Async.AsyncResultWrapper.WrappedAsyncResultBase`1.End()
   at System.Web.Mvc.Async.AsyncControllerActionInvoker.EndInvokeAction(IAsyncResult asyncResult)
   at System.Web.Mvc.Controller.<>c.<BeginExecuteCore>b__152_1(IAsyncResult asyncResult, ExecuteCoreState innerState)
   at System.Web.Mvc.Async.AsyncResultWrapper.WrappedAsyncVoid`1.CallEndDelegate(IAsyncResult asyncResult)
   at System.Web.Mvc.Async.AsyncResultWrapper.WrappedAsyncResultBase`1.End()
   at System.Web.Mvc.Controller.EndExecuteCore(IAsyncResult asyncResult)
   at System.Web.Mvc.Controller.<>c.<BeginExecute>b__151_2(IAsyncResult asyncResult, Controller controller)
   at System.Web.Mvc.Async.AsyncResultWrapper.WrappedAsyncVoid`1.CallEndDelegate(IAsyncResult asyncResult)
   at System.Web.Mvc.Async.AsyncResultWrapper.WrappedAsyncResultBase`1.End()
   at System.Web.Mvc.Controller.EndExecute(IAsyncResult asyncResult)
   at System.Web.Mvc.Controller.System.Web.Mvc.Async.IAsyncController.EndExecute(IAsyncResult asyncResult)
   at System.Web.Mvc.MvcHandler.<>c.<BeginProcessRequest>b__20_1(IAsyncResult asyncResult, ProcessRequestState innerState)
   at System.Web.Mvc.Async.AsyncResultWrapper.WrappedAsyncVoid`1.CallEndDelegate(IAsyncResult asyncResult)
   at System.Web.Mvc.Async.AsyncResultWrapper.WrappedAsyncResultBase`1.End()
   at System.Web.Mvc.MvcHandler.EndProcessRequest(IAsyncResult asyncResult)
   at System.Web.Mvc.MvcHandler.System.Web.IHttpAsyncHandler.EndProcessRequest(IAsyncResult result)
   at System.Web.Mvc.HttpHandlerUtil.ServerExecuteHttpHandlerAsyncWrapper.<>c__DisplayClass3_0.<EndProcessRequest>b__0()
   at System.Web.Mvc.HttpHandlerUtil.ServerExecuteHttpHandlerWrapper.<>c__DisplayClass5_0.<Wrap>b__0()
   at System.Web.Mvc.HttpHandlerUtil.ServerExecuteHttpHandlerWrapper.Wrap[TResult](Func`1 func)
   at System.Web.Mvc.HttpHandlerUtil.ServerExecuteHttpHandlerWrapper.Wrap(Action action)
   at System.Web.Mvc.HttpHandlerUtil.ServerExecuteHttpHandlerAsyncWrapper.EndProcessRequest(IAsyncResult result)
   at System.Web.HttpServerUtility.ExecuteInternal(IHttpHandler handler, TextWriter writer, Boolean preserveForm, Boolean setPreviousPage, VirtualPath path, VirtualPath filePath, String physPath, Exception error, String queryStringOverride)
   at System.Web.HttpServerUtility.ExecuteInternal(IHttpHandler handler, TextWriter writer, Boolean preserveForm, Boolean setPreviousPage, VirtualPath path, VirtualPath filePath, String physPath, Exception error, String queryStringOverride)
   at System.Web.HttpServerUtility.Execute(IHttpHandler handler, TextWriter writer, Boolean preserveForm, Boolean setPreviousPage)
   at System.Web.HttpServerUtility.Execute(IHttpHandler handler, TextWriter writer, Boolean preserveForm)
   at System.Web.HttpServerUtilityWrapper.Execute(IHttpHandler handler, TextWriter writer, Boolean preserveForm)
   at System.Web.Mvc.Html.ChildActionExtensions.ActionHelper(HtmlHelper htmlHelper, String actionName, String controllerName, RouteValueDictionary routeValues, TextWriter textWriter)
   at System.Web.Mvc.Html.ChildActionExtensions.Action(HtmlHelper htmlHelper, String actionName, String controllerName, RouteValueDictionary routeValues)
   at Our.Umbraco.DocTypeGridEditor.Web.Extensions.HtmlHelperExtensions.RenderDocTypeGridEditorItem(HtmlHelper helper, IPublishedElement content, String editorAlias, String viewPath, String previewViewPath, Boolean isPreview)
   at ASP._Page_app_plugins_doctypegrideditor_render_DocTypeGridEditor_cshtml.Execute()
   at System.Web.WebPages.WebPageBase.ExecutePageHierarchy()
   at System.Web.Mvc.WebViewPage.ExecutePageHierarchy()
   at System.Web.WebPages.WebPageBase.ExecutePageHierarchy(WebPageContext pageContext, TextWriter writer, WebPageRenderingBase startPage)
   at System.Web.Mvc.RazorView.RenderView(ViewContext viewContext, TextWriter writer, Object instance)
   at System.Web.Mvc.BuildManagerCompiledView.Render(ViewContext viewContext, TextWriter writer)
   at Umbraco.Web.Mvc.ProfilingView.Render(ViewContext viewContext, TextWriter writer) in D:\a\1\s\src\Umbraco.Web\Mvc\ProfilingView.cs:line 25
   at System.Web.Mvc.HtmlHelper.RenderPartialInternal(String partialViewName, ViewDataDictionary viewData, Object model, TextWriter writer, ViewEngineCollection viewEngineCollection)
   at System.Web.Mvc.Html.PartialExtensions.Partial(HtmlHelper htmlHelper, String partialViewName, Object model, ViewDataDictionary viewData)
   at System.Web.Mvc.Html.PartialExtensions.Partial(HtmlHelper htmlHelper, String partialViewName, Object model)
   at ASP._Page_Views_Partials_grid_editors_Base_cshtml.Execute()