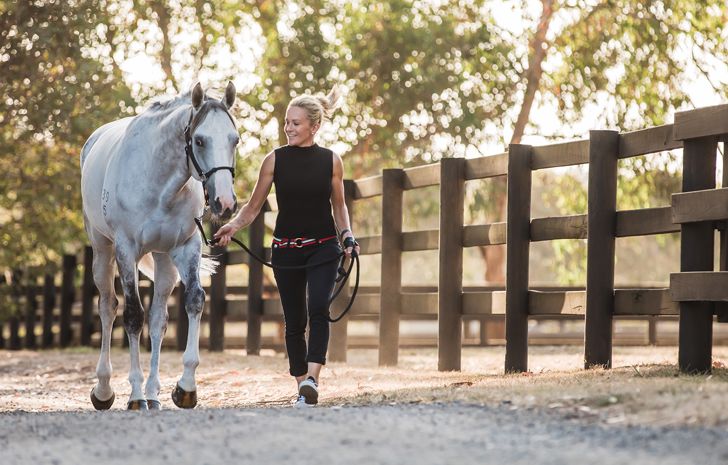 Amanda Ross finds her Romeo
24 June 2022
•
Written by
Sarah Marinos
Olympic eventing rider and VRC ambassador Amanda Ross is using her extensive experience with Off The Track thoroughbreds to train another potential show jumping champion.
During her long career in equestrian, Amanda Ross has successfully worked and competed with a series of Off The Track (OTT) thoroughbreds. In 2000, she rode Otto Schumaker at the Sydney Olympics, a thoroughbred who trialled but never made it to the races.
Amanda continued her success with Koko Popping Candy. In 2020, Amanda and Koko Popping Candy won four Equestrian Victoria awards including Eventing Horse of the Year, Rider of the Year and Off-The-Track Dressage and Eventing Horse of the Year. Koko Popping Candy recently retired from competition, and Amanda's now working with a new OTT horse. She has high hopes for the new four-legged love in her life – a six-year-old dapple grey called Romeo.
"Two of my riding students were at Balnarring Beach in Victoria one morning and spotted him. He was so beautiful that he caught their eye and they told me about this grey thoroughbred. As soon as they mentioned the name on the horse's saddlecloth – Yargi – I knew who the horse belonged to," Ross said.
Romeo, who raced as Switching To Win, was trained by husband-and-wife trainers Amy Johnston and Ash Yargi. Ross has known Johnston for years so immediately called her to find out more about the mysterious grey horse.
"I rang Amy and said, 'apparently, you've got a really nice grey' and she instantly knew which horse I was talking about. She said he's not finished racing yet but he's well-bred with a great temperament. She asked if I was interested when he retired from racing and I said yes. In late January, Amy called me and said he was available," Ross said.
It was love at first sight for Ross. She instantly recognised Romeo's quality and potential.
"He's by Frankel, so he's a good leggy, English staying type. He's got a well set-on neck, a nice compact back and well-shaped feet – and he's very pretty. Being dapple grey is always a head turner! He's a nice mover and he has a trainable temperament – he's the complete package," Ross said.
Since arriving at her Mornington property in early February, Romeo has made himself at home. Ross has gradually eased him into a routine and helped him become familiar with his surroundings.
"He's great with grooming and being led in and out of the paddock. The first time I put him out in a smaller paddock he ran around a little because he hadn't been out in a paddock for a while, but he settled quickly and gets along well with the other horses," Ross said.
"I brought him into the stable area and groomed him and he was fine with that. I gave him a light lunge and he picked up that quickly. I haven't asked too much of him yet – the basic walk and trot and he's walked up to jumps and the tractor and around the arena and taken everything in.
"I've worked on some movements with him but at this stage I'm not hurrying him. I took him for a ride to a friend's place where I work on horse fitness. He stood in the yard with the other horses, ate hay and watched the other horses in work and then got back in the truck for the ride home. The next time we went to the property, he went for a hack out and we rode up and down the hills and valleys. He was a bit scared going under branches initially – he'd crouch down – but now he's very relaxed."
So soon after ending his racing career, Romeo still retains the urge to go fast now and again. When Ross took him to Boneo Park Equestrian Centre, he couldn't help but get a little excited when he heard the thud of hooves on the sand in the show jumping arena and the noise from the PA system.
"He thought he was back at the races and all of a sudden, he was on high alert. He was waiting for the race to start and couldn't figure out why all the other horses were going in different directions and weren't getting organised in a straight line, ready to run fast. He was a bit bemused!" laughed Ross.
Ross has transitioned out of eventing and into show jumping and dressage and one of her remaining equestrian dreams is to compete for Australia in the FEI World Equestrian Games.
"I have a horse at the moment, Vendi, who is competing at World Cup level and it's exciting to be jumping at that elite level. I've evented all my life and I got to a stage where I wanted a new challenge," she said.
She has taken Romeo through his paces during some basic jumping sessions and plans to compete in dressage and show jumping events with Romeo when he is ready.
"Often the biggest challenge is getting OTT thoroughbreds to relax. Once the tension is released, they show their true talent," Ross said.
"He moves well enough to do dressage and he also seems to enjoy the jumping – I think he can be a jack of all trades and I will see where his talent lies and let him tell me what he wants to do. He has a good temperament, he's a great fit for me and he is showing a lot of promise."
 Photography by Katherine Jamison
System.Web.HttpException (0x80004005): Error executing child request for handler 'System.Web.Mvc.HttpHandlerUtil+ServerExecuteHttpHandlerAsyncWrapper'. ---> System.NullReferenceException: Object reference not set to an instance of an object.
   at ASP._Page_Views_Partials_googleAd_cshtml.Execute() in C:\home\site\wwwroot\Views\Partials\googleAd.cshtml:line 4
   at System.Web.WebPages.WebPageBase.ExecutePageHierarchy()
   at System.Web.Mvc.WebViewPage.ExecutePageHierarchy()
   at System.Web.WebPages.WebPageBase.ExecutePageHierarchy(WebPageContext pageContext, TextWriter writer, WebPageRenderingBase startPage)
   at System.Web.Mvc.RazorView.RenderView(ViewContext viewContext, TextWriter writer, Object instance)
   at System.Web.Mvc.BuildManagerCompiledView.Render(ViewContext viewContext, TextWriter writer)
   at Umbraco.Web.Mvc.ProfilingView.Render(ViewContext viewContext, TextWriter writer) in D:\a\1\s\src\Umbraco.Web\Mvc\ProfilingView.cs:line 25
   at System.Web.Mvc.ViewResultBase.ExecuteResult(ControllerContext context)
   at System.Web.Mvc.ControllerActionInvoker.InvokeActionResult(ControllerContext controllerContext, ActionResult actionResult)
   at System.Web.Mvc.ControllerActionInvoker.InvokeActionResultFilterRecursive(IList`1 filters, Int32 filterIndex, ResultExecutingContext preContext, ControllerContext controllerContext, ActionResult actionResult)
   at System.Web.Mvc.ControllerActionInvoker.InvokeActionResultFilterRecursive(IList`1 filters, Int32 filterIndex, ResultExecutingContext preContext, ControllerContext controllerContext, ActionResult actionResult)
   at System.Web.Mvc.ControllerActionInvoker.InvokeActionResultFilterRecursive(IList`1 filters, Int32 filterIndex, ResultExecutingContext preContext, ControllerContext controllerContext, ActionResult actionResult)
   at System.Web.Mvc.ControllerActionInvoker.InvokeActionResultFilterRecursive(IList`1 filters, Int32 filterIndex, ResultExecutingContext preContext, ControllerContext controllerContext, ActionResult actionResult)
   at System.Web.Mvc.ControllerActionInvoker.InvokeActionResultFilterRecursive(IList`1 filters, Int32 filterIndex, ResultExecutingContext preContext, ControllerContext controllerContext, ActionResult actionResult)
   at System.Web.Mvc.ControllerActionInvoker.InvokeActionResultWithFilters(ControllerContext controllerContext, IList`1 filters, ActionResult actionResult)
   at System.Web.Mvc.Async.AsyncControllerActionInvoker.<>c__DisplayClass3_6.<BeginInvokeAction>b__4()
   at System.Web.Mvc.Async.AsyncControllerActionInvoker.<>c__DisplayClass3_1.<BeginInvokeAction>b__1(IAsyncResult asyncResult)
   at System.Web.Mvc.Async.AsyncResultWrapper.WrappedAsyncResult`1.CallEndDelegate(IAsyncResult asyncResult)
   at System.Web.Mvc.Async.AsyncResultWrapper.WrappedAsyncResultBase`1.End()
   at System.Web.Mvc.Async.AsyncControllerActionInvoker.EndInvokeAction(IAsyncResult asyncResult)
   at System.Web.Mvc.Controller.<>c.<BeginExecuteCore>b__152_1(IAsyncResult asyncResult, ExecuteCoreState innerState)
   at System.Web.Mvc.Async.AsyncResultWrapper.WrappedAsyncVoid`1.CallEndDelegate(IAsyncResult asyncResult)
   at System.Web.Mvc.Async.AsyncResultWrapper.WrappedAsyncResultBase`1.End()
   at System.Web.Mvc.Controller.EndExecuteCore(IAsyncResult asyncResult)
   at System.Web.Mvc.Controller.<>c.<BeginExecute>b__151_2(IAsyncResult asyncResult, Controller controller)
   at System.Web.Mvc.Async.AsyncResultWrapper.WrappedAsyncVoid`1.CallEndDelegate(IAsyncResult asyncResult)
   at System.Web.Mvc.Async.AsyncResultWrapper.WrappedAsyncResultBase`1.End()
   at System.Web.Mvc.Controller.EndExecute(IAsyncResult asyncResult)
   at System.Web.Mvc.Controller.System.Web.Mvc.Async.IAsyncController.EndExecute(IAsyncResult asyncResult)
   at System.Web.Mvc.MvcHandler.<>c.<BeginProcessRequest>b__20_1(IAsyncResult asyncResult, ProcessRequestState innerState)
   at System.Web.Mvc.Async.AsyncResultWrapper.WrappedAsyncVoid`1.CallEndDelegate(IAsyncResult asyncResult)
   at System.Web.Mvc.Async.AsyncResultWrapper.WrappedAsyncResultBase`1.End()
   at System.Web.Mvc.MvcHandler.EndProcessRequest(IAsyncResult asyncResult)
   at System.Web.Mvc.MvcHandler.System.Web.IHttpAsyncHandler.EndProcessRequest(IAsyncResult result)
   at System.Web.Mvc.HttpHandlerUtil.ServerExecuteHttpHandlerAsyncWrapper.<>c__DisplayClass3_0.<EndProcessRequest>b__0()
   at System.Web.Mvc.HttpHandlerUtil.ServerExecuteHttpHandlerWrapper.<>c__DisplayClass5_0.<Wrap>b__0()
   at System.Web.Mvc.HttpHandlerUtil.ServerExecuteHttpHandlerWrapper.Wrap[TResult](Func`1 func)
   at System.Web.Mvc.HttpHandlerUtil.ServerExecuteHttpHandlerWrapper.Wrap(Action action)
   at System.Web.Mvc.HttpHandlerUtil.ServerExecuteHttpHandlerAsyncWrapper.EndProcessRequest(IAsyncResult result)
   at System.Web.HttpServerUtility.ExecuteInternal(IHttpHandler handler, TextWriter writer, Boolean preserveForm, Boolean setPreviousPage, VirtualPath path, VirtualPath filePath, String physPath, Exception error, String queryStringOverride)
   at System.Web.HttpServerUtility.ExecuteInternal(IHttpHandler handler, TextWriter writer, Boolean preserveForm, Boolean setPreviousPage, VirtualPath path, VirtualPath filePath, String physPath, Exception error, String queryStringOverride)
   at System.Web.HttpServerUtility.Execute(IHttpHandler handler, TextWriter writer, Boolean preserveForm, Boolean setPreviousPage)
   at System.Web.HttpServerUtility.Execute(IHttpHandler handler, TextWriter writer, Boolean preserveForm)
   at System.Web.HttpServerUtilityWrapper.Execute(IHttpHandler handler, TextWriter writer, Boolean preserveForm)
   at System.Web.Mvc.Html.ChildActionExtensions.ActionHelper(HtmlHelper htmlHelper, String actionName, String controllerName, RouteValueDictionary routeValues, TextWriter textWriter)
   at System.Web.Mvc.Html.ChildActionExtensions.Action(HtmlHelper htmlHelper, String actionName, String controllerName, RouteValueDictionary routeValues)
   at Our.Umbraco.DocTypeGridEditor.Web.Extensions.HtmlHelperExtensions.RenderDocTypeGridEditorItem(HtmlHelper helper, IPublishedElement content, String editorAlias, String viewPath, String previewViewPath, Boolean isPreview)
   at ASP._Page_app_plugins_doctypegrideditor_render_DocTypeGridEditor_cshtml.Execute() in C:\home\site\wwwroot\app_plugins\doctypegrideditor\render\DocTypeGridEditor.cshtml:line 34
   at System.Web.WebPages.WebPageBase.ExecutePageHierarchy()
   at System.Web.Mvc.WebViewPage.ExecutePageHierarchy()
   at System.Web.WebPages.WebPageBase.ExecutePageHierarchy(WebPageContext pageContext, TextWriter writer, WebPageRenderingBase startPage)
   at System.Web.Mvc.RazorView.RenderView(ViewContext viewContext, TextWriter writer, Object instance)
   at System.Web.Mvc.BuildManagerCompiledView.Render(ViewContext viewContext, TextWriter writer)
   at Umbraco.Web.Mvc.ProfilingView.Render(ViewContext viewContext, TextWriter writer) in D:\a\1\s\src\Umbraco.Web\Mvc\ProfilingView.cs:line 25
   at System.Web.Mvc.HtmlHelper.RenderPartialInternal(String partialViewName, ViewDataDictionary viewData, Object model, TextWriter writer, ViewEngineCollection viewEngineCollection)
   at System.Web.Mvc.Html.PartialExtensions.Partial(HtmlHelper htmlHelper, String partialViewName, Object model, ViewDataDictionary viewData)
   at System.Web.Mvc.Html.PartialExtensions.Partial(HtmlHelper htmlHelper, String partialViewName, Object model)
   at ASP._Page_Views_Partials_grid_editors_Base_cshtml.Execute() in C:\home\site\wwwroot\Views\Partials\grid\editors\Base.cshtml:line 20