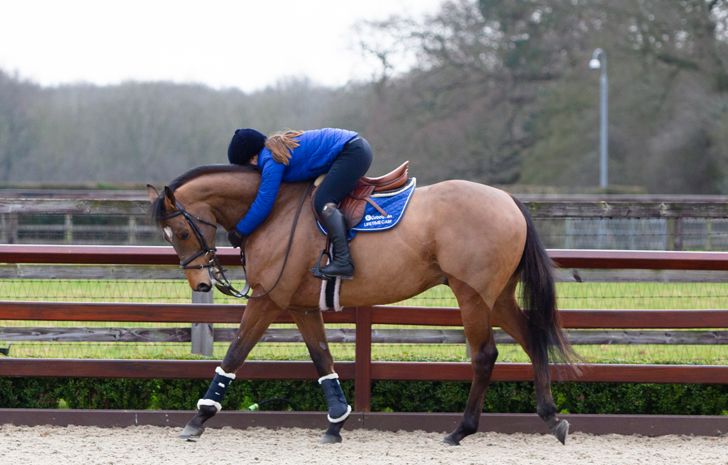 Crossing into new pastures
24 June 2022
•
Written by
Michael Sharkie
2018 Lexus Melbourne Cup winner Cross Counter is enjoying a new career courtesy of the Godolphin Lifetime Care program.
When Cross Counter stormed down the Flemington straight to win the 2018 Lexus Melbourne Cup, he finally delivered the race that Godolphin had coveted more than any other around the world.
The son of Teofilo was having just his eighth career start and was the brightest young stayer in the world. He would win the $2 million Dubai Gold Cup at his next start, which was sadly his last career win as niggling injuries would allow for just seven more appearances before his retirement, including an eighth in his return to Flemington for the 2019 Lexus Melbourne Cup behind Vow And Declare.
Cross Counter was a star, but as a gelding there would be no career at stud for him. In Australia, the Living Legends property at Oaklands serves as a retirement home of sorts for gelded champions like Cross Counter, but Godolphin, the world's biggest racing and breeding organisation, look after their horses a little differently.
At Newmarket in the heart of European thoroughbred country, Cross Counter is embarking on the next phase of his life – not so much a life of retirement, but a life open to opportunity as a part of Godolphin's Lifetime Care rehoming program.
The program takes in retired geldings that have worn Godolphin's famous royal blue colours and retrains them for a life after racing.
Anything from show jumping, dressage and equestrian competition, polo and everything in between has been achieved by graduates of the program and Rehoming Manager Cilla Leonard has been thrilled by what has been achieved globally.
"The mission for Godolphin's Lifetime Care Programme is to provide the best possible lifelong care for our thoroughbreds. They enjoy a wonderful quality of life at first-class facilities around the world and it is a joy to see them thrive," said Leonard.
"Our rehoming program has allowed us to find wonderful homes for some special friends, plus promote the versatility of the thoroughbred to the wider equine world. Many of our thoroughbreds go on to successful alternative careers once their racing days are over."
With rehoming centres in Europe, Australia, America and Japan, the opportunities for successful transition from the racetrack are wide reaching.
From the UK arm of the program has come dual Group 1 winner Reckless Abandon, who, after proving sub-fertile at stud, was retrained to become a high-quality polo horse.
Group 1 Dubai Golden Shaheen winner Comicas will be competing in eventing and show jumping events this summer around England, while 2008 Sandown Guineas winner and Randwick Guineas runner-up Caymans who campaigned in Dubai and the UK for Godolphin before his retirement, works at a unique falconry centre in Dartmoor in the south of England, working daily with birds of prey.
In Australia, stakes winners Etymology and Allergic have found new homes, but so too has the unraced Bramerel, one-start maiden Cul De Sac and maiden winner Condemned, proving that the Lifetime Care program isn't just reserved for big name retirees.
Cross Counter might be retired from the track, but Leonard says the horse still has the air of a champion. Nicknamed "Mel" which borrows from the Melbourne Cup, the seven year old is a star pupil.
"He absolutely loves the camera and adores attention of any kind. He certainly knows he is a star," said Leonard.
"Since coming into work, he has progressed extremely well, but we have taken every step very slowly with him to allow him to adjust. Our plan for him is to become an ambassador for the Godolphin Lifetime Care Program, representing us at racecourses, parades and through the Retraining of Racehorses competition program."
When a Godolphin-owned horse is retired or its career ended due to injury, they arrive at the rehoming centre for some deserved rest and relaxation.
A return to work is at a much gentler tempo than they experienced in a racing stable while the facilitators look for strengths in particular disciplines that will guide each horse to its new home.
"When we start riding them we'll hack them, work them in the school, possibly jump them and then assess what we've got to be rehomed," said Leonard.
Once a suitable applicant is found for a horse, they are invited to test drive them at the rehoming centre, where Leonard and her team assess the compatibility of the new couple. If everything falls into place, the horse can move on to its new home, with Leonard making regular visits to each graduate of the program, checking in to make sure horse and rider are still a happy couple.
"We're trying to find those forever homes where they will be loved forever, because that's something they deserve a chance at a second career," she said.
From Group 1 heroes to five-start maiden gallopers, Godolphin retirees have a fulfilling life ahead of them once the curtain is drawn on their racing career.
Images courtesy of Godolphin
System.Web.HttpException (0x80004005): Error executing child request for handler 'System.Web.Mvc.HttpHandlerUtil+ServerExecuteHttpHandlerAsyncWrapper'. ---> System.NullReferenceException: Object reference not set to an instance of an object.
   at ASP._Page_Views_Partials_googleAd_cshtml.Execute() in C:\home\site\wwwroot\Views\Partials\googleAd.cshtml:line 4
   at System.Web.WebPages.WebPageBase.ExecutePageHierarchy()
   at System.Web.Mvc.WebViewPage.ExecutePageHierarchy()
   at System.Web.WebPages.WebPageBase.ExecutePageHierarchy(WebPageContext pageContext, TextWriter writer, WebPageRenderingBase startPage)
   at System.Web.Mvc.RazorView.RenderView(ViewContext viewContext, TextWriter writer, Object instance)
   at System.Web.Mvc.BuildManagerCompiledView.Render(ViewContext viewContext, TextWriter writer)
   at Umbraco.Web.Mvc.ProfilingView.Render(ViewContext viewContext, TextWriter writer) in D:\a\1\s\src\Umbraco.Web\Mvc\ProfilingView.cs:line 25
   at System.Web.Mvc.ViewResultBase.ExecuteResult(ControllerContext context)
   at System.Web.Mvc.ControllerActionInvoker.InvokeActionResult(ControllerContext controllerContext, ActionResult actionResult)
   at System.Web.Mvc.ControllerActionInvoker.InvokeActionResultFilterRecursive(IList`1 filters, Int32 filterIndex, ResultExecutingContext preContext, ControllerContext controllerContext, ActionResult actionResult)
   at System.Web.Mvc.ControllerActionInvoker.InvokeActionResultFilterRecursive(IList`1 filters, Int32 filterIndex, ResultExecutingContext preContext, ControllerContext controllerContext, ActionResult actionResult)
   at System.Web.Mvc.ControllerActionInvoker.InvokeActionResultFilterRecursive(IList`1 filters, Int32 filterIndex, ResultExecutingContext preContext, ControllerContext controllerContext, ActionResult actionResult)
   at System.Web.Mvc.ControllerActionInvoker.InvokeActionResultFilterRecursive(IList`1 filters, Int32 filterIndex, ResultExecutingContext preContext, ControllerContext controllerContext, ActionResult actionResult)
   at System.Web.Mvc.ControllerActionInvoker.InvokeActionResultFilterRecursive(IList`1 filters, Int32 filterIndex, ResultExecutingContext preContext, ControllerContext controllerContext, ActionResult actionResult)
   at System.Web.Mvc.ControllerActionInvoker.InvokeActionResultWithFilters(ControllerContext controllerContext, IList`1 filters, ActionResult actionResult)
   at System.Web.Mvc.Async.AsyncControllerActionInvoker.<>c__DisplayClass3_6.<BeginInvokeAction>b__4()
   at System.Web.Mvc.Async.AsyncControllerActionInvoker.<>c__DisplayClass3_1.<BeginInvokeAction>b__1(IAsyncResult asyncResult)
   at System.Web.Mvc.Async.AsyncResultWrapper.WrappedAsyncResult`1.CallEndDelegate(IAsyncResult asyncResult)
   at System.Web.Mvc.Async.AsyncResultWrapper.WrappedAsyncResultBase`1.End()
   at System.Web.Mvc.Async.AsyncControllerActionInvoker.EndInvokeAction(IAsyncResult asyncResult)
   at System.Web.Mvc.Controller.<>c.<BeginExecuteCore>b__152_1(IAsyncResult asyncResult, ExecuteCoreState innerState)
   at System.Web.Mvc.Async.AsyncResultWrapper.WrappedAsyncVoid`1.CallEndDelegate(IAsyncResult asyncResult)
   at System.Web.Mvc.Async.AsyncResultWrapper.WrappedAsyncResultBase`1.End()
   at System.Web.Mvc.Controller.EndExecuteCore(IAsyncResult asyncResult)
   at System.Web.Mvc.Controller.<>c.<BeginExecute>b__151_2(IAsyncResult asyncResult, Controller controller)
   at System.Web.Mvc.Async.AsyncResultWrapper.WrappedAsyncVoid`1.CallEndDelegate(IAsyncResult asyncResult)
   at System.Web.Mvc.Async.AsyncResultWrapper.WrappedAsyncResultBase`1.End()
   at System.Web.Mvc.Controller.EndExecute(IAsyncResult asyncResult)
   at System.Web.Mvc.Controller.System.Web.Mvc.Async.IAsyncController.EndExecute(IAsyncResult asyncResult)
   at System.Web.Mvc.MvcHandler.<>c.<BeginProcessRequest>b__20_1(IAsyncResult asyncResult, ProcessRequestState innerState)
   at System.Web.Mvc.Async.AsyncResultWrapper.WrappedAsyncVoid`1.CallEndDelegate(IAsyncResult asyncResult)
   at System.Web.Mvc.Async.AsyncResultWrapper.WrappedAsyncResultBase`1.End()
   at System.Web.Mvc.MvcHandler.EndProcessRequest(IAsyncResult asyncResult)
   at System.Web.Mvc.MvcHandler.System.Web.IHttpAsyncHandler.EndProcessRequest(IAsyncResult result)
   at System.Web.Mvc.HttpHandlerUtil.ServerExecuteHttpHandlerAsyncWrapper.<>c__DisplayClass3_0.<EndProcessRequest>b__0()
   at System.Web.Mvc.HttpHandlerUtil.ServerExecuteHttpHandlerWrapper.<>c__DisplayClass5_0.<Wrap>b__0()
   at System.Web.Mvc.HttpHandlerUtil.ServerExecuteHttpHandlerWrapper.Wrap[TResult](Func`1 func)
   at System.Web.Mvc.HttpHandlerUtil.ServerExecuteHttpHandlerWrapper.Wrap(Action action)
   at System.Web.Mvc.HttpHandlerUtil.ServerExecuteHttpHandlerAsyncWrapper.EndProcessRequest(IAsyncResult result)
   at System.Web.HttpServerUtility.ExecuteInternal(IHttpHandler handler, TextWriter writer, Boolean preserveForm, Boolean setPreviousPage, VirtualPath path, VirtualPath filePath, String physPath, Exception error, String queryStringOverride)
   at System.Web.HttpServerUtility.ExecuteInternal(IHttpHandler handler, TextWriter writer, Boolean preserveForm, Boolean setPreviousPage, VirtualPath path, VirtualPath filePath, String physPath, Exception error, String queryStringOverride)
   at System.Web.HttpServerUtility.Execute(IHttpHandler handler, TextWriter writer, Boolean preserveForm, Boolean setPreviousPage)
   at System.Web.HttpServerUtility.Execute(IHttpHandler handler, TextWriter writer, Boolean preserveForm)
   at System.Web.HttpServerUtilityWrapper.Execute(IHttpHandler handler, TextWriter writer, Boolean preserveForm)
   at System.Web.Mvc.Html.ChildActionExtensions.ActionHelper(HtmlHelper htmlHelper, String actionName, String controllerName, RouteValueDictionary routeValues, TextWriter textWriter)
   at System.Web.Mvc.Html.ChildActionExtensions.Action(HtmlHelper htmlHelper, String actionName, String controllerName, RouteValueDictionary routeValues)
   at Our.Umbraco.DocTypeGridEditor.Web.Extensions.HtmlHelperExtensions.RenderDocTypeGridEditorItem(HtmlHelper helper, IPublishedElement content, String editorAlias, String viewPath, String previewViewPath, Boolean isPreview)
   at ASP._Page_app_plugins_doctypegrideditor_render_DocTypeGridEditor_cshtml.Execute() in C:\home\site\wwwroot\app_plugins\doctypegrideditor\render\DocTypeGridEditor.cshtml:line 34
   at System.Web.WebPages.WebPageBase.ExecutePageHierarchy()
   at System.Web.Mvc.WebViewPage.ExecutePageHierarchy()
   at System.Web.WebPages.WebPageBase.ExecutePageHierarchy(WebPageContext pageContext, TextWriter writer, WebPageRenderingBase startPage)
   at System.Web.Mvc.RazorView.RenderView(ViewContext viewContext, TextWriter writer, Object instance)
   at System.Web.Mvc.BuildManagerCompiledView.Render(ViewContext viewContext, TextWriter writer)
   at Umbraco.Web.Mvc.ProfilingView.Render(ViewContext viewContext, TextWriter writer) in D:\a\1\s\src\Umbraco.Web\Mvc\ProfilingView.cs:line 25
   at System.Web.Mvc.HtmlHelper.RenderPartialInternal(String partialViewName, ViewDataDictionary viewData, Object model, TextWriter writer, ViewEngineCollection viewEngineCollection)
   at System.Web.Mvc.Html.PartialExtensions.Partial(HtmlHelper htmlHelper, String partialViewName, Object model, ViewDataDictionary viewData)
   at System.Web.Mvc.Html.PartialExtensions.Partial(HtmlHelper htmlHelper, String partialViewName, Object model)
   at ASP._Page_Views_Partials_grid_editors_Base_cshtml.Execute() in C:\home\site\wwwroot\Views\Partials\grid\editors\Base.cshtml:line 20