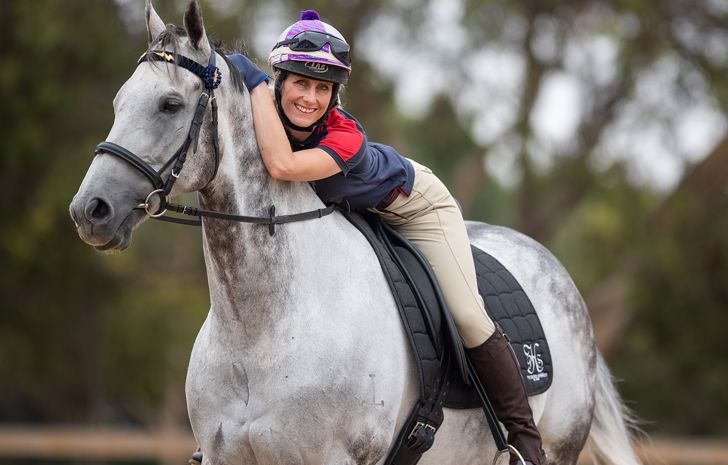 Fostering a community
24 June 2022
•
Written by
Michael Lynch
Racing Victoria's (RV) Off The Track (OTT) community allows you to claim ownership of an OTT horse, learn about their post-racing pathway options and register as a horse's emergency contact. You can also find an Acknowledged Retrainer, explore the latest OTT news and care tips and access exclusive member events.
Just a few short years ago Chautauqua was the steel-grey flash, the enigmatic sprinter with the turbo-charged finish who had claims to being the fastest horse in the world, as he triumphed time after time in Australia's great Group 1 sprint contests.
These days, the now ghostly (almost white) grey is occupied by rather more sedate pursuits as he is groomed, trained and worked in his new career as perhaps the star name amongst Racing Victoria's more recent Off The Track graduates.
Chautauqua is just one of more than 2000 horses who had been claimed by new owners/carers from the OTT programme by the end of February this year – a growing number for a program that is being strongly promoted by RV's management, equine welfare campaigners and, increasingly, grasped by those in the racing industry.
The OTT scheme has now been established for a decade and its importance is becoming ever more apparent: animal welfare activists are monitoring equine sports ever more closely and those in the sport know that to survive and prosper they have to pay more than lip service to the concept of whole of life care – not just worrying about a horse when it is in training, racing and earning prizemoney, but when its racing days are finished.
Some, like Chautauqua, who recently finished third in an RV Off The Track Fashions on the Field competition (where the horses are groomed and prepared to look their best while their handlers get dressed up in stylish race wear) are near the start of their post racing life.
Others have been through the process and are used in a variety of equine pursuits, either competitively or as pleasure horses.
They are put through their paces by RV's official retrainers before being "claimed"' by new owners said the organisation's Head of Equine Welfare, Jen Hughes. And the growth in the program means that the sport's regulators are gaining a lot more information about the wellbeing and whereabouts of former track stars.
"The big excitement for us is all the people who have an OTT horse. The number of members on the OTT Community website is now at 4,227, and 2,184 horses have been claimed currently," Hughes said.
"We would like it to grow much more. This is a space that has got so much more potential."
The OTT community stages several events such as jumping competitions and agricultural show days and the ultimate aim, says Hughes, is for horses who wish to compete in those events to have come through the OTT program.
"Eventually horses will only be able to enter our OTT events if they are claimed on the community, so we should see another boost in horses claimed, and members."
There is no charge, she explains.
"It's free to claim their horse. The whole point of this program is to improve the incentive for traceability of a horse through its life, not just career. So to be able to access our retrainers, compete in an OTT event, to be able to use RESET, to use any of the programs, they will need to have claimed their horse through the OTT system."
A horse owner can claim the horse or agree to be part of a system called Full Circle. There are 861 horses in that program for whom RV now knows that in a difficult situation there is someone willing to take charge of an animal that may need to be cared for in an emergency.
"You sign up and say, if you find this horse in trouble, or it just needs a home, call me", Hughes explained.
"That's 861 horses that someone has put their hand up for and said if this horse is in trouble contact me, so that's quite exciting.
"We have previous owners, and interested people who are part of that, but the part we are now really trying to build on is how we engage with the racing industry.
"When you sign in, you can look up horses and you can follow them, it's a little bit like Facebook. Casey Bruce, who owns Chautauqua, is posting pictures and updates for his fans, and if you like the pictures you can give him a carrot, which is a bit like giving someone a Facebook like. There is a lot of interaction going on and in an age of digital media and social media, we know people like that involvement."
The OTT programme is also playing another vital role – helping the sport's leaders learn more accurately when a galloper retires from racing, and where it has gone.
"Around 2,500 horses retire every year and we want to have enough interest so that we can find out where these horses are, so that the previous owners can get updates on them and still feel like they are a part of their horse's life, bridging the gap between racing and life after racing," Hughes said.
"The benefit for us is the traceability. We are able to monitor where the horses are, and who they are with." Hughes said.
"If anyone feels like that about a horse we would love them to sign up for Full Circle. If the horse ends up in trouble in five years' time and we phone you, you don't have to take the horse, but you are given the chance to do so if you want to or can."
Image: Former jockey Casey Bruce with retired racehorse 'Chautauqua', who is being retrained as a show horse. (Jason Edwards / Newspix)
System.Web.HttpException (0x80004005): Error executing child request for handler 'System.Web.Mvc.HttpHandlerUtil+ServerExecuteHttpHandlerAsyncWrapper'. ---> System.NullReferenceException: Object reference not set to an instance of an object.
   at ASP._Page_Views_Partials_googleAd_cshtml.Execute() in C:\home\site\wwwroot\Views\Partials\googleAd.cshtml:line 4
   at System.Web.WebPages.WebPageBase.ExecutePageHierarchy()
   at System.Web.Mvc.WebViewPage.ExecutePageHierarchy()
   at System.Web.WebPages.WebPageBase.ExecutePageHierarchy(WebPageContext pageContext, TextWriter writer, WebPageRenderingBase startPage)
   at System.Web.Mvc.RazorView.RenderView(ViewContext viewContext, TextWriter writer, Object instance)
   at System.Web.Mvc.BuildManagerCompiledView.Render(ViewContext viewContext, TextWriter writer)
   at Umbraco.Web.Mvc.ProfilingView.Render(ViewContext viewContext, TextWriter writer) in D:\a\1\s\src\Umbraco.Web\Mvc\ProfilingView.cs:line 25
   at System.Web.Mvc.ViewResultBase.ExecuteResult(ControllerContext context)
   at System.Web.Mvc.ControllerActionInvoker.InvokeActionResult(ControllerContext controllerContext, ActionResult actionResult)
   at System.Web.Mvc.ControllerActionInvoker.InvokeActionResultFilterRecursive(IList`1 filters, Int32 filterIndex, ResultExecutingContext preContext, ControllerContext controllerContext, ActionResult actionResult)
   at System.Web.Mvc.ControllerActionInvoker.InvokeActionResultFilterRecursive(IList`1 filters, Int32 filterIndex, ResultExecutingContext preContext, ControllerContext controllerContext, ActionResult actionResult)
   at System.Web.Mvc.ControllerActionInvoker.InvokeActionResultFilterRecursive(IList`1 filters, Int32 filterIndex, ResultExecutingContext preContext, ControllerContext controllerContext, ActionResult actionResult)
   at System.Web.Mvc.ControllerActionInvoker.InvokeActionResultFilterRecursive(IList`1 filters, Int32 filterIndex, ResultExecutingContext preContext, ControllerContext controllerContext, ActionResult actionResult)
   at System.Web.Mvc.ControllerActionInvoker.InvokeActionResultFilterRecursive(IList`1 filters, Int32 filterIndex, ResultExecutingContext preContext, ControllerContext controllerContext, ActionResult actionResult)
   at System.Web.Mvc.ControllerActionInvoker.InvokeActionResultWithFilters(ControllerContext controllerContext, IList`1 filters, ActionResult actionResult)
   at System.Web.Mvc.Async.AsyncControllerActionInvoker.<>c__DisplayClass3_6.<BeginInvokeAction>b__4()
   at System.Web.Mvc.Async.AsyncControllerActionInvoker.<>c__DisplayClass3_1.<BeginInvokeAction>b__1(IAsyncResult asyncResult)
   at System.Web.Mvc.Async.AsyncResultWrapper.WrappedAsyncResult`1.CallEndDelegate(IAsyncResult asyncResult)
   at System.Web.Mvc.Async.AsyncResultWrapper.WrappedAsyncResultBase`1.End()
   at System.Web.Mvc.Async.AsyncControllerActionInvoker.EndInvokeAction(IAsyncResult asyncResult)
   at System.Web.Mvc.Controller.<>c.<BeginExecuteCore>b__152_1(IAsyncResult asyncResult, ExecuteCoreState innerState)
   at System.Web.Mvc.Async.AsyncResultWrapper.WrappedAsyncVoid`1.CallEndDelegate(IAsyncResult asyncResult)
   at System.Web.Mvc.Async.AsyncResultWrapper.WrappedAsyncResultBase`1.End()
   at System.Web.Mvc.Controller.EndExecuteCore(IAsyncResult asyncResult)
   at System.Web.Mvc.Controller.<>c.<BeginExecute>b__151_2(IAsyncResult asyncResult, Controller controller)
   at System.Web.Mvc.Async.AsyncResultWrapper.WrappedAsyncVoid`1.CallEndDelegate(IAsyncResult asyncResult)
   at System.Web.Mvc.Async.AsyncResultWrapper.WrappedAsyncResultBase`1.End()
   at System.Web.Mvc.Controller.EndExecute(IAsyncResult asyncResult)
   at System.Web.Mvc.Controller.System.Web.Mvc.Async.IAsyncController.EndExecute(IAsyncResult asyncResult)
   at System.Web.Mvc.MvcHandler.<>c.<BeginProcessRequest>b__20_1(IAsyncResult asyncResult, ProcessRequestState innerState)
   at System.Web.Mvc.Async.AsyncResultWrapper.WrappedAsyncVoid`1.CallEndDelegate(IAsyncResult asyncResult)
   at System.Web.Mvc.Async.AsyncResultWrapper.WrappedAsyncResultBase`1.End()
   at System.Web.Mvc.MvcHandler.EndProcessRequest(IAsyncResult asyncResult)
   at System.Web.Mvc.MvcHandler.System.Web.IHttpAsyncHandler.EndProcessRequest(IAsyncResult result)
   at System.Web.Mvc.HttpHandlerUtil.ServerExecuteHttpHandlerAsyncWrapper.<>c__DisplayClass3_0.<EndProcessRequest>b__0()
   at System.Web.Mvc.HttpHandlerUtil.ServerExecuteHttpHandlerWrapper.<>c__DisplayClass5_0.<Wrap>b__0()
   at System.Web.Mvc.HttpHandlerUtil.ServerExecuteHttpHandlerWrapper.Wrap[TResult](Func`1 func)
   at System.Web.Mvc.HttpHandlerUtil.ServerExecuteHttpHandlerWrapper.Wrap(Action action)
   at System.Web.Mvc.HttpHandlerUtil.ServerExecuteHttpHandlerAsyncWrapper.EndProcessRequest(IAsyncResult result)
   at System.Web.HttpServerUtility.ExecuteInternal(IHttpHandler handler, TextWriter writer, Boolean preserveForm, Boolean setPreviousPage, VirtualPath path, VirtualPath filePath, String physPath, Exception error, String queryStringOverride)
   at System.Web.HttpServerUtility.ExecuteInternal(IHttpHandler handler, TextWriter writer, Boolean preserveForm, Boolean setPreviousPage, VirtualPath path, VirtualPath filePath, String physPath, Exception error, String queryStringOverride)
   at System.Web.HttpServerUtility.Execute(IHttpHandler handler, TextWriter writer, Boolean preserveForm, Boolean setPreviousPage)
   at System.Web.HttpServerUtility.Execute(IHttpHandler handler, TextWriter writer, Boolean preserveForm)
   at System.Web.HttpServerUtilityWrapper.Execute(IHttpHandler handler, TextWriter writer, Boolean preserveForm)
   at System.Web.Mvc.Html.ChildActionExtensions.ActionHelper(HtmlHelper htmlHelper, String actionName, String controllerName, RouteValueDictionary routeValues, TextWriter textWriter)
   at System.Web.Mvc.Html.ChildActionExtensions.Action(HtmlHelper htmlHelper, String actionName, String controllerName, RouteValueDictionary routeValues)
   at Our.Umbraco.DocTypeGridEditor.Web.Extensions.HtmlHelperExtensions.RenderDocTypeGridEditorItem(HtmlHelper helper, IPublishedElement content, String editorAlias, String viewPath, String previewViewPath, Boolean isPreview)
   at ASP._Page_app_plugins_doctypegrideditor_render_DocTypeGridEditor_cshtml.Execute() in C:\home\site\wwwroot\app_plugins\doctypegrideditor\render\DocTypeGridEditor.cshtml:line 34
   at System.Web.WebPages.WebPageBase.ExecutePageHierarchy()
   at System.Web.Mvc.WebViewPage.ExecutePageHierarchy()
   at System.Web.WebPages.WebPageBase.ExecutePageHierarchy(WebPageContext pageContext, TextWriter writer, WebPageRenderingBase startPage)
   at System.Web.Mvc.RazorView.RenderView(ViewContext viewContext, TextWriter writer, Object instance)
   at System.Web.Mvc.BuildManagerCompiledView.Render(ViewContext viewContext, TextWriter writer)
   at Umbraco.Web.Mvc.ProfilingView.Render(ViewContext viewContext, TextWriter writer) in D:\a\1\s\src\Umbraco.Web\Mvc\ProfilingView.cs:line 25
   at System.Web.Mvc.HtmlHelper.RenderPartialInternal(String partialViewName, ViewDataDictionary viewData, Object model, TextWriter writer, ViewEngineCollection viewEngineCollection)
   at System.Web.Mvc.Html.PartialExtensions.Partial(HtmlHelper htmlHelper, String partialViewName, Object model, ViewDataDictionary viewData)
   at System.Web.Mvc.Html.PartialExtensions.Partial(HtmlHelper htmlHelper, String partialViewName, Object model)
   at ASP._Page_Views_Partials_grid_editors_Base_cshtml.Execute() in C:\home\site\wwwroot\Views\Partials\grid\editors\Base.cshtml:line 20