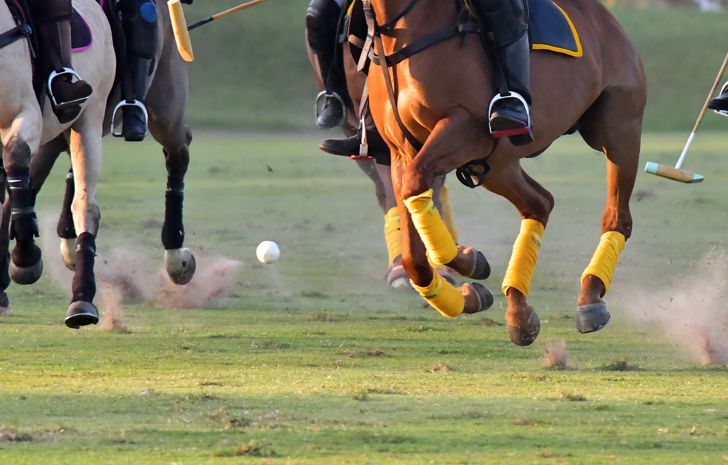 Game changers
24 June 2022
•
Written by
Michael Manley
Sam Gairdner and Clementine Mann have a passion for providing thoroughbreds with a second opportunity to perform as equine athletes on the polo field. Retraining as many horses as they can handle, it is a slow and steady process, but incredibly rewarding.
Sam Gairdner has always had a preference for thoroughbreds in the polo world and that has only strengthened through his relationship with Racing Victoria and its Off The Track (OTT) program.
Gairdner runs Bakers Bridge Polo Farm at Gheringhap near Geelong, with his partner Clementine Mann.
Gairdner has an obvious explanation as to why he and most polo players and breeders prefer thoroughbreds. Because they are best suited to the sport.
On the recent long weekend in March, Gairdner loaded up his float and headed to Adelaide to contest the Barr Smith Cup meeting. He took over 21 horses and all but four of these were thoroughbreds.
Gairdner said thoroughbreds were best suited to the hustle and bustle of polo, and it's estimated that 70 per cent of polo horses are thoroughbreds.
Bakers Bridge Polo is supported by Racing Victoria's OTT program and Gairdner is also an Acknowledged Racing Victoria Retrainer of ex-racehorses.
Gairdner said Racing Victoria gave them great support and they also sourced the OTT horses to retrain which usually numbers 20 a year.
He said his team is a mix between horses that have been given to him and some OTT horses that Racing Victoria has sourced for him.
"Racing Victoria can give us a call with horses that have been a bit unloved somewhere … [or] someone hasn't been paying their bills and we've picked them up," Gairdner said.
"Some have even been unhandled and untrained. There's a couple of them which have been a bit of a challenge, but it's fun to train them up.
"We've taken on pretty much anything or everything. We don't turn down many – only due to soundness issues."
Gairdner said the main reason the thoroughbred was the preferable breed of horse for polo was because they had superior stamina and speed.
"Although you can play a lot of other breeds, the ones right at the top are thoroughbreds so you might as well start with thoroughbreds because they are the one likely to take you furthest," Gairdner said.
Gairdner said 50 per cent of polo horses were purpose-bred for polo, but the majority of these would carry thoroughbred lineage.
"The thoroughbred is the predominant horse within the sport. Probably 40 to 50 per cent are Off The Track horses."
He said that the more talented race mares ended up being used as broodmares for thoroughbreds, but occasionally a useful racetrack performer would be available. He said he preferred mares for a couple of main reasons.
"Mares mostly are pretty confident. They quite enjoy the polo environment with a lot of traffic. It's busy, fast, a bit aggressive, there's a lot of pushing and shoving and confident mares really enjoy it. They thrive on it and enjoy the environment, whereas a lot of geldings don't really enjoy it. They like the individual environment. The mares love the hustle and bustle, the herd environment."
He said they preferred to take mares that were 15 hands to 15.2 hands. Usually, they were unraced or hadn't been very successful on the racetrack.
"We take 70 to 80 per cent mares. That's not saying there's not very good geldings, but they also take a bit longer to train. In the commercial environment we prefer the mares."
Gairdner said also if mares didn't make it as polo horses, there were more options for them as surrogate mothers or they could join the RV's RESET (Racehorse, Evaluation, Support, Education and Transition) program.
"We don't want to sell a problem horse. We will send them to the Racing Victoria's RESET program and they will have a good life."
Gairdner said it was rare for a mare to have had success on the racetrack and to be also tried as a polo horse, but there was one named Colly Haze who won five races in the Riverina and almost $50,000.
Colly Haze is by former Argentinian sprinter Alert who initially stood at Kooringal Stud, Wagga before being sent to Scone to be predominantly a polo stallion.
Gairdner said they loved the Alert breed in the polo industry because he was grey, and coloured horses were more valued.
Gairdner said they usually sold their polo horses after three to five years with them. "The odd one we will sell fairly quickly. Generally, we train them so they are completely ready for any suitable player to play them," he said.
Gairdner said in most cases after getting a horse, they have it on the polo field six weeks after starting to train them.
"We get them on to the polo field quickly. It might only be six weeks after we get them off the track. After training, they can be on the polo field in the lowest levels in the zero goals, C Grade."
Gairdner said the best way to educate new polo horses was by getting them to play and get used to traffic.
"It's acclimatising them. It takes a long time to build them up. It's a bit like getting a jumper – you've got to build them up slowly to get a horse ready for the jumps."

Gairdner said when they sold a horse, their clients knew they would play sensibly and safely for them.
He said polo horses usually didn't earn any money for a year to a year and a half.
"After that I'm playing reasonable polo, charging playing fees then I can rent them to clients and then sell them.
"It would usually cost me around $6,000 to $7,000 and polo ponies average $20,000 to $25,000 when they are sold."
Gairdner said if he bred a horse and sold it for that amount it would be a break-even scenario to get to the same stage.
He said they tended to stay away from breeding as it took too long for them to get a return but they did do some. One horse in particular he has fond memories of was a Dolphin Street mare who initially was bought by Gairdner for $1000 as an OTT horse from Kyneton.
"She went to England then to the United States and then ended up in Argentina with the best player in the world in Adolfo Cambiasso. She was named Vee Twelve and was one of the top 10 horses in Argentina."
He then bought two of Vee Twelve's sisters and bred from them, having sent them to a white unregistered thoroughbred stallion.
"All of them are coloured and internationally they are worth a lot of money."
Gairdner said Racing Victoria's involvement had made a big difference to his business.
"RV has given us the confidence to build the business. We love doing what we are doing."
System.Web.HttpException (0x80004005): Error executing child request for handler 'System.Web.Mvc.HttpHandlerUtil+ServerExecuteHttpHandlerAsyncWrapper'. ---> System.NullReferenceException: Object reference not set to an instance of an object.
   at ASP._Page_Views_Partials_googleAd_cshtml.Execute()
   at System.Web.WebPages.WebPageBase.ExecutePageHierarchy()
   at System.Web.Mvc.WebViewPage.ExecutePageHierarchy()
   at System.Web.WebPages.WebPageBase.ExecutePageHierarchy(WebPageContext pageContext, TextWriter writer, WebPageRenderingBase startPage)
   at System.Web.Mvc.RazorView.RenderView(ViewContext viewContext, TextWriter writer, Object instance)
   at System.Web.Mvc.BuildManagerCompiledView.Render(ViewContext viewContext, TextWriter writer)
   at Umbraco.Web.Mvc.ProfilingView.Render(ViewContext viewContext, TextWriter writer) in D:\a\1\s\src\Umbraco.Web\Mvc\ProfilingView.cs:line 25
   at System.Web.Mvc.ViewResultBase.ExecuteResult(ControllerContext context)
   at System.Web.Mvc.ControllerActionInvoker.InvokeActionResult(ControllerContext controllerContext, ActionResult actionResult)
   at System.Web.Mvc.ControllerActionInvoker.InvokeActionResultFilterRecursive(IList`1 filters, Int32 filterIndex, ResultExecutingContext preContext, ControllerContext controllerContext, ActionResult actionResult)
   at System.Web.Mvc.ControllerActionInvoker.InvokeActionResultFilterRecursive(IList`1 filters, Int32 filterIndex, ResultExecutingContext preContext, ControllerContext controllerContext, ActionResult actionResult)
   at System.Web.Mvc.ControllerActionInvoker.InvokeActionResultFilterRecursive(IList`1 filters, Int32 filterIndex, ResultExecutingContext preContext, ControllerContext controllerContext, ActionResult actionResult)
   at System.Web.Mvc.ControllerActionInvoker.InvokeActionResultFilterRecursive(IList`1 filters, Int32 filterIndex, ResultExecutingContext preContext, ControllerContext controllerContext, ActionResult actionResult)
   at System.Web.Mvc.ControllerActionInvoker.InvokeActionResultFilterRecursive(IList`1 filters, Int32 filterIndex, ResultExecutingContext preContext, ControllerContext controllerContext, ActionResult actionResult)
   at System.Web.Mvc.ControllerActionInvoker.InvokeActionResultWithFilters(ControllerContext controllerContext, IList`1 filters, ActionResult actionResult)
   at System.Web.Mvc.Async.AsyncControllerActionInvoker.<>c__DisplayClass3_6.<BeginInvokeAction>b__4()
   at System.Web.Mvc.Async.AsyncControllerActionInvoker.<>c__DisplayClass3_1.<BeginInvokeAction>b__1(IAsyncResult asyncResult)
   at System.Web.Mvc.Async.AsyncResultWrapper.WrappedAsyncResult`1.CallEndDelegate(IAsyncResult asyncResult)
   at System.Web.Mvc.Async.AsyncResultWrapper.WrappedAsyncResultBase`1.End()
   at System.Web.Mvc.Async.AsyncControllerActionInvoker.EndInvokeAction(IAsyncResult asyncResult)
   at System.Web.Mvc.Controller.<>c.<BeginExecuteCore>b__152_1(IAsyncResult asyncResult, ExecuteCoreState innerState)
   at System.Web.Mvc.Async.AsyncResultWrapper.WrappedAsyncVoid`1.CallEndDelegate(IAsyncResult asyncResult)
   at System.Web.Mvc.Async.AsyncResultWrapper.WrappedAsyncResultBase`1.End()
   at System.Web.Mvc.Controller.EndExecuteCore(IAsyncResult asyncResult)
   at System.Web.Mvc.Controller.<>c.<BeginExecute>b__151_2(IAsyncResult asyncResult, Controller controller)
   at System.Web.Mvc.Async.AsyncResultWrapper.WrappedAsyncVoid`1.CallEndDelegate(IAsyncResult asyncResult)
   at System.Web.Mvc.Async.AsyncResultWrapper.WrappedAsyncResultBase`1.End()
   at System.Web.Mvc.Controller.EndExecute(IAsyncResult asyncResult)
   at System.Web.Mvc.Controller.System.Web.Mvc.Async.IAsyncController.EndExecute(IAsyncResult asyncResult)
   at System.Web.Mvc.MvcHandler.<>c.<BeginProcessRequest>b__20_1(IAsyncResult asyncResult, ProcessRequestState innerState)
   at System.Web.Mvc.Async.AsyncResultWrapper.WrappedAsyncVoid`1.CallEndDelegate(IAsyncResult asyncResult)
   at System.Web.Mvc.Async.AsyncResultWrapper.WrappedAsyncResultBase`1.End()
   at System.Web.Mvc.MvcHandler.EndProcessRequest(IAsyncResult asyncResult)
   at System.Web.Mvc.MvcHandler.System.Web.IHttpAsyncHandler.EndProcessRequest(IAsyncResult result)
   at System.Web.Mvc.HttpHandlerUtil.ServerExecuteHttpHandlerAsyncWrapper.<>c__DisplayClass3_0.<EndProcessRequest>b__0()
   at System.Web.Mvc.HttpHandlerUtil.ServerExecuteHttpHandlerWrapper.<>c__DisplayClass5_0.<Wrap>b__0()
   at System.Web.Mvc.HttpHandlerUtil.ServerExecuteHttpHandlerWrapper.Wrap[TResult](Func`1 func)
   at System.Web.Mvc.HttpHandlerUtil.ServerExecuteHttpHandlerWrapper.Wrap(Action action)
   at System.Web.Mvc.HttpHandlerUtil.ServerExecuteHttpHandlerAsyncWrapper.EndProcessRequest(IAsyncResult result)
   at System.Web.HttpServerUtility.ExecuteInternal(IHttpHandler handler, TextWriter writer, Boolean preserveForm, Boolean setPreviousPage, VirtualPath path, VirtualPath filePath, String physPath, Exception error, String queryStringOverride)
   at System.Web.HttpServerUtility.ExecuteInternal(IHttpHandler handler, TextWriter writer, Boolean preserveForm, Boolean setPreviousPage, VirtualPath path, VirtualPath filePath, String physPath, Exception error, String queryStringOverride)
   at System.Web.HttpServerUtility.Execute(IHttpHandler handler, TextWriter writer, Boolean preserveForm, Boolean setPreviousPage)
   at System.Web.HttpServerUtility.Execute(IHttpHandler handler, TextWriter writer, Boolean preserveForm)
   at System.Web.HttpServerUtilityWrapper.Execute(IHttpHandler handler, TextWriter writer, Boolean preserveForm)
   at System.Web.Mvc.Html.ChildActionExtensions.ActionHelper(HtmlHelper htmlHelper, String actionName, String controllerName, RouteValueDictionary routeValues, TextWriter textWriter)
   at System.Web.Mvc.Html.ChildActionExtensions.Action(HtmlHelper htmlHelper, String actionName, String controllerName, RouteValueDictionary routeValues)
   at Our.Umbraco.DocTypeGridEditor.Web.Extensions.HtmlHelperExtensions.RenderDocTypeGridEditorItem(HtmlHelper helper, IPublishedElement content, String editorAlias, String viewPath, String previewViewPath, Boolean isPreview)
   at ASP._Page_app_plugins_doctypegrideditor_render_DocTypeGridEditor_cshtml.Execute()
   at System.Web.WebPages.WebPageBase.ExecutePageHierarchy()
   at System.Web.Mvc.WebViewPage.ExecutePageHierarchy()
   at System.Web.WebPages.WebPageBase.ExecutePageHierarchy(WebPageContext pageContext, TextWriter writer, WebPageRenderingBase startPage)
   at System.Web.Mvc.RazorView.RenderView(ViewContext viewContext, TextWriter writer, Object instance)
   at System.Web.Mvc.BuildManagerCompiledView.Render(ViewContext viewContext, TextWriter writer)
   at Umbraco.Web.Mvc.ProfilingView.Render(ViewContext viewContext, TextWriter writer) in D:\a\1\s\src\Umbraco.Web\Mvc\ProfilingView.cs:line 25
   at System.Web.Mvc.HtmlHelper.RenderPartialInternal(String partialViewName, ViewDataDictionary viewData, Object model, TextWriter writer, ViewEngineCollection viewEngineCollection)
   at System.Web.Mvc.Html.PartialExtensions.Partial(HtmlHelper htmlHelper, String partialViewName, Object model, ViewDataDictionary viewData)
   at System.Web.Mvc.Html.PartialExtensions.Partial(HtmlHelper htmlHelper, String partialViewName, Object model)
   at ASP._Page_Views_Partials_grid_editors_Base_cshtml.Execute()