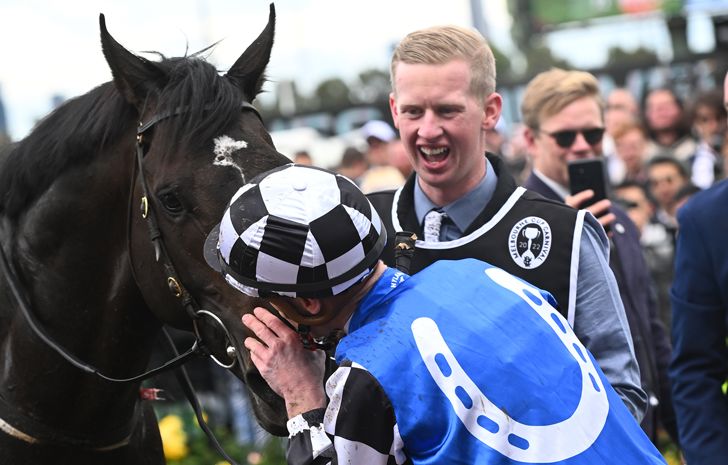 Grooming Greatness
9 May 2023
•
Written by
Sarah Marinos
They are the mainstays of stables across the country and they play a key role in caring for some of Australia's most successful race successes. Here we meet some of this Melbourne Cup Carnival's winning strappers.
From cleaning out stables and yards to feeding, grooming, saddling and riding, strappers are an integral part of a successful racing team and build very special connections with the horses they care for.
Here we speak to some of the strappers who enjoyed success during this year's Cup Week.
---
Mitchell Conners straps Gold Trip, winner of the 2022 Group 1 Lexus Melbourne Cup. The 22-year-old is a foreman at the Cranbourne stables of Ciaron Maher and David Eustace, and is the fourth generation to be part of the racing industry.
Mitchell Conners grew up with racehorses in his backyard so it was inevitable that he'd end up in the racing industry. His father, Marc, is a Group 1-winning trainer and his grandfather, Clarry, won the Golden Slipper four times.
Throughout high school, Conners worked at the family stables and a career in racing was all he wanted. He worked for his dad and spent six months in the UK as a pupil assistant at Andrew Balding's Park House Stables.
When COVID-19 changed the world, Conners re-joined his dad's stables until he heard Ciaron Maher was looking for a reliable foreman. A week later, in early 2022, Conners moved to Victoria and met Lexus Melbourne Cup winner Gold Trip on his first day.
"David Eustace showed me around and told me Gold Trip was a special horse. I haven't really let anyone else touch him since that day! He's a beautiful black stallion and he's quite chilled, but gets grumpy if he's touched too much. He loves a treat – if you have a lolly in your pocket, he'll smell it and hassle you until he gets it," said Conners.
Conners has strapped Gold Trip for every start in Victoria and was quietly confident about Cup Day.
"Gold Trip perked up when we got to the races and strutted around like he owned the place – he thinks everyone is there to see him," said Conners.
"He was getting better and better that week and I felt he was switched on and ready to go. I watched the race from the mounting yard with the other strappers and when he got to the front early, I wondered if it was too soon. But he pulled up a treat and to see him win was unbelievable – I was out of breath but Gold Trip was loving life at that point."
After taking care of the Cup winner, Conners immediately called his father, Marc.
"Dad told me that he was extremely proud and said I deserved the moment for all the hard work I'd done," he said.
"The thought of one day being a trainer like my dad, grandfather and uncle wakes me up every morning. I want to do this for the rest of my life."
Raphael Marchelli strapped Group 1 TAB Champions Stakes winner Zaaki. The French-born retired jockey raced across Europe before arriving in Australia three years ago. After working for trainer Jean Dubois, Marchelli joined Annabel Neasham's stable just over two years ago.
Raphael Marchelli grew up on a farm in the south of France and wanted to be a soccer player or a jockey. He recognised that he didn't have the physical build for soccer and so, given his interest in working with horses, a career as a jockey was a natural choice.
"I felt very comfortable with horses – I found it easy to be around them and I wanted to learn as much as I could about them," said Marchelli.
After his jockey apprenticeship, Marchelli spent 28 years in the saddle in France and Europe. A highlight of his career was riding in the 2014 Group 1 Prix de l'Arc de Triomphe, and securing a Group 2 win on Factional trained by Andrew Fabre.
In 2018, Marchelli and his partner moved to Australia and he spent a year working with Jean Dubois in Mittagong before joining Annabel Neasham doing trackwork.
"I came to Australia to follow my partner and to have a better family life," Marchelli said.
In December 2021, he broke his vertebrae in a riding accident and wasn't sure if he'd be able to ride again. After a tense nine months, he was given the all-clear,
One of Marchelli's favourite responsibilities is riding and taking care of Zaaki. When the horse went on holiday to the Gold Coast, Marchelli went with him. He describes the horse as his 'best mate'.
"He loves attention – his nickname with us is King Kong and although he's 10-years-old, he acts like a teenager. I understand him. I know when is happy and when he's feeling flat. It is a very special connection," said Marchelli.
Marchelli was with Zaaki throughout the Melbourne Cup Carnival and strapped him for the TAB Champions Stakes.
"I was very confident and Flemington suits him well. I was sure by the last 200m that he was going to win and I was jumping up and down," he recalled.
"He cruised past the finishing line and wanted to keep on galloping. To win a race like that is a success for the whole team."
David Camilleri strapped Alligator Blood for his win in the Group 1 Kennedy Champions Mile. Camilleri combines his shifts at the stables of Gai Waterhouse and Adrian Bott with his day job as a project manager for a legal firm.
Life couldn't get much busier for David Camilleri. Four or five times a week his working day begins at 3.30am at Flemington. After clocking off at 8am, he heads to his office at home or in the city. There are also childcare and school drop-off duties to share with his wife.
"If I'm going into the office, I bring my suit with me and shower at the stables before going into the city. The hardest part of the job is waking up in the morning – the alarm goes off and for a split second I might think 'what am I doing?' But I get to the stable and see the horses and remember why I set that alarm. I'm in a good space around the horses," said Camilleri.
Camilleri is a latecomer to racing. Friends introduced him to the sport about 15 years ago and he remembers following the journeys of certain horses and gradually becoming more and more immersed in the races, the horses and what is involved in taking care of a high-quality thoroughbred.
In August last year a friend working for Gai Waterhouse and Adrian Bott said there was a job available at the stables. He knew Camilleri was at the gym by 5am so getting up early wasn't a problem and he knew about his passion for racing. A day later, Camilleri did his first stint.
"I've never been around horses – on my first day I couldn't put a headcollar on. I've learned from scratch on the job," said Camilleri.
When Alligator Blood arrived at the stables in the middle of this year, Camilleri was given the opportunity to strap him at races. Watching him win at the Group 1 Underwood Stakes in September and then the Kennedy Champions Mile in November have provided Camilleri with some of his best moments trackside.
"I see Alligator Blood every day and to see him win has been a thrill – it is the best feeling."
Rosie Jilla is based at Brad Widdup's Hawkesbury stables and strapped Icebath, winner of the Group 1 TAB Empire Rose Stakes. Jilla is an accomplished eventer and began competing at the age of 14. Just over six years ago, she joined the racing industry as a trackwork rider.
Rosie Jilla readily admits she was not a 'morning' person, but that changed when a friend suggested she try trackwork. After years in the eventing world, Jilla wasn't sure she'd fit into the racing world – but she's never looked back.
"I learned how to ride racehorses and the racing industry became an addiction. I fell in love with the thoroughbreds – they are amazing animals and racing has taken over my life," she said.
Jilla has been riding since she was two years old and began eventing as a teenager. Originally from London, a gap year in Australia 11 years ago never ended and Jilla began working as a groom with elite-level eventers. She also worked with off-the-track thoroughbred Done 'n' Dusted, and took him to the highest four-star level of eventing.
The switch to racing has been a positive move for Jilla and the career change has also introduced her to the 'love of her life', Icebath.
"I've been riding her since she was a yearling and it has been a long journey that I am very grateful for. She's quirky and one of the most intelligent horses I've ever worked with. She's also very sassy!"
Jilla was confident about Icebath's chances at the TAB Empire Rose Stakes.
"She was very fresh. I cantered her around Flemington and she felt amazing. At the races she was cool, calm and collected and she delivered that day. I have bad eyesight so I struggle watching the race live, but my partner was next to me and a gap opened up and my partner was saying, 'She's coming, she's coming, she's going to win' and when she got over the line I couldn't stop crying. I was so happy for her that she got the Group 1 she deserved."
System.Web.HttpException (0x80004005): Error executing child request for handler 'System.Web.Mvc.HttpHandlerUtil+ServerExecuteHttpHandlerAsyncWrapper'. ---> System.NullReferenceException: Object reference not set to an instance of an object.
   at ASP._Page_Views_Partials_googleAd_cshtml.Execute() in C:\home\site\wwwroot\Views\Partials\googleAd.cshtml:line 4
   at System.Web.WebPages.WebPageBase.ExecutePageHierarchy()
   at System.Web.Mvc.WebViewPage.ExecutePageHierarchy()
   at System.Web.WebPages.WebPageBase.ExecutePageHierarchy(WebPageContext pageContext, TextWriter writer, WebPageRenderingBase startPage)
   at System.Web.Mvc.RazorView.RenderView(ViewContext viewContext, TextWriter writer, Object instance)
   at System.Web.Mvc.BuildManagerCompiledView.Render(ViewContext viewContext, TextWriter writer)
   at Umbraco.Web.Mvc.ProfilingView.Render(ViewContext viewContext, TextWriter writer) in D:\a\1\s\src\Umbraco.Web\Mvc\ProfilingView.cs:line 25
   at System.Web.Mvc.ViewResultBase.ExecuteResult(ControllerContext context)
   at System.Web.Mvc.ControllerActionInvoker.InvokeActionResult(ControllerContext controllerContext, ActionResult actionResult)
   at System.Web.Mvc.ControllerActionInvoker.InvokeActionResultFilterRecursive(IList`1 filters, Int32 filterIndex, ResultExecutingContext preContext, ControllerContext controllerContext, ActionResult actionResult)
   at System.Web.Mvc.ControllerActionInvoker.InvokeActionResultFilterRecursive(IList`1 filters, Int32 filterIndex, ResultExecutingContext preContext, ControllerContext controllerContext, ActionResult actionResult)
   at System.Web.Mvc.ControllerActionInvoker.InvokeActionResultFilterRecursive(IList`1 filters, Int32 filterIndex, ResultExecutingContext preContext, ControllerContext controllerContext, ActionResult actionResult)
   at System.Web.Mvc.ControllerActionInvoker.InvokeActionResultFilterRecursive(IList`1 filters, Int32 filterIndex, ResultExecutingContext preContext, ControllerContext controllerContext, ActionResult actionResult)
   at System.Web.Mvc.ControllerActionInvoker.InvokeActionResultFilterRecursive(IList`1 filters, Int32 filterIndex, ResultExecutingContext preContext, ControllerContext controllerContext, ActionResult actionResult)
   at System.Web.Mvc.ControllerActionInvoker.InvokeActionResultWithFilters(ControllerContext controllerContext, IList`1 filters, ActionResult actionResult)
   at System.Web.Mvc.Async.AsyncControllerActionInvoker.<>c__DisplayClass3_6.<BeginInvokeAction>b__4()
   at System.Web.Mvc.Async.AsyncControllerActionInvoker.<>c__DisplayClass3_1.<BeginInvokeAction>b__1(IAsyncResult asyncResult)
   at System.Web.Mvc.Async.AsyncResultWrapper.WrappedAsyncResult`1.CallEndDelegate(IAsyncResult asyncResult)
   at System.Web.Mvc.Async.AsyncResultWrapper.WrappedAsyncResultBase`1.End()
   at System.Web.Mvc.Async.AsyncControllerActionInvoker.EndInvokeAction(IAsyncResult asyncResult)
   at System.Web.Mvc.Controller.<>c.<BeginExecuteCore>b__152_1(IAsyncResult asyncResult, ExecuteCoreState innerState)
   at System.Web.Mvc.Async.AsyncResultWrapper.WrappedAsyncVoid`1.CallEndDelegate(IAsyncResult asyncResult)
   at System.Web.Mvc.Async.AsyncResultWrapper.WrappedAsyncResultBase`1.End()
   at System.Web.Mvc.Controller.EndExecuteCore(IAsyncResult asyncResult)
   at System.Web.Mvc.Controller.<>c.<BeginExecute>b__151_2(IAsyncResult asyncResult, Controller controller)
   at System.Web.Mvc.Async.AsyncResultWrapper.WrappedAsyncVoid`1.CallEndDelegate(IAsyncResult asyncResult)
   at System.Web.Mvc.Async.AsyncResultWrapper.WrappedAsyncResultBase`1.End()
   at System.Web.Mvc.Controller.EndExecute(IAsyncResult asyncResult)
   at System.Web.Mvc.Controller.System.Web.Mvc.Async.IAsyncController.EndExecute(IAsyncResult asyncResult)
   at System.Web.Mvc.MvcHandler.<>c.<BeginProcessRequest>b__20_1(IAsyncResult asyncResult, ProcessRequestState innerState)
   at System.Web.Mvc.Async.AsyncResultWrapper.WrappedAsyncVoid`1.CallEndDelegate(IAsyncResult asyncResult)
   at System.Web.Mvc.Async.AsyncResultWrapper.WrappedAsyncResultBase`1.End()
   at System.Web.Mvc.MvcHandler.EndProcessRequest(IAsyncResult asyncResult)
   at System.Web.Mvc.MvcHandler.System.Web.IHttpAsyncHandler.EndProcessRequest(IAsyncResult result)
   at System.Web.Mvc.HttpHandlerUtil.ServerExecuteHttpHandlerAsyncWrapper.<>c__DisplayClass3_0.<EndProcessRequest>b__0()
   at System.Web.Mvc.HttpHandlerUtil.ServerExecuteHttpHandlerWrapper.<>c__DisplayClass5_0.<Wrap>b__0()
   at System.Web.Mvc.HttpHandlerUtil.ServerExecuteHttpHandlerWrapper.Wrap[TResult](Func`1 func)
   at System.Web.Mvc.HttpHandlerUtil.ServerExecuteHttpHandlerWrapper.Wrap(Action action)
   at System.Web.Mvc.HttpHandlerUtil.ServerExecuteHttpHandlerAsyncWrapper.EndProcessRequest(IAsyncResult result)
   at System.Web.HttpServerUtility.ExecuteInternal(IHttpHandler handler, TextWriter writer, Boolean preserveForm, Boolean setPreviousPage, VirtualPath path, VirtualPath filePath, String physPath, Exception error, String queryStringOverride)
   at System.Web.HttpServerUtility.ExecuteInternal(IHttpHandler handler, TextWriter writer, Boolean preserveForm, Boolean setPreviousPage, VirtualPath path, VirtualPath filePath, String physPath, Exception error, String queryStringOverride)
   at System.Web.HttpServerUtility.Execute(IHttpHandler handler, TextWriter writer, Boolean preserveForm, Boolean setPreviousPage)
   at System.Web.HttpServerUtility.Execute(IHttpHandler handler, TextWriter writer, Boolean preserveForm)
   at System.Web.HttpServerUtilityWrapper.Execute(IHttpHandler handler, TextWriter writer, Boolean preserveForm)
   at System.Web.Mvc.Html.ChildActionExtensions.ActionHelper(HtmlHelper htmlHelper, String actionName, String controllerName, RouteValueDictionary routeValues, TextWriter textWriter)
   at System.Web.Mvc.Html.ChildActionExtensions.Action(HtmlHelper htmlHelper, String actionName, String controllerName, RouteValueDictionary routeValues)
   at Our.Umbraco.DocTypeGridEditor.Web.Extensions.HtmlHelperExtensions.RenderDocTypeGridEditorItem(HtmlHelper helper, IPublishedElement content, String editorAlias, String viewPath, String previewViewPath, Boolean isPreview)
   at ASP._Page_app_plugins_doctypegrideditor_render_DocTypeGridEditor_cshtml.Execute() in C:\home\site\wwwroot\app_plugins\doctypegrideditor\render\DocTypeGridEditor.cshtml:line 34
   at System.Web.WebPages.WebPageBase.ExecutePageHierarchy()
   at System.Web.Mvc.WebViewPage.ExecutePageHierarchy()
   at System.Web.WebPages.WebPageBase.ExecutePageHierarchy(WebPageContext pageContext, TextWriter writer, WebPageRenderingBase startPage)
   at System.Web.Mvc.RazorView.RenderView(ViewContext viewContext, TextWriter writer, Object instance)
   at System.Web.Mvc.BuildManagerCompiledView.Render(ViewContext viewContext, TextWriter writer)
   at Umbraco.Web.Mvc.ProfilingView.Render(ViewContext viewContext, TextWriter writer) in D:\a\1\s\src\Umbraco.Web\Mvc\ProfilingView.cs:line 25
   at System.Web.Mvc.HtmlHelper.RenderPartialInternal(String partialViewName, ViewDataDictionary viewData, Object model, TextWriter writer, ViewEngineCollection viewEngineCollection)
   at System.Web.Mvc.Html.PartialExtensions.Partial(HtmlHelper htmlHelper, String partialViewName, Object model, ViewDataDictionary viewData)
   at System.Web.Mvc.Html.PartialExtensions.Partial(HtmlHelper htmlHelper, String partialViewName, Object model)
   at ASP._Page_Views_Partials_grid_editors_Base_cshtml.Execute() in C:\home\site\wwwroot\Views\Partials\grid\editors\Base.cshtml:line 20