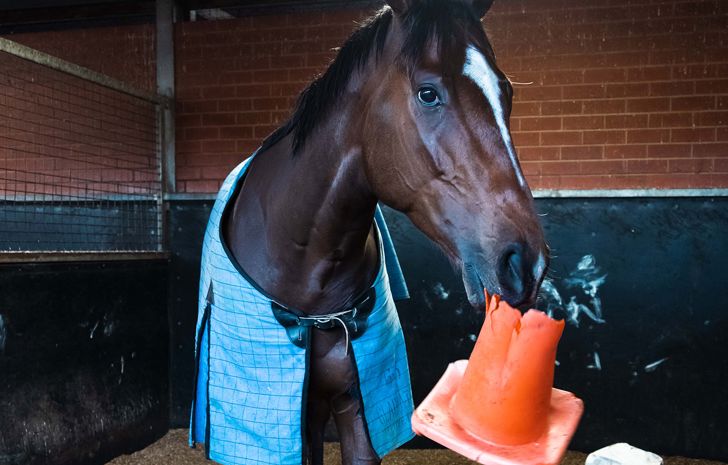 Playing to win
9 May 2023
•
Written by
Danny Russell
Just like humans, our equine friends love to engage in a little fun after work. So just how important is playtime for horses?
When playful three-year-old chestnut Shootoose has downtime away from the early morning demands of the training track, he has a ball. Literally. Staff at Simon Zahra's Flemington stable will often toss a rugby ball in the Shooting To Win gelding's box when he's bored or looking for a distraction.
He'll then grab it in his mouth, shake it up and down and sometimes flick it in the air. Just don't expect him to score a try for the Wallabies. For years, inventive trainers and creative strappers have used all sorts of "chewable" objects for horse toys.
Online companies now even import and sell specifically designed balls and cones to entertain thoroughbreds horses in need of a short burst of amusement. "I guess it just comes down to being bored," said Zahra's track rider foreman, Ryan O'Connor.
"I'm kind of always happy doing something or messing around with something at home to keep busy. I guess you look at the horses the same way." The Zahra stable uses rugby and soccer balls as well as plastic containers tied up with string.
"Shootoose loves his ball," said Irishman O'Connor, who has been in Australia for seven years.
"He's built like a rugby player as well, big and raw, which helps. I think in his past life he must have played the game.
"They all have their own personalities. Some are quite happy to just stand there and relax all day. Some just keep busy.
"For horses that walk their boxes a lot, you can put tyres or traffic cones to break up their little circle, or they play around with them. For younger horses, especially, you can put in things that make a little noise to help desensitize them."
Boredom is not seen as an ongoing problem in racing stables, especially for the more senior members. Older horses don't need noisy diversions or playful distractions during their downtime between training and race days.
They have worked hard and prefer to rest or sleep and be left alone. It is more the young horses, particularly the colts, that have an abundance of energy and are more puppy-like in nature.
It is not uncommon to see young horses across the Flemington stable complex sinking their teeth into a ball dangling from the ceiling, shaking a witch'es hat with their mouth or even spinning their head inside a loose empty food bin.
"They're probably not unlike people," said veterinarian Dr Maxine Brain, of Flemington-based clinic Advantage Equine.
"Adults are fine and kids have so much energy they want to bounce around and play. If they don't, they get bored."
Bored colts left to their own devices can develop bad habits such as box walking, chewing at their rugs or biting into wood.
"I think they like something they can get their teeth in, most of them," Dr Brain said.
"Something they can grip and throw around in the air and that sort of stuff. I can't say I have ever seen one kick a soccer ball.
"But most of the time they will pick something up in their mouth and they will throw it around, spin it around, rear up and carry on with it like that."
Dr Brain recounts one horse at a stable years ago who used to play an equine version of fetch.
He would throw a witches hat out of his box for someone to pick up and then throw it back in again.
He would then pick it up, run around and then throw it back out again "like a dog playing ball".
The Flemington vet also has mobile phone video footage of a young horse playfully rearing and shaking a cone around in his mouth, while another is shown circling his head inside an empty blue feed bin so that it starts to quickly circle around like a washing machine on spin cycle.
"They obviously enjoy doing it, or otherwise they wouldn't do it. They will choose to pick it up and play with it," Dr Brain said.
"Certainly, I think there are benefits from it – they are happier horses if they are out playing"
A variety of "horse toys" are available to buy, such as plastic cones, rubber balls that are designed to dangle from the ceiling, lickable toys and even treat-dispensing toys. The costs range from $30 to $60.
Horse toy manufacturers also sell larger, inflatable balls that can be pushed around by a horse in a yard or even several horses with riders – but these activities are not especially conducivesuitable to racing stables.
"I think they take up too much room, the big balls. I haven't seen too many big balls at Flemington," Dr Brain says.
"Most of them are balls that hang from the ceiling so that they can knock them about. Or something in the box around the soccer ball size or (plastic) coke container size that they can actually pick up play around, and it's not taking up half their box,". Dr Brain said.
"Like I said, not all horses want to do it. Some horses want to be left alone and quiet.
"They obviously enjoy doing it, or otherwise they wouldn't do it. They will choose to pick it up and play with it," Dr Brain said.
"Certainly, I think there are benefits from it – they are happier horses if they are out playing.
"My philosophy is that happy horses are better horses. If you can do it to make them happy, at the end of the day they are better off."
"No one wants to be sour in a box."
System.Web.HttpException (0x80004005): Error executing child request for handler 'System.Web.Mvc.HttpHandlerUtil+ServerExecuteHttpHandlerAsyncWrapper'. ---> System.NullReferenceException: Object reference not set to an instance of an object.
   at ASP._Page_Views_Partials_googleAd_cshtml.Execute()
   at System.Web.WebPages.WebPageBase.ExecutePageHierarchy()
   at System.Web.Mvc.WebViewPage.ExecutePageHierarchy()
   at System.Web.WebPages.WebPageBase.ExecutePageHierarchy(WebPageContext pageContext, TextWriter writer, WebPageRenderingBase startPage)
   at System.Web.Mvc.RazorView.RenderView(ViewContext viewContext, TextWriter writer, Object instance)
   at System.Web.Mvc.BuildManagerCompiledView.Render(ViewContext viewContext, TextWriter writer)
   at Umbraco.Web.Mvc.ProfilingView.Render(ViewContext viewContext, TextWriter writer) in D:\a\1\s\src\Umbraco.Web\Mvc\ProfilingView.cs:line 25
   at System.Web.Mvc.ViewResultBase.ExecuteResult(ControllerContext context)
   at System.Web.Mvc.ControllerActionInvoker.InvokeActionResult(ControllerContext controllerContext, ActionResult actionResult)
   at System.Web.Mvc.ControllerActionInvoker.InvokeActionResultFilterRecursive(IList`1 filters, Int32 filterIndex, ResultExecutingContext preContext, ControllerContext controllerContext, ActionResult actionResult)
   at System.Web.Mvc.ControllerActionInvoker.InvokeActionResultFilterRecursive(IList`1 filters, Int32 filterIndex, ResultExecutingContext preContext, ControllerContext controllerContext, ActionResult actionResult)
   at System.Web.Mvc.ControllerActionInvoker.InvokeActionResultFilterRecursive(IList`1 filters, Int32 filterIndex, ResultExecutingContext preContext, ControllerContext controllerContext, ActionResult actionResult)
   at System.Web.Mvc.ControllerActionInvoker.InvokeActionResultFilterRecursive(IList`1 filters, Int32 filterIndex, ResultExecutingContext preContext, ControllerContext controllerContext, ActionResult actionResult)
   at System.Web.Mvc.ControllerActionInvoker.InvokeActionResultFilterRecursive(IList`1 filters, Int32 filterIndex, ResultExecutingContext preContext, ControllerContext controllerContext, ActionResult actionResult)
   at System.Web.Mvc.ControllerActionInvoker.InvokeActionResultWithFilters(ControllerContext controllerContext, IList`1 filters, ActionResult actionResult)
   at System.Web.Mvc.Async.AsyncControllerActionInvoker.<>c__DisplayClass3_6.<BeginInvokeAction>b__4()
   at System.Web.Mvc.Async.AsyncControllerActionInvoker.<>c__DisplayClass3_1.<BeginInvokeAction>b__1(IAsyncResult asyncResult)
   at System.Web.Mvc.Async.AsyncResultWrapper.WrappedAsyncResult`1.CallEndDelegate(IAsyncResult asyncResult)
   at System.Web.Mvc.Async.AsyncResultWrapper.WrappedAsyncResultBase`1.End()
   at System.Web.Mvc.Async.AsyncControllerActionInvoker.EndInvokeAction(IAsyncResult asyncResult)
   at System.Web.Mvc.Controller.<>c.<BeginExecuteCore>b__152_1(IAsyncResult asyncResult, ExecuteCoreState innerState)
   at System.Web.Mvc.Async.AsyncResultWrapper.WrappedAsyncVoid`1.CallEndDelegate(IAsyncResult asyncResult)
   at System.Web.Mvc.Async.AsyncResultWrapper.WrappedAsyncResultBase`1.End()
   at System.Web.Mvc.Controller.EndExecuteCore(IAsyncResult asyncResult)
   at System.Web.Mvc.Controller.<>c.<BeginExecute>b__151_2(IAsyncResult asyncResult, Controller controller)
   at System.Web.Mvc.Async.AsyncResultWrapper.WrappedAsyncVoid`1.CallEndDelegate(IAsyncResult asyncResult)
   at System.Web.Mvc.Async.AsyncResultWrapper.WrappedAsyncResultBase`1.End()
   at System.Web.Mvc.Controller.EndExecute(IAsyncResult asyncResult)
   at System.Web.Mvc.Controller.System.Web.Mvc.Async.IAsyncController.EndExecute(IAsyncResult asyncResult)
   at System.Web.Mvc.MvcHandler.<>c.<BeginProcessRequest>b__20_1(IAsyncResult asyncResult, ProcessRequestState innerState)
   at System.Web.Mvc.Async.AsyncResultWrapper.WrappedAsyncVoid`1.CallEndDelegate(IAsyncResult asyncResult)
   at System.Web.Mvc.Async.AsyncResultWrapper.WrappedAsyncResultBase`1.End()
   at System.Web.Mvc.MvcHandler.EndProcessRequest(IAsyncResult asyncResult)
   at System.Web.Mvc.MvcHandler.System.Web.IHttpAsyncHandler.EndProcessRequest(IAsyncResult result)
   at System.Web.Mvc.HttpHandlerUtil.ServerExecuteHttpHandlerAsyncWrapper.<>c__DisplayClass3_0.<EndProcessRequest>b__0()
   at System.Web.Mvc.HttpHandlerUtil.ServerExecuteHttpHandlerWrapper.<>c__DisplayClass5_0.<Wrap>b__0()
   at System.Web.Mvc.HttpHandlerUtil.ServerExecuteHttpHandlerWrapper.Wrap[TResult](Func`1 func)
   at System.Web.Mvc.HttpHandlerUtil.ServerExecuteHttpHandlerWrapper.Wrap(Action action)
   at System.Web.Mvc.HttpHandlerUtil.ServerExecuteHttpHandlerAsyncWrapper.EndProcessRequest(IAsyncResult result)
   at System.Web.HttpServerUtility.ExecuteInternal(IHttpHandler handler, TextWriter writer, Boolean preserveForm, Boolean setPreviousPage, VirtualPath path, VirtualPath filePath, String physPath, Exception error, String queryStringOverride)
   at System.Web.HttpServerUtility.ExecuteInternal(IHttpHandler handler, TextWriter writer, Boolean preserveForm, Boolean setPreviousPage, VirtualPath path, VirtualPath filePath, String physPath, Exception error, String queryStringOverride)
   at System.Web.HttpServerUtility.Execute(IHttpHandler handler, TextWriter writer, Boolean preserveForm, Boolean setPreviousPage)
   at System.Web.HttpServerUtility.Execute(IHttpHandler handler, TextWriter writer, Boolean preserveForm)
   at System.Web.HttpServerUtilityWrapper.Execute(IHttpHandler handler, TextWriter writer, Boolean preserveForm)
   at System.Web.Mvc.Html.ChildActionExtensions.ActionHelper(HtmlHelper htmlHelper, String actionName, String controllerName, RouteValueDictionary routeValues, TextWriter textWriter)
   at System.Web.Mvc.Html.ChildActionExtensions.Action(HtmlHelper htmlHelper, String actionName, String controllerName, RouteValueDictionary routeValues)
   at Our.Umbraco.DocTypeGridEditor.Web.Extensions.HtmlHelperExtensions.RenderDocTypeGridEditorItem(HtmlHelper helper, IPublishedElement content, String editorAlias, String viewPath, String previewViewPath, Boolean isPreview)
   at ASP._Page_app_plugins_doctypegrideditor_render_DocTypeGridEditor_cshtml.Execute()
   at System.Web.WebPages.WebPageBase.ExecutePageHierarchy()
   at System.Web.Mvc.WebViewPage.ExecutePageHierarchy()
   at System.Web.WebPages.WebPageBase.ExecutePageHierarchy(WebPageContext pageContext, TextWriter writer, WebPageRenderingBase startPage)
   at System.Web.Mvc.RazorView.RenderView(ViewContext viewContext, TextWriter writer, Object instance)
   at System.Web.Mvc.BuildManagerCompiledView.Render(ViewContext viewContext, TextWriter writer)
   at Umbraco.Web.Mvc.ProfilingView.Render(ViewContext viewContext, TextWriter writer) in D:\a\1\s\src\Umbraco.Web\Mvc\ProfilingView.cs:line 25
   at System.Web.Mvc.HtmlHelper.RenderPartialInternal(String partialViewName, ViewDataDictionary viewData, Object model, TextWriter writer, ViewEngineCollection viewEngineCollection)
   at System.Web.Mvc.Html.PartialExtensions.Partial(HtmlHelper htmlHelper, String partialViewName, Object model, ViewDataDictionary viewData)
   at System.Web.Mvc.Html.PartialExtensions.Partial(HtmlHelper htmlHelper, String partialViewName, Object model)
   at ASP._Page_Views_Partials_grid_editors_Base_cshtml.Execute()