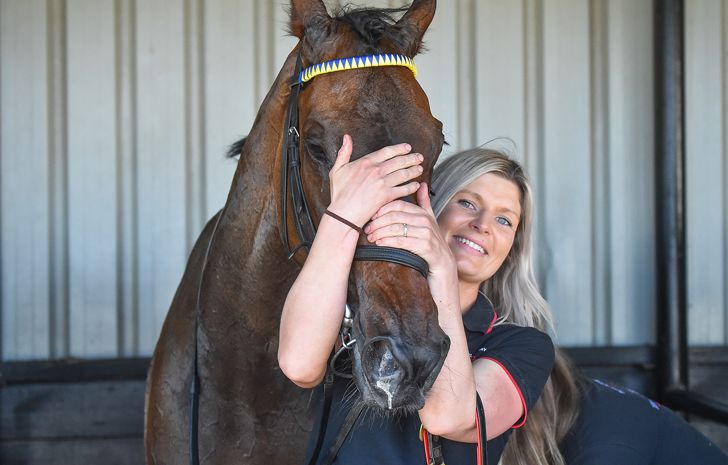 A lifelong love
25 August 2023
•
Written by
Michael Manley
Working with horses requires dedication, patience, and a deep understanding of the intelligent animals. Mariah Kaminski's life is filled with horses at every turn, and she wouldn't have it any other way.
Life can take you in different directions and Mariah Kaminski is glad her flirtation with being a beautician at the age of 15 didn't eventuate.
Instead, she headed down the thoroughbred path and she's more than thankful that she did.
As a child Kaminski rode horses but making a career out of working in thoroughbreds wasn't even in her thought process. 
"I actually wanted to do beautician work and I left it too late trying to find somewhere to go for my work experience," Kaminski said.
"My sister Elisha was already working as a track rider at Mike Moroney's and she said come into the stable and do work experience there instead."
Sixteen years later she is completely engulfed in the world of thoroughbred racing, so much so there's barely enough hours in the day to fulfil her multi-faceted thoroughbred involvement.
Kaminski regards being involved in the equine world as a privilege and doesn't see it as a job.
Together with her partner, jockey Jake Noonan, Kaminski runs Stonewood Agistment Farm at Mornington, which they purchased in 2019. She also pre-trains horses for several stables, predominantly Moroney and Tony Noonan. (She currently has Noonan's old galloper Steel Of Madrid and Von Mystic from Logan McGill's stables.)
She has also returned to working at Moroney's for a couple of days a week and has five Off The Track horses, of which most compete in equestrian events.
And at home, the indefatigable Kaminski also has two young boys with Noonan, Isaac 5 and Bennett 1.
Kaminski said she fell in love with thoroughbred racing from the first moment she walked into Moroney's stables, where she would spend her first decade in racing.
Now, most of the horses she has spelling at her property are Moroney's. She also pre-trains some for him, and the trainer will send horses to her during their preparation for a freshen up where Kaminski does dressage work with them.
Late last year she also returned to working at his Flemington stables a couple of days a week which was due to her relationship with the galloper Emissary.
Kaminski fell in love with Emissary when he was spelling at Stonewood Agistment farm and proved to be the catalyst for her to return to work at Flemington.
That love affair almost rewarded her with racing's ultimate prize, a Lexus Melbourne Cup, as Emissary finished second.
It was Emissary who got her back to Moroney's as a strapper last year after she stopped working at his stables several years ago.
"I just fell in love with Emissary and when he returned to work, I asked whether I could strap him," she explained.
"They were really good and they said I could come in once or twice a week."
Emissary sealed the deal when he won the Heatherlie Handicap first-up at Caulfield with Kaminski strapping, and the stable decided to stick with her.
"Melbourne Cup Day was awesome. I thought I'd never strap in a Cup. At one stage in the straight I thought we'd won it," she said.
"That was still a fantastic day, and a very exciting day for the team. I was very grateful for Mike allowing me to stick with him for the preparation."
Most of Moroney's top gallopers of recent years have spent time at Kaminski's property, including Tofane, Buffalo River, Chapada and Bermadez.
Her sister Elisha also pre-trains and agists Moroney's horses.
"I've got a dressage arena and that's the pre-training arena. I work with not just the spellers, but he also sends horses here for a freshen up."
She also has five retired racehorses at her property who she adores.
One of her favourites is Linton Street who she strapped at Moroney's.
"He was one of mine and I had a bit to do with him. I rode him in trackwork and strapped him.  When he retired, I was pretty quick to grab him," Kaminski said.
Linton Street spent time with another of Mariah's sisters Rebecca before coming back to her in 2019.
"After his first trial he came to my house … we started to get serious and we've worked our way up through the grades."
Linton Street and Kaminski were recently crowned the overall champions in the Novice division of the Racing Victoria (RV) Off The Track (OTT) Dressage Series, conducted at Boneo Park from December 2022 to March 2023.
They have also competed in Equestrian Australia events, and he has been placed in one of the open dressage series.
It's near impossible for this horse lover to choose a favourite, but when pressed Mariah said her favourite was probably one she called Nugget, who raced as Murcielaga.
"I took him on when he retired and we've done a lot of jumping events. He's more like my best mate, he's no star."
She also has a soft spot for 21 year-old Pure Malt.
"I was 15 when I got him and over the years I've leased him out to friends, but he's come back to me. Kids ride him and he's awesome with younger horses, too."
Kaminski acknowledges how busy she is but she just says: "I just make it work."
"I love horses. I'd been riding all my life and as soon as I started at the races, I loved it. It's more like a hobby. It doesn't matter whether they are fast or slow, I just love them."
System.Web.HttpException (0x80004005): Error executing child request for handler 'System.Web.Mvc.HttpHandlerUtil+ServerExecuteHttpHandlerAsyncWrapper'. ---> System.NullReferenceException: Object reference not set to an instance of an object.
   at ASP._Page_Views_Partials_googleAd_cshtml.Execute()
   at System.Web.WebPages.WebPageBase.ExecutePageHierarchy()
   at System.Web.Mvc.WebViewPage.ExecutePageHierarchy()
   at System.Web.WebPages.WebPageBase.ExecutePageHierarchy(WebPageContext pageContext, TextWriter writer, WebPageRenderingBase startPage)
   at System.Web.Mvc.RazorView.RenderView(ViewContext viewContext, TextWriter writer, Object instance)
   at System.Web.Mvc.BuildManagerCompiledView.Render(ViewContext viewContext, TextWriter writer)
   at Umbraco.Web.Mvc.ProfilingView.Render(ViewContext viewContext, TextWriter writer) in D:\a\1\s\src\Umbraco.Web\Mvc\ProfilingView.cs:line 25
   at System.Web.Mvc.ViewResultBase.ExecuteResult(ControllerContext context)
   at System.Web.Mvc.ControllerActionInvoker.InvokeActionResult(ControllerContext controllerContext, ActionResult actionResult)
   at System.Web.Mvc.ControllerActionInvoker.InvokeActionResultFilterRecursive(IList`1 filters, Int32 filterIndex, ResultExecutingContext preContext, ControllerContext controllerContext, ActionResult actionResult)
   at System.Web.Mvc.ControllerActionInvoker.InvokeActionResultFilterRecursive(IList`1 filters, Int32 filterIndex, ResultExecutingContext preContext, ControllerContext controllerContext, ActionResult actionResult)
   at System.Web.Mvc.ControllerActionInvoker.InvokeActionResultFilterRecursive(IList`1 filters, Int32 filterIndex, ResultExecutingContext preContext, ControllerContext controllerContext, ActionResult actionResult)
   at System.Web.Mvc.ControllerActionInvoker.InvokeActionResultFilterRecursive(IList`1 filters, Int32 filterIndex, ResultExecutingContext preContext, ControllerContext controllerContext, ActionResult actionResult)
   at System.Web.Mvc.ControllerActionInvoker.InvokeActionResultFilterRecursive(IList`1 filters, Int32 filterIndex, ResultExecutingContext preContext, ControllerContext controllerContext, ActionResult actionResult)
   at System.Web.Mvc.ControllerActionInvoker.InvokeActionResultWithFilters(ControllerContext controllerContext, IList`1 filters, ActionResult actionResult)
   at System.Web.Mvc.Async.AsyncControllerActionInvoker.<>c__DisplayClass3_6.<BeginInvokeAction>b__4()
   at System.Web.Mvc.Async.AsyncControllerActionInvoker.<>c__DisplayClass3_1.<BeginInvokeAction>b__1(IAsyncResult asyncResult)
   at System.Web.Mvc.Async.AsyncResultWrapper.WrappedAsyncResult`1.CallEndDelegate(IAsyncResult asyncResult)
   at System.Web.Mvc.Async.AsyncResultWrapper.WrappedAsyncResultBase`1.End()
   at System.Web.Mvc.Async.AsyncControllerActionInvoker.EndInvokeAction(IAsyncResult asyncResult)
   at System.Web.Mvc.Controller.<>c.<BeginExecuteCore>b__152_1(IAsyncResult asyncResult, ExecuteCoreState innerState)
   at System.Web.Mvc.Async.AsyncResultWrapper.WrappedAsyncVoid`1.CallEndDelegate(IAsyncResult asyncResult)
   at System.Web.Mvc.Async.AsyncResultWrapper.WrappedAsyncResultBase`1.End()
   at System.Web.Mvc.Controller.EndExecuteCore(IAsyncResult asyncResult)
   at System.Web.Mvc.Controller.<>c.<BeginExecute>b__151_2(IAsyncResult asyncResult, Controller controller)
   at System.Web.Mvc.Async.AsyncResultWrapper.WrappedAsyncVoid`1.CallEndDelegate(IAsyncResult asyncResult)
   at System.Web.Mvc.Async.AsyncResultWrapper.WrappedAsyncResultBase`1.End()
   at System.Web.Mvc.Controller.EndExecute(IAsyncResult asyncResult)
   at System.Web.Mvc.Controller.System.Web.Mvc.Async.IAsyncController.EndExecute(IAsyncResult asyncResult)
   at System.Web.Mvc.MvcHandler.<>c.<BeginProcessRequest>b__20_1(IAsyncResult asyncResult, ProcessRequestState innerState)
   at System.Web.Mvc.Async.AsyncResultWrapper.WrappedAsyncVoid`1.CallEndDelegate(IAsyncResult asyncResult)
   at System.Web.Mvc.Async.AsyncResultWrapper.WrappedAsyncResultBase`1.End()
   at System.Web.Mvc.MvcHandler.EndProcessRequest(IAsyncResult asyncResult)
   at System.Web.Mvc.MvcHandler.System.Web.IHttpAsyncHandler.EndProcessRequest(IAsyncResult result)
   at System.Web.Mvc.HttpHandlerUtil.ServerExecuteHttpHandlerAsyncWrapper.<>c__DisplayClass3_0.<EndProcessRequest>b__0()
   at System.Web.Mvc.HttpHandlerUtil.ServerExecuteHttpHandlerWrapper.<>c__DisplayClass5_0.<Wrap>b__0()
   at System.Web.Mvc.HttpHandlerUtil.ServerExecuteHttpHandlerWrapper.Wrap[TResult](Func`1 func)
   at System.Web.Mvc.HttpHandlerUtil.ServerExecuteHttpHandlerWrapper.Wrap(Action action)
   at System.Web.Mvc.HttpHandlerUtil.ServerExecuteHttpHandlerAsyncWrapper.EndProcessRequest(IAsyncResult result)
   at System.Web.HttpServerUtility.ExecuteInternal(IHttpHandler handler, TextWriter writer, Boolean preserveForm, Boolean setPreviousPage, VirtualPath path, VirtualPath filePath, String physPath, Exception error, String queryStringOverride)
   at System.Web.HttpServerUtility.ExecuteInternal(IHttpHandler handler, TextWriter writer, Boolean preserveForm, Boolean setPreviousPage, VirtualPath path, VirtualPath filePath, String physPath, Exception error, String queryStringOverride)
   at System.Web.HttpServerUtility.Execute(IHttpHandler handler, TextWriter writer, Boolean preserveForm, Boolean setPreviousPage)
   at System.Web.HttpServerUtility.Execute(IHttpHandler handler, TextWriter writer, Boolean preserveForm)
   at System.Web.HttpServerUtilityWrapper.Execute(IHttpHandler handler, TextWriter writer, Boolean preserveForm)
   at System.Web.Mvc.Html.ChildActionExtensions.ActionHelper(HtmlHelper htmlHelper, String actionName, String controllerName, RouteValueDictionary routeValues, TextWriter textWriter)
   at System.Web.Mvc.Html.ChildActionExtensions.Action(HtmlHelper htmlHelper, String actionName, String controllerName, RouteValueDictionary routeValues)
   at Our.Umbraco.DocTypeGridEditor.Web.Extensions.HtmlHelperExtensions.RenderDocTypeGridEditorItem(HtmlHelper helper, IPublishedElement content, String editorAlias, String viewPath, String previewViewPath, Boolean isPreview)
   at ASP._Page_app_plugins_doctypegrideditor_render_DocTypeGridEditor_cshtml.Execute()
   at System.Web.WebPages.WebPageBase.ExecutePageHierarchy()
   at System.Web.Mvc.WebViewPage.ExecutePageHierarchy()
   at System.Web.WebPages.WebPageBase.ExecutePageHierarchy(WebPageContext pageContext, TextWriter writer, WebPageRenderingBase startPage)
   at System.Web.Mvc.RazorView.RenderView(ViewContext viewContext, TextWriter writer, Object instance)
   at System.Web.Mvc.BuildManagerCompiledView.Render(ViewContext viewContext, TextWriter writer)
   at Umbraco.Web.Mvc.ProfilingView.Render(ViewContext viewContext, TextWriter writer) in D:\a\1\s\src\Umbraco.Web\Mvc\ProfilingView.cs:line 25
   at System.Web.Mvc.HtmlHelper.RenderPartialInternal(String partialViewName, ViewDataDictionary viewData, Object model, TextWriter writer, ViewEngineCollection viewEngineCollection)
   at System.Web.Mvc.Html.PartialExtensions.Partial(HtmlHelper htmlHelper, String partialViewName, Object model, ViewDataDictionary viewData)
   at System.Web.Mvc.Html.PartialExtensions.Partial(HtmlHelper htmlHelper, String partialViewName, Object model)
   at ASP._Page_Views_Partials_grid_editors_Base_cshtml.Execute()