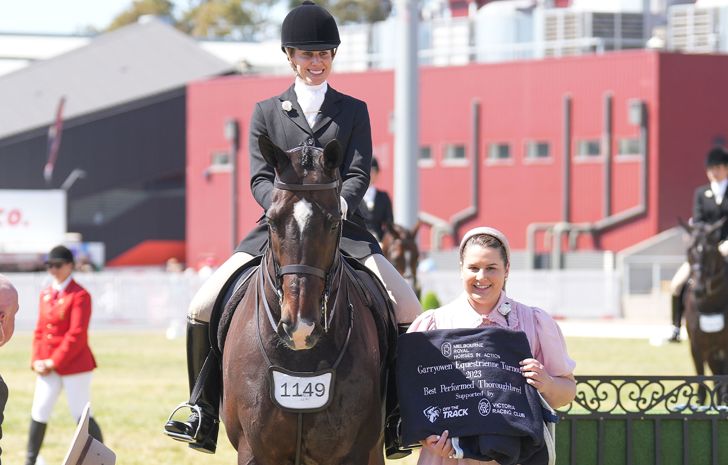 Garryowen glory for retired racehorse at the Melbourne Royal Show
5 October 2023
•
Written by
VRC
Retired thoroughbred racehorses were turned out in fine fettle and glistened in the glorious sunshine at the Melbourne Showgrounds at the 2023 Melbourne Royal Show.
Thoroughbred St Andrews and his rider Natalie McKay demonstrated the versatility of retired racehorses by taking out the inaugural Best Performed Thoroughbred prize in the Garryowen Equestrienne Turnout competition at the Melbourne Royal Show on Friday 29 September.
The Victoria Racing Club partnered with Racing Victoria (RV) to introduce the prize for the Best Performed Thoroughbred in the revered Garryowen Equestrienne Turnout competition at this year's Show.
The Garryowen Equestrienne Turnout is named in memory of Champion Hack 'Garryowen' whose owner Mrs Violet Murrell, one of Australia's foremost show riders and accomplished horsewomen, died aged twenty-nine trying to save him and Piquant from a tragic stable fire in Mentone in 1934 – the ultimate sacrifice paid for the love of the horse.
Now in its 89th year, the Garryowen Equestrienne Turnout continues to be one of the most anticipated and celebrated show horse events on Australia's equestrian calendar. Year after year, competitors present themselves and their horses to be judged according to the strictest standards of conformation and soundness; manners and paces; riding ability; appearance; costume; and saddlery.
Ms McKay and St Andrews finished in fourth place overall, a very respectable result in a large field of highly credentialed competitors. The overall winner was Jessica Stalling riding Verdict By Direction.
Held across the September school holidays, the much-loved Melbourne Royal Show saw Australia's most elegant show horse aficionados descend on Flemington to vie for glory, with a range of classes on offer to suit all horse-lovers. With more than 2,300 entries, 600 horses and 350 riders competing across 250 classes, exhibitors could compete in Saddle Horse and Riding classes, Showjumping, Stockhorse, Hunting, Light & Heavy Harness and Clydesdales.
Melbourne Royal is a member-based not-for-profit organisation that has been celebrating agriculture since 1848 when it was formed as the Moonee Ponds Farmer's Society and later The Royal Agricultural Society of Victoria. The Show celebrated its 175th anniversary this year.