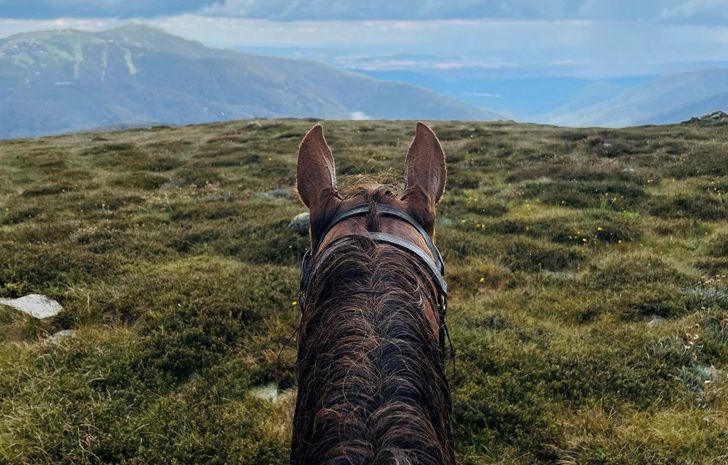 Going at a different pace
29 May 2023
•
Written by
Mick Sharkie
Retirement has never looked better for Group 3 winner Widgee Turf, taken in by legendary horse family the Egans to live out his life in the high country of Victoria.
In the Victorian high country, a good horse is worth its weight in gold and always has been.
Horses are a part of high-country culture, they are part of everyday life. The landscape is as tough as it is beautiful, steep and unforgiving, hot in the summer and freezing in winter; this is working horse country, and the Man from Snowy River would feel right at home.
It's fitting then that Group 3 winner Widgee Turf has found his way to the high country in retirement. The son of Turffontein was a hard-nosed competitor on the racetrack with a huge will to win – they don't come much tougher than Widgee Turf.
On a farm on the outskirts of Mansfield, the unofficial capital of Victoria's high country, Widgee Turf and a group of other ex-racehorses are being introduced to a very different pace of life by a family synonymous with racing and with high-country horses.
Billy Egan grew up in Mansfield. His father Brendan and mother Sarah always had horses around the place, thoroughbreds, stockhorses, ponies, as did his uncle Gerald, a trainer of racehorses but perhaps better known as a trainer of young jockeys – he was also a stuntman in The Man From Snowy River film.
"I grew up around horses, grew up riding them, it was that sort of lifestyle where horses were just a part of everyday life," said Egan.
Despite the honest nature of working life in the area, there has always been money in Mansfield. The town was a service centre for the surrounding mining outposts during the gold rush and fortunes were made and spent on Mansfield's streets. Recently the town has boomed again as a gateway to the snowfields of Mt Buller and a weekend escape for well-heeled Melburnians, but horses remain a constant.
"People would ride in and go to the pub, do their shopping. There'd be horses tied up in the main street. It doesn't happen as much these days with a few more cars around but stockmen, cowboys and girls, camp drafters they're all still around," said Egan. 
Egan was always going to be a jockey, there were no two ways about it. He started his career in 2005 and despite some tough times and injuries – the latest in August 2022 when a fall at Pakenham nearly cost him the use of his left arm – he couldn't imagine another life.
Egan was in the saddle when Widgee Turf made a winning debut in a Swan Hill three-year-old maiden in August 2016 and stayed in the saddle for much of the horse's 42-start career, combining for nine wins, eight on metropolitan tracks, and a Group 1 placing in the 2019 Sir Rupert Clarke Stakes.
"He was a fierce competitor, he put in 100% every time you went to the races. He was so cruisy and laid back around the stables, but like a great sportsperson, he had that white line fever when you took him to the races," Egan said.
"That turn of foot was something else. When you let him go he really took off. I can't really describe what it was like, it felt pretty bloody good when he was at his top."
When trainer Patrick Payne called time on Widgee Turf's racetrack career with 11 wins from 42 starts and over $1.2 million in the bank, Egan sprang into action.
"As soon as he retired, I reached out to his owners Gordon and Marlene McIntosh and asked if I could take him up to the farm and look after him," said Egan.
"Mum and Dad have a great property where we retrain horses for the trails and bush riding. It gives them purpose in their lives. The horses up there are pretty spoilt and well looked after. I wanted a good life for him." 
Egan has spent plenty of time with Widgee Turf while he has recovered from his latest fall, a bit of horse therapy helping to keep his mind and body healthy ahead of a return to the saddle. Recently Egan took some racing mates out for a ride, with Lindsay Park's Will Hayes, jumps jockey Aaron Kuru and his girlfriend Laura Kane and his father Brendan all hitting the trails on retired racehorses that now call the Egan family farm home. 
Rather than sit around in a paddock eating grass all day, Egan reckons that horses like Widgee Turf are happiest when they are working, when they have something to do.
"He just adapted straight away to his new life. He settled in beautifully. Sometimes he gets up alongside one on a trail ride and wants to get up into a canter so that competitive spirit is still there, but you never really lose that do you?" said Egan. 
"Thoroughbreds can do anything physically. If they've got a tough mindset they're even better. He's got the smarts for sure, he's so adaptable."
"He'll have a great life up at Mansfield and he deserves it, too."
The career of Widgee Turf is a true racing fairy tale; a $4500 weanling sold through the Inglis Great Southern Sale, the horse then became a cult hero with punters thanks to his will to win and dazzling closing speed, and retired a million-dollar earner, healthy and sound.
A horse that gave so many so much joy on the track, it's only fitting that the Widgee Turf story has a happy ending.