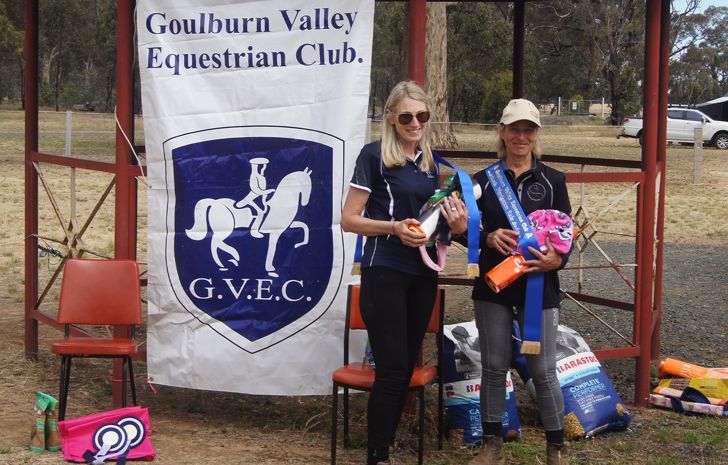 Join the Club
14 August 2023
•
Written by
Sarah Marinos
Local horse-riding and equestrian clubs provide a place for riders of all ages and abilities to share their love of horses.
Goulburn Valley Equestrian Club is one of more than 240 clubs that are part of the Horse Riding Clubs Association of Victoria (HRCAV). The Association has more than 6,000 members across Victoria and parts of NSW and South Australia, who regularly join forces to enjoy social events, lessons, rallies and competitions.
At their home at Moora Recreation Reserve, Goulburn Valley Equestrian Club has around 60 dedicated members aged from 11 years old to 70-plus.
Sherie Kealy has been a member for the past 10 years and is one of a team of volunteers who organise events – from dressage and showjumping competitions to Navigation Rides and the more recently introduced Three Phase Equitation (3PE) contests.
Based in Rushworth, Kealy has owned horses since she was a little girl.
"I went through pony club and had a couple of horses that I evented and showed. When I got married, my husband was interested in racehorses and so I got a picnic permit and my husband and I got horses fit and raced them at the picnics for about 15 years," said Kealy.
"Gradually, the picnic races became quite competitive and a lot of professional trainers brought very good horses to those races, so I didn't renew my licence but I still loved racing and have always loved thoroughbreds."
In 2021, Kealy's love of racing saw her apply to have the VRC include Rushworth in the annual Lexus Melbourne Cup Tour. COVID-19 restrictions interrupted those plans but in 2022, Kealy applied again on behalf of Goulburn Valley Equestrian Club.
"I work in an aged-care facility and an elderly gentleman there, Brian Dowker, rode in the 1950 Melbourne Cup when he was only 16 and I really wanted to bring the Melbourne Cup to Rushworth for the community and particularly for Brian. He came alive that day," said Kealy.
The Cup was brought to the Criterion Hotel in Rushworth by former jockey, John Letts. The community turned out in force for a glimpse of the trophy and Brian chatted with John.
"John asked Brian how he felt when he walked into Flemington on that Melbourne Cup Day all those years ago and Brian said, 'Well, I looked at my locker and thought I'm not meant to be here!' He then remembered jumping out of the gates and it was clear that he was reliving that moment all those years ago. It was so moving to see," recalls Kealy.
"Brian passed away four months later but I'm so glad he had that moment."
Just before the Lexus Melbourne Cup visit, Goulburn Valley Equestrian Club also ran a Navigation Ride Weekend for HRCAV members.
During the weekend, awards were given to the best performing off-the-track thoroughbreds. Kealy says Navigation Rides showcase the versatility of many retired racehorses once they leave the racing industry behind.
The winning off-the-track horse, In The Fast Lane, had a successful racing career in Adelaide with trainer Kerry VanTijn, before he was passed on to trainer and owner, Sue Johnston.
"When Sue got him, he was typical of thoroughbreds – he was strong and keen. Sue put a lot of hard work into him and got him quiet enough to ride on the roads. He's since won quite a few navigation rides and dressage events," said Kealy.
"He still loves to prance and dance but he's a lovely looking horse."
The Navigation Rides occur over two days with pairs of riders working together to cover a set distance in a certain time while also solving a series of cryptic clues along the way. Ride distances vary from around 10km to 20km along bush tracks and Kealy says she has seen plenty of off-the-track thoroughbreds enjoying the experience.
"Thoroughbreds trot and canter and are comfy to ride. Not all ex-racehorses can jump and do dressage but some of them love being out in company and they are kind and quiet and this kind of activity is a great outlet for those horses," said Kealy.
The clubs that are part of HRCAV are an ideal place for riders, and those who simply love being around horses, to meet and share their passion for these animals. Goulburn Valley Equestrian Club has twice been recognised as the HRCAV Regional Club of the Year.
"Lots of clubs have rallies and you can ride and have a lesson at your particular level. If you're not at Royal Show level or aiming for the Olympics, these clubs are a great place where you can spend your time and learn from people around you – because you never stop learning when you have horses," said Kealy.
"Horse riding is usually an individual sport but clubs are important. Local meetings and travelling to different areas for competitions brings communities together and you end up meeting people you might never have got to know but for the shared love of horses."