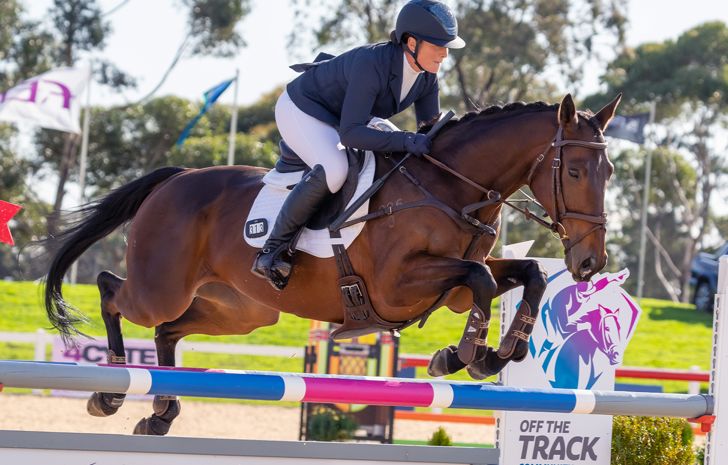 Retired racehorses reign supreme at Melbourne International Three Day Event
28 August 2023
•
Written by
VRC
Retired racehorses put on a show at the Werribee Park National Equestrian Centre for the Melbourne International Three Day Event.
Thoroughbred Magic Mushroom TAE and his rider Teegan Ashby showcased the credentials of retired racehorses as equestrian athletes by winning the CCI3*L class from start to finish at the recent Melbourne International Three Day Event.
Held across the June long weekend, the country's finest equestrian athletes gathered at the Werribee Park National Equestrian Centre to compete for glory in Victoria's premier eventing competition.
The Victoria Racing Club (VRC) continued its support for retired racehorses at the event by presenting a prize to the Best Performed Off The Track Thoroughbred in the 4CYTE CCI3*L and the Pryde's EasiFeed CCI4*L.
Ms Ashby and Magic Mushroom TAE led the CCI3*L class following the dressage phase and had a perfect round in both the cross country and show jumping phases, adding no penalties to finish on their dressage score of 30.8 points.
They led a strong Off The Track contingent in this class, with fellow thoroughbred Seattle Park and his rider Sophia Hill also finishing on their dressage score to take out second place, while another thoroughbred Hat Trick finished in fourth place with his rider Andy Daines.
Magic Mushroom TAE, Seattle Park and Hat Trick were the only horses in the field of 19 horses to complete the cross country course clear and under the time limit – a compelling endorsement of the valuable athleticism of retired racehorses in this Olympic discipline.
Joel Funnell and Airbrushed took out the Best Performed Thoroughbred prize in the CCI4*L.
VRC Ambassador and Olympian Amanda Ross was a special guest and hosted a course walk of the CCI4*L show jumping course for attendees, as well as presenting the prize to the winners.
The 2023 Lexus Melbourne Cup continued to show its popularity, in demand for photographs from attendees and competitors alike in Racing Victoria's Off The Track marquee in the Trade Village.
Last year's Melbourne CCI4*L winners Shenae Lowings and her thoroughbred Bold Venture gained international success in Ireland recently, winning the Millstreet International Horse Trials outright and combining with her team mates to secure Australia's qualification for the Paris Olympics in 2024.
Melbourne International Three Day Event has been run for 65 years, with the first event held during the 1957 Royal Melbourne Show when the dressage was conducted at Flemington Racecourse, cross country at Oaklands Hunt Club and the show jumping held at the Showgrounds on the Main Arena.