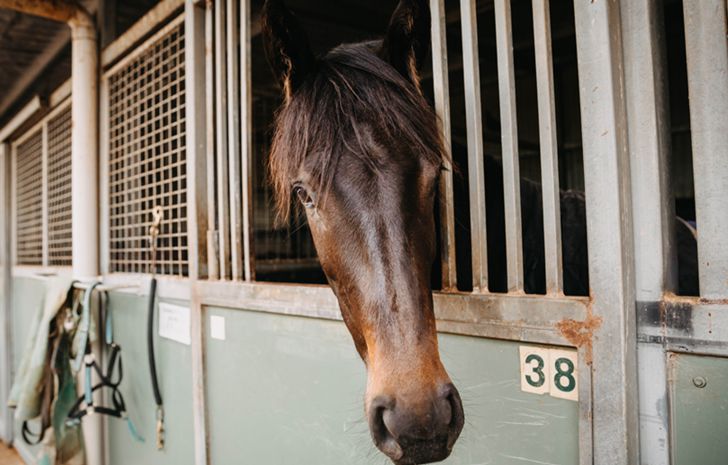 A day in the life
14 August 2023
•
Written by
Celia Purdey
It is nothing but rewarding for the people that work in the horse racing industry, who devote their days to running successful businesses and of course, caring for their equine friends. Here, we follow a day in the life at Melbourne Cup-winning stable Danny O'Brien Racing at their Flemington premises.
---
Relive the nail-biting 2018 Lexus Melbourne Cup where race caller Matt Hill declared Vow And Declare "won it for Australia."
4AM
The first batch of stable staff including the assistant trainers and a few stablehands arrive in the dark.
An inspection of each stall and horse begins. Feed bins are checked to see what has been eaten or left from the night before. This check-up often provides a significant clue as to the health of the horse. They are able to detect an underlying problem if something is left behind.
An attendant takes the horse's temperature if they think it is necessary, or if the horse shows a sign that something is different. Any treatments that need to be given are also dispersed at that time.
When it is a horse's turn to work, it will go from its box to the walker, spending 15 to 20 minutes on the machine. Generally, each horse will have around 15 minutes of walking and trotting as a warm-up before embarking on the day's serious work.
5AM
The remainder of the staff and track riders arrive.
After the warm-up, a track rider will saddle up and climb aboard the horse and make their way to the training track about 1km away, with four or five others, heading out in lots. They'll be met by trainer Danny O'Brien or the assistant trainer who will instruct them as to what work they are doing.
This can include pace work (on slow mornings) in the sand track, which builds fitness through trotting, cantering and a slow gallop.
On faster mornings the pace will quicken to a full gallop, with the length of the gallop dependent on whether the horse is a sprinter or distance galloper.
After exercising, the horse's gear is changed. They'll then be taken for a swim: a couple of laps of the pool before warming down on the walker for another 20 to 30 minutes.
While the horse is training, its attendant will thoroughly clean it's stable and empty and scrub its water bucket to remove any debri that may have fallen in overnight. There will be new feed in its feed bin, and fresh hay provided for the roughage vital for a horse's digestive wellbeing.
9AM
Once the horses are all off their walker and back in their boxes, all the individual staff who look after their horses will go and check their horses. They'll check their legs for any heat, brush them, cut their manes, and all the other grooming essentials. Some days this will take minimal time, and other days the horse might need extra attention. They may require an ultrasound or their legs iced.
Other professionals will regularly attend the stables and treat horses as required during this quiet time after trackwork is complete. These might include a vet, farrier, physiotherapist, chiropractor, dentist, masseuse, and/or nutritionist.
This process is repeated throughout the morning with the 52 horses in work.
10AM-2PM
The early morning stable staff leave the horses in their boxes to relax. This relaxation might include play time and socialisation. Toys such as soccer balls, witches hats and rubber kettlebells are left in some of the boxes to give the horses stimulation. Depending on the horse, some will love playing with these, others will ignore them. Some horses opt to just lay down and sleep.
Despite the calm out the back in the stable, the middle of the day sees a hive of activity as the office staff enter horses in races, book jockeys for those races, communicate with owners, organise logistics and ensure the general stable administration is attended to.
Horses at Danny O'Brien Racing are never left alone. Whether in groups going out for trackwork or stabled next to another horse in their box, they always have companionship. With just a grille between them, they can see and smell each other and 'talk' to each other if they like.
2PM-4.30PM
In the mid-afternoon, the stablehands return for their second shift and the horses are taken out of their boxes again. In nice weather they'll be walked to the pool for a swim and given a walk on the walker or a pick on the grass to get some sun on their back.
The boxes are cleaned and freshened up once again while the horses are out doing their afternoon work.
Back in their stable in the late afternoon, water is topped up and feeds are again sent around with the amounts carefully measured and notarised on each horse's chart. Making the feeds for around 50 horses is quite a process, so they are made in the morning, ready for the evening.
5PM-EVENING
The horses are left to rest and relax in their boxes overnight.
Accommodation is comfortable, with some preferring a certain box. Reigning Melbourne Cup champion Vow And Declare stays in the same box each preparation, but when you're the Cup champ you have probably earned the box you prefer.