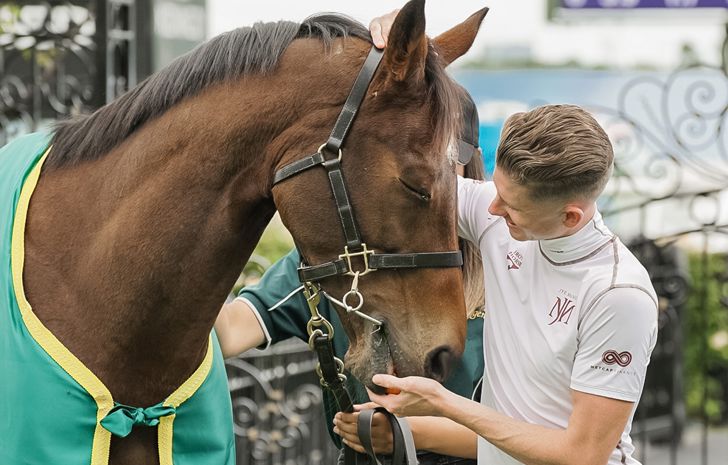 Twilight Payment enjoying his twilight years
21 August 2023
•
Written by
VRC
The 2020 Melbourne Cup Winner, Twilight Payment is relishing retirement at Living Legends. Come along to Flemington and meet Twiggy on Rapid Racing Race Day.
In December 2021, 2020 Melbourne Cup champion Twilight Payment left his Macedon Lodge home to take up residence at the Living Legends stables in Greenvale.
Within hours of arriving, the Irish-born horse was happily picking at grass and bemusedly watching the local kangaroos springing across his paddock.
Trained by Joseph O'Brien, he raced again in the 2021 Cup, finished 11th and owner, Nick Williams, then announced the horse's retirement. During his career the 9yo earned almost $6 million in prizemoney. 
Andrew Clarke, CEO of Living Legends, had already made it clear that there was a paddock waiting for Twilight Payment at the 1730-acre Woodlands Historic Park where Living Legends is based. The estate north of Melbourne is home to a number of renowned retired racehorses who are a popular drawcard for national and international visitors who want to get up close to a Melbourne Cup winning horse.
"In the lead up to the 2021 Spring Carnival, Nick Williams was at Living Legends with Shane Crawford. They were filming with two of our other Cup champions, Almandin and Prince of Penzance, and I asked Nick what his plans were for Twilight Payment," said Clarke.
"After the 2021 Melbourne Cup I heard mention that Twilight Payment was going to retire so I texted Nick straightaway and reminded him that we'd love to have the horse here. I got a thumbs up text from Nick – that was all it took - and I couldn't have been happier."
Living Legends' famous residents have included Almandin, Prince of Penzance, Brew, Efficient, Fawkner and Rogan Josh. After his arrival, Twilight Payment – or 'Twiggy' as he is now known to the staff looking after him – settled in instantly.
"He's a lovely, quiet horse with a beautiful temperament. He's not a big horse, he's quite finely built, which is why we've called him 'Twiggy'," said Clarke.
"The first morning he arrived we took him down to one of our smaller paddocks. There were a couple of kangaroos there but he didn't blink an eyelid. Kangaroos do all the things horses don't like – they make sudden jerky movements – but Twiggy was very relaxed around them.
"He had a good run around and stood to the side of the paddock, just over the path from Almandin. It was as if he's been here all his life. He's a straightforward horse without any quirks so far."
Legends Under Saddle
Twilight Payment is now part of the Legends Under Saddle program, where retired champions can be ridden by staff, students and visitors. Some of the horses go on to take part in eventing or dressage events and of course, make guest appearances at the Flemington races.
"We have a lot of veterinary and agricultural students who do placements here and they learn a lot through working with horses like Twilight Payment."
In his retirement, Twilight Payment is also spoiled with plenty of carrots and pats.
"He loves his carrots and so he loves being fed by visitors," said Clarke.
"It's always rewarding to see the reaction of visitors when they are able to get close to a Melbourne Cup winner. Everyone has a Cup story that either makes you laugh out loud or moves you to tears. We feel very privileged to work with these horses and to see how much enjoyment they bring people."