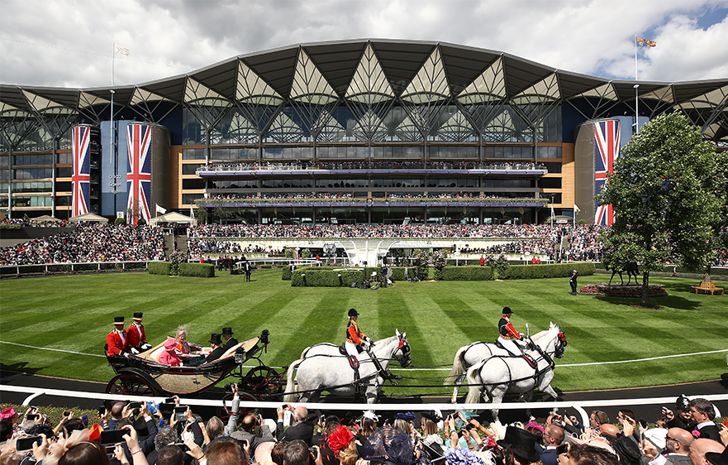 All the Queen's horses
7 June 2022
•
Written by
VRC
Referred to by many as the sport of kings, horse racing has been a beloved part of royal life for hundreds of years.
Due to her passion for horses, Her Majesty Queen Elizabeth II has turned horseracing into the sport of queens.
First given a Shetland pony by her grandfather, King George V in 1930 when she was just four years old, Queen Elizabeth II has taken a keen interest in horses and racing all of her life.
From 1947 to 1986, whenever The Queen was in residence at Windsor Castle she rode during Trooping the Colour, a military parade held on The Queen's Birthday holiday. For 18 years, The Queen rode a majestic black mare given to her by the Royal Canadian Mounted Police Service, and after the horse retired she chose to ride in a carriage, rather than take on a new horse.
The Queen also takes a keen interest in horse breeding, and closely monitors the progress of the horses each season that she has at the Royal Stud at Hampton Court and other studs in Norfolk and Berkshire.
Horses bred at the Royal Studs over the past 200 years have won nearly every major horse race in Britain, some multiple times. One such win was in 2008, when The Queen's two-year-old colt Free Agent stormed from last place to take out the Listed Chesham Stakes during Royal Ascot. She had similar success in 1954 when two of her horses took home trophies: with Landau winning the Rous Memorial Stakes and Aureole winning the Hardwicke Stakes. And in more recent times, Estimate (ridden by Ryan Moore and trained by Sir Michael Stoute) winning the Group 1 Ascot Gold Cup over a gruelling 2 mile and 4 furlongs (approx 4000m) was a win Her Majesty recalls fondly. The one major race that has eluded the Queen is the Epsom Derby.
Royal Ascot, a five-day event held annually in June, is when the Royal Family's association with horse racing is best known. Queen Anne founded Ascot Racecourse in 1711 and Royal Ascot has been a highlight on the social calendar ever since. As a young princess, The Queen first attended the iconic race meeting in 1945 and since then has opened each day of the event, arriving in a horse-drawn carriage as part of the royal procession. 
During Royal Ascot week the Queen and other members of the Royal Family usually ride each day from Windsor Castle to Ascot Racecourse in open-topped, horse-drawn carriages, known as landaus, and parade along the track in front of other racegoers. This tradition dates back to the 1820s and the reign of King George IV, when it was then referred to as the Royal Parade or Royal Drive.
In a letter dated 1825, diarist Thomas Creevey described the majestic scene: "The King drove up the course to his stand in the presence of everybody ... the Duke of Wellington by his side. There are three other carriages ... and a phaeton [two-seat carriage] after him, and I should think 20 servants in scarlet on horseback, and as all his horses are of the greatest beauty, the whole thing looked very splendid."
By all accounts, the spectacle of thousands of people cheering as members of the Royal Family make their way down the straight is just as splendid in modem times. The royal procession also gives the public its first opportunity to see the colour of Her Majesty's outfit, with many bookmakers taking bets on what colour hat she'll be wearing. While the Queen's (jockey) racing colours are a purple body with gold braid, scarlet sleeves and black velvet cap with gold fringe, her outfits reflect her personal style. The royal racing colours were seen at Flemington in 1997, when the Queen's stayer Arabian Story ran sixth to Might And Power in the Melbourne Cup.
The racing silks have been in the royal family since the Queen's great-grandfather, King Edward VII, introduced them in the late 19th century.
While The Birdcage at Flemington is a hive of celebrity and notable personalities during the Melbourne Cup Carnival, the most sought-after ticket at Royal Ascot is an admittance to the Royal Enclosure, the place to be if you want to rub shoulders with the Royal Family. Access is highly restricted: you need to be sponsored by an existing member who has attended for four previous years, and a strict dress code is enforced. Men are required to wear a morning suit complete with top hat, while women must wear formal racewear with a hat. Fascinators are deemed a no-no in the Royal Enclosure.
Our own racing royalty, trainer Gai Waterhouse has watched the races from the Royal Box at Ascot, alongside the late Queen Mother. "One of my most enjoyable Ascots was when my husband and I were able to meet The Queen Mother. We spent about one hour with her when I trained for her. She was very down to earth and took great interest in what we had to say and what we were doing. Her knowledge of racing was unbelievable, just like The Queen's," Waterhouse said.
Main image caption: Royal Ascot is steeped in tradition and history. (Bryn Lennon/Getty Images)
A race fit for a Queen
Held on Seppelt Wines Stakes Day, on the last day of the Melbourne Cup Carnival, the VRC Queen Elizabeth Stakes is a Group 3 handicap race. Run over 2600m, the race was introduced in 1954 to mark the first visit to Flemington of Queen Elizabeth II.
Notable winners of The Queen Elizabeth Stakes include True Self (2019), Precedence (2013), Puissance De Lune (2012), Our Smoking Joe (2005), Zazzman (2003), Makybe Diva (2002), Might And Power (1998), Hyperno (1979/1980), Salamander (1978), Leilani (1974), Scotch And Dry (1972), Rain Lover (1968), Galilee (1966), Even Stevens (1962), Sailor's Guide (1956/1958), Redcraze (1957), Rising Fast (1954/1955), Hydrogen (1952/1953), High Caste (1939/1940/1941), Ajax (1938), Hall Mark (1935), Rogilla (1933), Phar Lap (1930), Amounis (1929), Violoncello (1922), Eurythmic (1920), Wakeful (1902) and Tim Wiffler (1867/1870).
Did you know?
The Queen (accompanied by Prince Phillip, Duke of Edinburgh) was the first reigning monarch to visit Flemington in 1954. Her Majesty was again a visitor in 1963 and 1977.
Australian ties
The Queen has long admired Australian horses and racing, and the royal family has a long history with jockeys and trainers from our country. This includes jockeys such as Edgar Britt and W.H. 'Midge' McLachlan who rode for the Queen's father King George VI, and Arthur 'Scobie' Breasley AM (1950s), George Moore (1960s) and Ron Hutchinson (1960s) who rode for Queen Elizabeth II. Jockeys such as Kerrin McEvoy, Tommy Berry and Dylan Dunn have all had the pleasure of riding for Her Majesty in recent years.
The Queen has raced horses in Australia on occasion, most notably Arabian Story who ran sixth in the 1997 Melbourne Cup and was ridden by Frankie Dettori.
More recently, the Queen's horses Bold Sniper and Carlton House have competed on home soil. Jockey Dylan Dunn, who was an apprentice at the time of riding Bold Sniper in 2016 at Sandown was so excited by the ride he changed into the famous royal colours long before he was due on the track. Bold Sniper was first trained by Gai Waterhouse before being transferred to David Hayes and Tom Dabernig. Dabernig gave some insight into just how involved the Queen is with her horses, stating at the time: "She's very involved. She's quite fascinated. She gets her YouTube videos of the horse working each week." It was the second time Lindsay Park was involved with Her Majesty, the first being in 1977 when Colin Hayes gifted the Queen a home-bred filly, Australia Fair by their stallion Without Fear, as part of her 1977 Silver Jubilee celebrations. The horse was handed over by Prime Minister Malcolm Fraser on the lawns of Government House.
Gai Waterhouse not only trained Bold Sniper, but also looked after Carlton House before he retired to stud in 2014. She also trained two horses for the Queen Mother. Although Carlton House did not win a race in Australia, he achieved Group 1 placings in the Ranvet Stakes (second to Silent Achiever) and Queen Elizabeth Stakes (third to It's A Dundeel) in the autumn of 2014.